1 Juni, Polbangtan YoMa Peringati Hari Lahir Pancasila dengan Khidmat
Commemoration of Indonesian State Foundation in Yogyakarta`s Polbangtan Yoma
Editor : M. Achsan Atjo
Translator : Dhelia Gani

PUBLISHED: Sabtu, 01 Juni 2019 , 16:59:00 WIB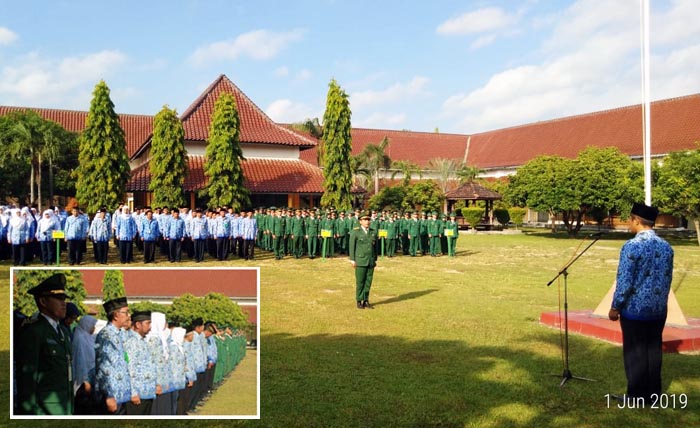 Upacara 1 Juni diimulai pukul 07:30 WIB dipimpin oleh Direktur Polbangtan YoMa, Dr Rajiman selaku inspektur upacara [Foto2: Humas Polbangtan YoMa]
Yogyakarta, DIY [B2B] - Civitas academica Polbangtan YoMa, Sabtu pagi [1/6], memperingati Hari Lahir Pancasila, yang berlangsung khidmat di lapangan tengah kampus jurusan pertanian Politeknik Pembangunan Pertanian Yogyakarta - Magelang [Polbangtan YoMa].
Upacara 1 Juni diimulai pukul 07:30 WIB dipimpin oleh Direktur Polbangtan YoMa, Dr Rajiman selaku inspektur upacara. Dalam upacara tersebut, Dr Rajiman membacakan amanat dari Kepala Badan Pembinaan Ideologi Pancasila (BPIP).
"Pancasila sebagai suatu keyakinan dan pendirian yang asasi harus terus diperjuangkan. keberagaman kondisi geografis, flora, fauna hingga aspek antropologis dan sosiologis masyarakat hanya dapat dirajut dalam bingkai kebangsaan yang inklusif. Proses internalisasi sekaligus pengalaman nilai-niali Pancasila harus tertanam dalam hati yang suci dan diamalkan dalam kehidupan sehari-hari," kata Dr Rajiman.
Dalam amanatnya, Kepala BPIP menyatakan diperlukan kesadaran dan pemahaman untuk saling menghormati, saling bekerjasama, bergotong royong dalam menyelesaikan permasalahan yang ada. Kondisi demikian dapat berkembang melalui budaya politik kewargaan yang demokratis. Budaya politik yang tidak menimbulkan ketakutan.
"Kita Indonesia, Kita Pancasila adalah sosok yang percaya diri, optimis dan penuh harapan dalam menatap masa dengan sebagai bangsa yang maju, adil dan makmur," kata Dr Rajiman mengutip BPIP.
Tampak hadir Wakil Direktur I, Dr Ananti Yekti SP MP dan Kabag Umum, Irwan Johan Sumarno. [Asnuri]
Yogyakarta [B2B] - The Polbangtan YoMa academic community, Saturday morning [June 1] commemorating the birth of Indonesian State Foundation, Pancasila, June 1, 1945. The ceremony took place solemnly at the ceremonial field of agricultural campus of Yogyakarta - Magelang's Agricultural Development Polytechnic.
The June 1 ceremony began at 07:30 WIB led by Director of Polbangtan YoMa, Dr. Rajiman as the ceremony inspector. In the ceremony, Dr Rajiman read out the message from the Head of the Pancasila Ideology Development Agency [BPIP].
"Pancasila as a fundamental belief and conviction must continue to be fought for. Diversity of geographical conditions, flora, fauna to anthropological and sociological aspects of society. The process of internalization as well as experience of the values of Pancasila must be embedded and practiced in everyday life," said Dr Rajiman.
In his mandate, the Head of BPIP stated that awareness and understanding of mutual respect were needed, cooperating with each other, cooperating in resolving existing problems, which could develop through a democratic citizenship political culture. Political culture that does not cause fear.
"We are Indonesia, we are Pancasila who are confident, optimistic and hopeful in looking at the future as an advanced, just and prosperous nation," Dr Rajiman quoted BPIP as saying.