Momon Rusmono Serukan Polbangtan untuk Kedepankan Agroteknologi
Indonesian Govt Asks Agricultural Colleges to Promote Agrotechnology
Editor : M. Achsan Atjo
Translator : Dhelia Gani

PUBLISHED: Sabtu, 08 September 2018 , 17:32:00 WIB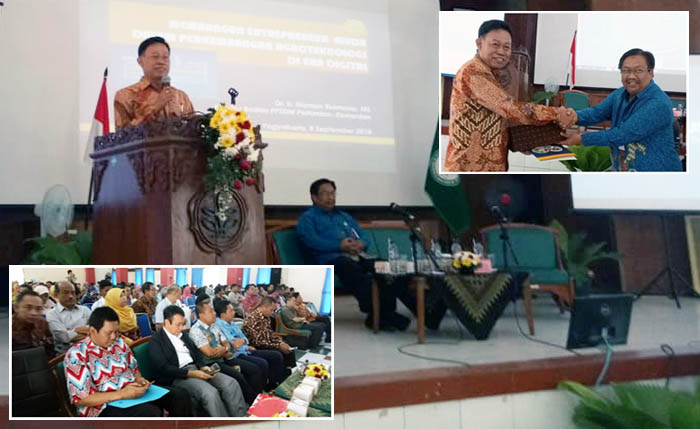 SEMINAR NASIONAL: Kepala BPPSDMP Kementan, Momon Rusmono memberi arahan (foto utama), menerima cenderamata dari Ketua STPP Yogyakarta, Ali Rachman (kanan atas) Foto2: Humas STPP Yogya
Yogyakarta, DIY (B2B) - Kementerian Pertanian RI mengingatkan Politeknik Pembangunan Pertanian (Polbangtan) di seluruh Indonesia, khususnya Polbangtan Yogyakarta - Magelang ´mematahkan anomali sumber daya versus paradigma pertanian´ melalui penerapan Teaching Factory (TeFa) skala industri, yang mengedepankan agroteknologi untuk mengantisipasi minat lulusan Polbangtan tetap bekerja di sektor pertanian.

Seruan itu dikemukakan Kepala Badan Penyuluhan dan Pengembangan SDM Pertanian (BPPSDMP) Momon Rusmono di Yogyakarta, Sabtu (8/9) saat membuka seminar nasional bertajuk ´Membangun Entrepreneur Muda dalam Perkembangan Agroteknologi di Era Digital´ yang dihadiri oleh Ketua STPP Magelang, Ali Rachman; dan Center of Technology Politeknik se-Indonesia, Yossi Wibisono dan sejumlah pembicara.

Momon Rusmono mengharapkan Polbangtan dapat mengaplikasikan prinsip dasar TeFa untuk mengintegrasikan pengalaman dunia kerja ke dalam kurikulum kampus, yang merupakan perpaduan dari pembelajaran berbasis produksi dan kompetensi.

"Kementerian menginginkan lulusan dari sini siap pakai untuk mendukung pembangunan pertanian nasional. Kembangkan pola pembelajaran yang membuat mahasiswa setelah lulus dari Polbangtan tidak kepincut ke sektor di luar pertanian," harap Kepala BPPSDMP.

Idealnya, lulusan Polbangtan Yogyakarta - Magelang dapat menjadi contoh bagi Polbangtan lain maupun perguruan tinggi negeri/swasta bahwa sarjana sains terapan tetap komitmen pada pilihannya memilih kuliah di Polbangtan, karena ingin memajukan pertanian.

"Bukan sekadar kuliah, karena kepepet gagal masuk ke universitas atau fakultas favorit. Hal itu dapat diketahui dari tes minat dan kemampuan saat ujian masuk, dan Polbangtan harus menjaga minat dan kemampuan sang mahasiswa agar tidak beralih minatny setelah mengikuti perkuliahan di Polbangtan," kata Momon.

Anomali versus Paradigma
Dalam paparannya, Yossi Wibisono dari Center of Technology Politeknik se-Indonesia menguraikan tentang ´anomali sumber daya versus paradigma pertanian´ mengutip pernyataan Institut Pertanian Bogor (IPB) dalam Dies Natalis ke-54 pada 2017 bahwa hanya 8% generasi muda yang saat ini berkecimpung di sektor pertanian secara nyata, karena pertanian dirasakan merupakan bidang kerja yang tidak menguntungkan.

"Hal yang sebenarnya merupakan anomali dengan paradigma terkait lapangan kerja di pertanian, Asosiasi Politeknik Indonesia pada 2017 merilis bahwa jumlah peminat ke jurusan Agroteknologi yang dapat ditampung hanya sekitar 64,72%," kata Yossi Wibisono.

Pembicara lain adalah Direktur Utama PT Naturan Nusantara, Hana Indra Kusuma dan Pispi Pusat, Achmad Tjachja.

Kenyataannya, kesempatan yang telah diberikan untuk mengenyam pendidikan di bidang pertanian tersebut ditindaklanjuti dengan hasil data dari trace study di the big five perguruan Indonesia bahwa output jumlah alumni yang bekerja di luar sektor pertanian malah menyentuh angka lebih dari 80%.

"Kurang dari 20 persen alumni yang benar-benar bersedia terjun di dunia agroteknologi baik secara langsung maupun tidak langsung," kata Yossi Wibisono.
Yogyakarta (B2B) - Indonesian Agriculture Ministry reminded the Agricultural Development Polytechnic or the Polbangtan across the country, especially Polbangtan Yogyakarta - Magelang developing Teaching Factory for industrial scale, who prioritize agrotechnology to anticipate the interest of graduates of Polbangtan to focus on the agricultural sector.

It was stated by the Director General of Agency for Agricultural Extension and Human Resources Development (BPPSDMP) Momon Rusmono here on Wednesday (September 8) while opened national seminar about ´the development of agrotechnology in the digital era´ which was attended by Rector of STPP Magelang, Ali Rachman and number of speakers such as Yossi Wibisono from the Indonesian Polytechnic Center of Technology.

Mr Rusmono hopes that Polbangtan can apply the basic principles of TeFa to integrate the world of work experience into the campus curriculum, which is a combination of production-based learning and competence.

"The ministry wants graduates of the Polbangtan to be ready to work to support national agricultural development. Develop learning patterns that make Polbangtan graduates not interested in outside the agricultural sector," he said.

Ideally, graduates of Polbangtan Yogyakarta - Magelang can be an example for other Polbangtan and state/private universities that graduates remain committed to the agricultural sector.

"The Polbangtan must maintain the interest and ability of the students so they do not switch their interests after studying here," said Mr Rusmono.

Anomalies versus Paradigms
In his presentation, Mr Wibisono of the Indonesian Polytechnic Center of Technology describes the ´resource anomalies versus agricultural paradigms´ cited the Bogor Agricultural University (IPB) statement in the 54th Anniversary in 2017 that currently only 8% of Indonesia´s young generation who work in the agricultural sector significantly, because agriculture is perceived as an unfavorable field of work.

"An anomaly occurred with the paradigm related to employment in agriculture, The Indonesian Polytechnic Association released in 2017 about enthusiasts to Agrotechnology can only be accommodated 64.72%, "said Yossi Wibisono.

Other speakers included President Director of PT Naturan Nusantara, Hana Indra Kusuma and from Pispi, Achmad Tjachja.

In fact, the opportunity to get an education in agriculture followed up by data from the trace study on the big five Indonesian universities, it turns out that the output of agricultural scholars who work outside the agricultural sector is even more than 80%.

"Less than 20 percent are engaged in agrotechnology directly or indirectly," said Mr Wibisono. (IJS)