Melawi Cup IV 2018, Futsal Polbangtan Yogyakarta - Magelang Juara Umum
The Polbangtan Yogyakarta - Magelang Won the 2018 Melawi Cup Tournament
Editor : M. Achsan Atjo
Translator : Dhelia Gani

PUBLISHED: Kamis, 11 Oktober 2018 , 17:40:00 WIB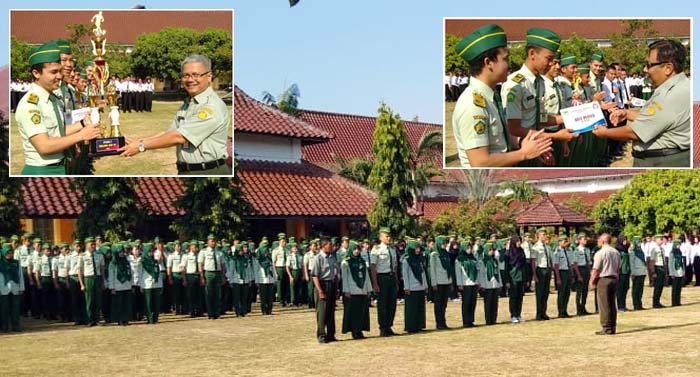 MAHASISWA KALIMANTAN: Mantan Kapusdik BPPSDMP, Gunawan Yulianto menyerahkan trofi pemenang (inset kiri) dan Dosen Utama Ali Rachman memberi penghargaan pada pemain terbaik (Foto2: Humas PYM)
Yogyakarta, DIY (B2B) - Tim futsal Politeknik Pembangunan Pertanian - Polbangtan Yogyakarta -Magelang (PYM) menjadi juara umum turnamen Melawi Cup IV 2018. Syahrani, mahasiswa tingkat lima terpilih sebagai pemain terbaik, dan mahasiswa tingkat satu Dani Febrianto menjadi pencetak gol terbanyak pada pertandingan futsal khusus bagi mahasiswa aktif asal Kalimantan.
Hadiah juara pertama Melawi Cup IV 2018 diserahkan oleh Gunawan Yulianto, mantan Kepala Pusat Pendidikan Pertanian (Pusdiktan) di Badan Penyuluhan dan Pengembangan SDM Pertanian (BPPSDMP) Kementerian Pertanian RI kepada kapten tim futsal PYM, Wahjudi; sementara Dosen Utama Ali Rachman menyerahkan penghargaan kepada Best Player dan Top Scorer.
"Futsal merupakan olahraga yang populer di kalangan mahasiswa, sebagai olahraga beregu yang dapat diselenggarakan antar jurusan dan antar tingkat," kata Gunawan Yulianto.
Dia mengharapkan, olahraga futsal dan turnamen Melawi Cup dapat meningkatkan keakraban dan persaudaraan bagi mahasiswa perantauan dari Kalimantan yang menempuh pendidikan di Yogyakarta, dan tiap pemain harus membuktikan asal Kalimantan dengan menyertakan foto kopi KTP dan kartu tanda mahasiswa (KTM) aktif.
Ali Rachman menambahkan selain untuk meningkatkan kebugaran dan menyalurkan hobi sekaligus menjadi ajang berjumpa dengan rekan-rekan mahasiswa dari satu kampus maupun universitas lain.
"Hal terpenting dari olahraga futsal dapat menjadi sarana team building dalam suatu organisasi, karena secara tidak langsung menumbuhkan kerjasama dan kebersamaan," kata Ali Rachman, yang juga mantan Ketua Sekolah Tinggi Penyuluhan Pertanian - STPP Magelang.
Kabag Administrasi Umum PYM, Irwan Johan Sumarno menambahkan Melawi Cup diselenggarakan sejak 2015 dengan kuota 32 tim, tiap tim terdiri atas 12 pemain dan dua ofisial, pertandingan diselenggarakan dengan sistem gugur.
Yogyakarta, DIY (B2B) - The futsal team of Yogyakarta - Magelang´s Agricultural Development Polytechnic or the Polbangtan Yogyakarta - Magelang won the Melawi Cup IV 2018 tournament. Syahrani, five-level student was selected as the best player, and first-degree student Dani Febrianto became the top scorer in futsal tournaments for students from Kalimantan who study in Yogyakarta.
The champion trophy of 2018 Melawi Cup IV was handed over by Gunawan Yulianto to the team captain. Mr Yulianto former of the Director of Agricultural Education Center in the Directorate General of Agricultural HR Development in Indonesian Agriculture Ministry or the BPPSDMP Kementan, while the Main Lecturer Ali Rachman presented the award to Best Player and Top Scorer.
"The futsal is a popular sport among students, as a team sport that can be held between faculties and between universities," Mr Yulianto said.
He hopes, futsal and Melawi Cup tournaments can increase familiarity and brotherhood for Kalimantan students in Yogyakarta, and each player must prove by including a national identity card and student card.
Mr Rachman added that besides improving fitness as well as being a place to meet fellow students from one campus or another universities.
"The most important thing about futsal sports can be an organizational team building to increase cooperation and togetherness," said Mr Rachman who is also former Rector o f the Yogyakarta´s Agricultural Extension College or the STPP Magelang.
The Head of General Affairs, Irwan Johan Sumarno said the Melawi Cup was held since 2015 which was participated by 32 futsal teams, each team is supported by 12 players and two officials, while the match with the knockout system.