Direktur Rajiman Pimpin Upacara Kebangkitan Nasional ke-111 di Polbangtan YoMa
National Awakening Day is a Reflection Keep the Indonesian`s Independence
Editor : M. Achsan Atjo
Translator : Dhelia Gani

PUBLISHED: Senin, 20 Mei 2019 , 17:04:00 WIB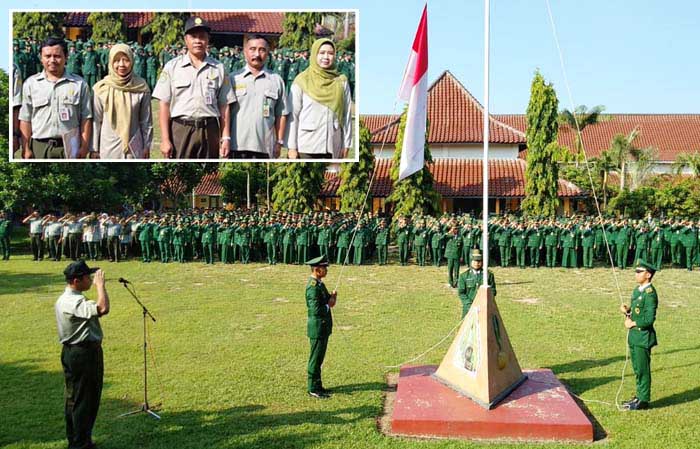 KENAIKAN PANGKAT: Direktur Polbangtan YoMa, Dr Rajiman [topi hitam] bersama para pegawai yang naik pangkat setelah upacara Harkitnas di lapangan kampus [Foto2: Humas Polbangtan Yoma/Irwan JS]
Yogyakarta, DIY [B2B] - Direktur Polbangtan YoMa, Dr Rajiman menjadi inspektur upacara pada upacara bendera memperingati Hari Kebangkitan Nasional [Harkitnas] ke-111, 20 Mei 2019, yang digelar di lapangan upacara kampus Politeknik Pembangunan Pertanian Yogyakarta - Magelang [Polbangtan YoMa].
Dalam arahannya, Dr Rajiman menguraikan tentang tema peringatan Harkitnas 2019 adalah ´Bangkit untuk Bersatu´ yang sangat relevan dimaknai dengan kondisi Indonesia pasca pesta demokrasi yang menguras energi dan emosi sebagian besar masyarakat Indonesia.
"Kita bangkit untuk kembali menjalin persatuan dan kesatuan dalam bingkai NKRI. Bangsa ini adalah bangsa yang besar, yang mampu terus menghidupi semangat persatuannya. Ditandai dua peristiwa penting, berdirinya Budi Utomo pada 20 Mei 1908 dan Sumpah Pemuda 28 Oktober 1928.
Menurutnya, tujuan peringatan Harkitnas 2019 untuk terus memelihara cara menumbuhkan dan menguatkan jiwa nasionalisme kebangsaan kita sebagai landasan dasar melaksanakan pembangunan, menegakkan nilai-nilai demokrasi berlandaskan moral dan etika dan etika berbangsa dan bernegara, mempererat persaudaraan untuk mempercepat terwujudnya visi dan misi bangsa ke depan dalam bingkai NKRI.
Dr Rajiman mengingatkan tentang Harkitnas merupakan proses aktif untuk mengerti keadaan hari ini untuk keadaan esok yang lebih baik, yang akan mengarahkan kita untuk menjalani kehidupan dengan mantap dalam koridor yang benar.
Setelah upacara Harkitnas, Dr Rajiman menyerahkan SK kenaikan pangkat untuk dosen dan pegawai di antaranya Budi Wijayanto, Achmad Yusuf, Kodrad Winarno, Geraldo Adinugra Rimartin, Tri Wahyuni, Bambang Irawan, Nur Ika Puspitaningsih, Sugiyantoro, Yunianto dan penyerahan SK pensiun kepada Kustono. [IJS]
Yogyakarta [B2B] - Director of Polbangtan YoMa Dr Rajiman being the ceremonial inspector at the flag ceremony to commemorate the 111th National Awakening Day, May 20, 2019 at the ceremony field of the Yogyakarta - Magelang Agricultural Development Polytechnic [Polbangtan YoMa].
Dr Rajiman said the 111th National Awakening Day is not a passive state but an active process to understand today´s situation for a better tomorrow and will ultimately lead us to live life steadily in the right corridor.
"The awakening day is also an expression of courage to change when making mistakes, and is what the Indonesian people need today," he said.
The commitment and discipline become the key success of an organization through the morning ceremony activities as well as certain important days, as the main component shaping the character and sharpening the vision, mission and goals of organization.
The morning ceremony is a regular and routine activity carried out by the Polbangtan YoMa was attended by students, employees, and officials of an integrated campus in 2 Kusumanegara Street on the north side of Yogyakarta.
"The morning ceremony can be used to convey various information related to teaching and learning activities, and organizational management as part of the Indonesian Agriculture Ministry," Dr Rajiman said.