Kepala BPPSDMP Kementan Pantau 3 Ribu Peserta PMB di Enam Polibangtan
Indonesian Govt Develop Agricultural Polytechnics in Several Provinces
Editor : M. Achsan Atjo
Translator : Dhelia Gani

PUBLISHED: Rabu, 04 Juli 2018 , 17:44:00 WIB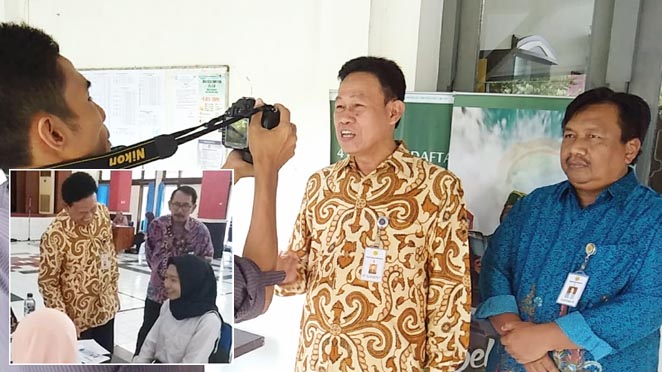 Kepala BPPSDMP Kementan Momon Rusmono (batik coklat) didampingi Ketua STPP Magelang, Ali Rachman menjawab pers, Kabag BAU Irwan Johan Sumarno dampingi Kabadan SDM dialog dengan peserta PMB (inset bawah)
Yogyakarta, DIY (B2B) - Hampir 3.000 calon mahasiswa dari seluruh Indonesia mengikuti ujian masuk Politeknik Pembangunan Pertanian (Polibangtan) yang dilakukan serempak di enam Polibangtan, Selasa sampai Kamis (3 - 5 Juli). Kepala Badan Penyuluhan dan Pengembangan SDM Pertanian (BPPSDMP) Kementerian Pertanian RI, Momon Rusmono memantau kegiatan PMB di Sekolah Tinggi Penyuluhan Pertanian - STPP Magelang pada Selasa (3/7).

Penerimaan mahasiswa baru (PMB) Polibangtan di bawah naungan Kementan berlangsung di enam kampus di enam provinsi yakni Medan di Sumatera Utara; Bogor (Jawa Barat), Magelang (Jawa Tengah), Malang (Jawa Timur), Gowa (Sulawesi Selatan) dan Manokwari (Papua Barat).

"Seleksi PMB bertujuan mendapatkan calon mahasiswa STPP yang tengah bertransformasi menjadi Polibangtan. Polibangtan ke depan, membutuhkan mahasiswa yang benar-benar berminat dan siap menjadi wirausahawan muda agribisnis maupun bekerja di sektor pertanian. Bukan sekadar kulah dan mendapatkan gelar diploma," kata Momon Rusmono di STPP Magelang jurusan penyuluhan pertanian (Jurluhtan) Yogyakarta, Selasa (3/7).

Kepala BPPSDMP Kementan berharap pelaksanaan PMB dilaksanakan sebaik-baiknya dengan penuh kejujuran, dan bertanggung jawab.

Ketua STPP Magelang, Ali Rachman mengingatkan kepada panitia PMB di Jurluhtan Yogyakarta untuk mengawasi dan memantau pelaksanaan PMB untuk menghindari kecurangan dan tindakan tercela lainnya.

"Apabila ada peserta yang melakukan kecurangan langsung dinyatakan gugur. Apabila panitia atau pegawai STPP Yogyakarta yang curang akan dijatuhi sanksi keras," kata Ali Rachman didampingi Kepala Bagian Administrasi Umum STPP Yogyakarta, Irwan Johan Sumarno.

Masa Depan Pertanian
Kementan untuk tahun ajaran baru 2018/2019 mengembangkan STPP di seluruh Indonesia menjadi Polibangtan, yang bertumpu pada ilmu pertanian terapan yang mengadopsi konsep ´teaching factory´ berorientasi produksi dan bisnis, sehingga menghasilkan lulusan vokasi terampil, dan bukan lagi penyuluh pertanian yang bercita-cita jadi pegawai negeri sipil (PNS).

Untuk tahap awal pengembangan Polibangtan, menurut Momon Rusmono, BPPSDMP Kementan menargetkan enam STPP dapat menerima mahasiswa baru Polibangtan untuk STPP di Medan, Bogor, Magelang, Malang, Gowa, dan Manokwari. Pengembangan berikutnya adalah Banjarbaru, Sembawa, dan Kupang.

Momon mengharapkan lulusan Polibangtan kelak menghasilkan beragam inovasi di bidang pertanian yang dapat diterapkan di lapangan, sehingga mampu memberikan terobosan untuk mendukung kedaulatan pangan, dengan melakukan penyesuaian seperti penyiapan program studi baru, prasarana dan sarana hingga penambahan tenaga pengajar.
Yogyakarta (B2B) - Nearly 3,000 Indonesian high school graduates from across the country take the written test of Agricultural Polytechnic or the Polibangtan takes place simultaneously on six Polibangtan campuses on Tuesday to Thursday (3 to 5 July). Director General of Indonesia´s Agricultural Extension and Agricultural Human Resources or the BPPSDMP at the Agriculture Ministry, Momon Rusmono monitor the written exam activity in Magelang´s Agriculture Extension College or the STPP Magelang.

The Polibangtan student admissions under the auspices of the agriculture ministry take place in six campuses of six provinces: Medan in North Sumatra; Bogor (West Java), Magelang (Central Java), Malang (East Java), Gowa (South Sulawesi) and Manokwari (East Papua).

"The selection test aims to get prospective students who are interested and ready to become young agribusiness entrepreneurs or working in the agricultural sector," said Mr Rusmono in the STPP Magelang.

Mr. Rusmono expects admission tests to be done honestly and responsibly.

The Rector of STPP Magelang, Ali Rachman reminded the admissions committee to monitor carefully, to prevent fraud and other disgraceful acts.

"Illegal participants will be banned from completing the exam. If the committee or employees of STPP Yogyakarta who commit fraud will be subject to sanctions," said Mr Rachman accompanied by the Head of General Affairs of STPP Yogyakarta, Irwan Johan Sumarno.

The Future of Agriculture
Indonesian agriculture ministry prepares the development of agricultural polytechnics across the country based on applied agricultural sciences with a ´teaching factory´ approach with production and business orientation, so that polytechnics can produce skilled vocational workers and not just agricultural extension workers.

For the initial phase of development, said Mr Rusmono, the ministry targets six campuses have been able to accept new students for the STPP in Medan, Bogor, Magelang, Malang, Gowa, and Manokwari. The next development is Banjarbaru, Sembawa, and Kupang.

Mr Rusmono expects the Polibangtan graduates will be able to produce innovative innovations in the field of agriculture that can provide breakthroughs to support food sovereignty by adjusting such as preparation of new courses, infrastructure and facilities to the addition of teaching staff.