Produksi 140 Ton per Hari, Mentan akan `Syiar` Sukses KPSBU Lembang
Indonesia`s Dairy Farm Cooperative Produces 140 tons per Day
Reporter : Gusmiati Waris
Editor : Cahyani Harzi
Translator : Dhelia Gani

PUBLISHED: Kamis, 21 Maret 2019 , 18:19:00 WIB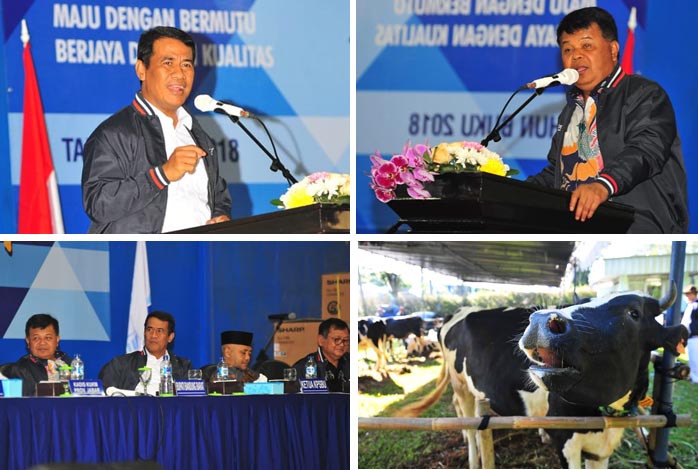 RP500 MILIAR SETAHUN: Mentan Amran Sulaiman [kiri atas] dukung Bupati AA Umbara Sutisna [kanan atas]tingkatkan omset KPSBU Lembang yang mencapai Rp500 miliar setahun [Foto2: Humas Kementan]
Bandung Barat, Jabar [B2B] - Menteri Pertanian Andi Amran Sulaiman mengapresiasi pencapaian Koperasi Peternak Susu Bandung Utara [KPSBU] Lembang di Kabupaten Bandung Barat, Provinsi Jawa Barat, yang menghasilkan susu sapi 140 ton per hari, dan berjanji mendukung ´syiar´ untuk mengabarkan sukses KPSBU Lembang agar ditiru dan menjadi semangat peternak susu sapi di seluruh Indonesia.
"Kita berharap apa yang sudah kita lakukan bersama terutama di KPSBU Lembang ini bisa menjadi inspirasi dan menyebar ke berbagai daerah. Kabar bahwa Lembang mampu menghasilkan susu 140 ton per hari patut disebarkan dan ditiru untuk menjadi semangat peternak Indonesia," kata Mentan Amran Sulaiman di Bandung Barat, Kamis [21/3].
Mentan berada di Bandung Barat menghadiri RAT KPSBU Lembang yang juga dihadiri oleh Bupati AA Umbara Sutisna.
Ke depan, Amran Sulaiman menyatakan Kementan akan selalu mendukung pencapaian saat ini terus berkembang, sehingga nantinya bisa memenuhi kebutuhan susu dalam negeri.
Sementara itu, Bupati Bandung Barat AA Umbara Sutisna menyatakan akan terus mempertahankan semangat peternak sapi perah di KPSBU Lembang dan mewujudkan target nasional dari Kementan.
"KPSBU Lembang ini mampu menghasilkan hampir Rp 500 miliar per tahun, dan ini menjadi nomer satu di Indonesia. Harus dipertahankan," kata AA Umbara. [Budi]
West Bandung of West Java [B2B] - Indonesian Agriculture Minister Andi Amran Sulaiman appreciated the success of the Lembang's North Bandung Dairy Farm Cooperative [KPSBU] in in West Bandung district of West Java province produces 140 tons of cow's milk per day.
"The central government hopes the success of KPSBU Lembang will inspire other dairy farmers across the country," Minister Sulaiman said here on Thursday [March 21].
Minister Sulaiman was in West Bandung attended an annual member meeting of the KPSBU Lembang cooperative, also attended by Regent AA Umbara Sutisna.
In the future, Minister Sulaiman said his ministry would always support dairy farmers so that they could meet the needs of domestic dairy cows.
Meanwhile, West Bandung Regent AA Umbara Sutisna said he would continue to maintain the spirit of dairy farmers at KPSBU Lembang and realize the national target of the ministry.
"The KPSBU Lembang's turnover is almost IDR500 billion per year, or the highest in Indonesia," said Regent Umbara.