Pajale Kebumen, PJ Upsus Koordinasikan Gertam Target LTT Agustus
Indonesian Govt Support Farmers to Increase the Extension of Rice Crops
Editor : M. Achsan Atjo
Translator : Dhelia Gani

PUBLISHED: Senin, 06 Agustus 2018 , 18:51:00 WIB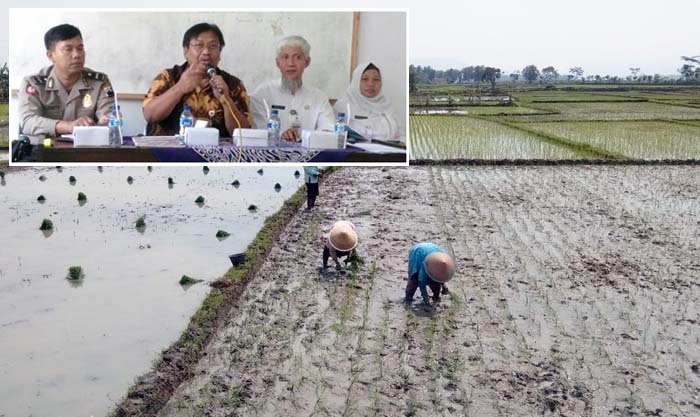 PJ Upsus Kebumen, Ali Rachman (batik coklat) memimpin rapat di BPP Ayah didampingi koordinator Cipwiyadi (inset foto) dan lahan sawah target LTT padi di Kecamatan Ayah (Foto2: Humas Polbangtan Yogya - Magelang)
Kebumen, Jateng (B2B) - Kabupaten Kebumen di Provinsi Jawa Tengah mendukung swasembada tanaman pangan untuk musim tanam ketiga (MT3) dengan menanam palawija seperti kedelai dan jagung, maka Penanggung Jawab Upaya Khusus (PJ Upsus) Ali Rachman melakukan koordinasi pemetaan potensi tanam, untuk mencapai target luas tambah tanam (LTT) padi Agustus 2018 seluas 218 hektar di Kecamatan Ayah dan Rowokele
"Meskipun targetnya kecil daripada bulan-bulan lalu, hanya 218 hektar, namun karena mayoritas kecamatan di Kebumen pada MT3 banyak yang menanam palawija, harus dilakukan pemetaan potensi tanam melalui gerakan tanam di kantor BPP Ayah," kata PJ Upsus Kebumen, Ali Rachman saat memimpin rapat koordinasi gerakan tanam di kantor BPP Kecamatan Ayah, belum lama ini.
Menurutnya, dari hasil identifikasi, potensi LTT padi di Kecamatan Ayah mencapai 211 hektar dan tujuh hektar di Kecamatan Rowokele atau total 218 hektar, dengan melibatkan 14 kelompok tani (Poktan) di Kecamatan Ayah.
Sekretaris Dinas Pertanian dan Pangan Kabupaten Kebumen, Gunadi mengingatkan para ketua Poktan untuk mendukung dan berkomitmen mensukseskan program Pemerintah RI di bawah kendali dan koordinasi Kementerian Pertanian.
"Saya mengingatkan agar seluruh bantuan pemerintah pusat yang sudah diterima khususnya Alsintan seperti traktor dan pompa air dimanfaatkan secara maksimal," kata Gunadi.
Tampak hadir Koordinator BPP Ayah, Cipwiyadi; Komandan Koramil 22/Ayah Dim 0709/Kebumen, Kapten Inf Sukirno; dan perwakilan dari Polsek Ayah.
Koordinator PJ Optimalisasi Alsintan wilayah Korem Pamungkas, Irwan Johan Sumarno menegaskan bahwa Alsintan merupakan salah satu komponen sistem produksi yang sangat vital dalam peningkatan produktivitas untuk menekan biaya produksi, meningkatkan kualitas produksi, dan menyejahterakan para petani.
"Modernisasi pertanian melalui pengembangan mekanisasi pertanian dari pra panen, panen, pasca panen, pengolahan hasil sudah menjadi tuntutan dalam pembangunan pertanian, dan meningkatkan kesejahteraan petani," kata Irwan JS yang juga menjabat Kabag Administrasi Umum STPP Magelang melalui pernyataan tertulis.
Poktan di Kecamatan Ayah yang mendukung LTT 211 hektar antara lain Kedung Jaya di Desa Kedungweru 18 hektar, Muji Rahayu di Desa Kedungweru 22 hektar, Marsudi Berkah Suasana di Desa Kedungweru 30 hektar, Randu di Desa Demangsari 15 hektar, Sri Sembodo di Desa Demangsari 10 hektar, Sri Dadi di Desa Bulurejo 31 hektar, Tani Maju di Desa Bulurejo delapan hektar, Margo Rahayu di Desa Candirenggo tiga hektar, Maju Raharjo di Desa Candirenggo 10 hektar, Sri Tani Jajar di Desa Jatijajar dua hektar, Mugi Rahayu di Desa Kalibangkan 10 hektar, Redi Mulyo di Desa Watukelir dua hektar, Ngudi Rukun di Desa Ayah 10 hektar.
Kebumen of Central Java (B2B) - Kebumen district in Central Java province supports self-sufficiency in food crops for the third planting season or MT3 such as soybeans and corn, so the Person in Charge of Kebumen´s increased production of food crops or the PJ Upsus Pajale Ali Rachman chairing coordination meetings on potential planting mapping of the rice planting target for August 2018 of 218 hectares in Ayah and Rowokele subdistrics.
"Although the target is smaller than in the past months, or only 218 hectares, because the majority of subdistricts in Kebumen are growing corn and soybeans must compile mapping of potential planting," said Mr Rachman here recently.
According to him, of the identification of rice planting potential in Ayah subdistrict, it is known that the potential is 211 hectares and and seven hectares in Rowokele subdistrict or total 218 hectares.
Secretary of the Kebumen´s agriculture and food office, Gunadi remind the heads of the farmer groups to support and commit for success of the Indonesian government program by the agriculture ministry.
"I remind the central government assistance that has been received especially agricultural machinery such as tractors and water pumps are utilized optimally," Gunadi said.
It was attended by the Coordinator of Ayah´s agricultural extension center, Cipwiyadi and relevant officials in the district government.
The Alsintan´s Team Coordinator of STPP Yogyakarta, Irwan Johan Sumarno said mechanization of agriculture for Indonesia has become a vital component to reduce production costs, improve the quality of production, and welfare of the farmers.
"The modernization of agriculture through the development of agricultural mechanization of pre-harvest, harvest, post-harvest and processing of agricultural production into demands in agricultural development, and improve the welfare of farmers," said Mr Sumarno who was served as the Head of General Affairs of Polbangtan Yogya - Magelang.