Surplus 2.901 Ha, Kebumen Terbaik LTT Jateng untuk September - Oktober 2018
Indonesia`s Kebumen Exceeds Target of Rice Production in Central Java Province
Editor : M. Achsan Atjo
Translator : Dhelia Gani

PUBLISHED: Kamis, 01 November 2018 , 19:04:00 WIB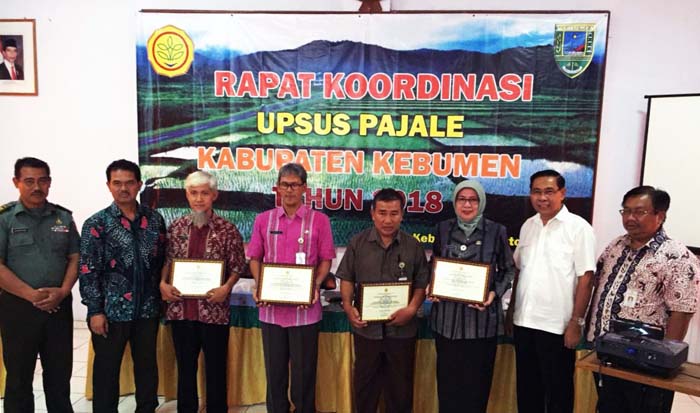 INSPIRATOR PETANI: PJ Upsus Jateng Suwandi (ke-2 kiri) usai menyerahkan penghargaan kepada Kadistan Kebumen, Pudji Rahayu (ke-3 kanan) dan PJ Upsus Pajale Kebumen, Ali Rachman (kanan) Foto: Humas Kementan
Kebumen, Jateng (B2B) - Hasil koordinasi dipadu kerjasama dan kerja keras dari Penanggung Jawab Upsus Pajale Kabupaten Kebumen, Ali Rachman dengan Pudji Rahayu selaku Kepala Dinas Pertanian dan Tanaman Pangan Kebumen memimpin tim Upsus Pajale berhasil merealisasikan luas tambah tanam (LTT) periode September - Oktober 2018 hingga 81.406 ha atau surplus 2.901 ha dari capaian periode yang sama 2017 seluas 78.145 ha, sehingga tercatat sebagai LTT tertinggi kedua di Provinsi Jawa Tengah.

Prestasi tersebut diapresiasi oleh Kementerian Pertanian RI berupa penghargaan yang diserahkan oleh Suwandi selaku Penanggung Jawab Program Upaya Khusus Peningkatan Produksi Padi, Jagung dan Kedelai - PJ Upsus Pajale Jateng kepada Pudji Rahayu didampingi Ali Rachman dan pihak-pihak terkait yang mendukung sukses Kebumen di Kebumen, Selasa (30/10).

Capaian tersebut berdampak positif pula pada tiga kecamatan di Kebumen: Ayah, Buayan dan Puring yang mampu mencapai indek pertanaman padi - IP300.

"Diharapkan capaian ini dapat menjadi inspirasi bagi kecamatan dan kabupaten lain di Jawa Tengah sehingga capaian LTT ke depan berdampak positif pada peningkatan produksi padi," kata Suwandi, yang juga menjabat Dirjen Hortikultura usai menyerahkan penghargaan pada rapat koordinasi (Rakor) Upsus Pajale Kebumen.

Dia mengingatkan kunci sukses capaian LTT melampaui target yang ditetapkan pemerintah pusat adalah tiada hari tanpa olah tanah, penanaman, dan panen raya yang dilakukan terus-menerus tanpa mengabaikan kelestarian lingkungan dan potensi sumber daya alam (SDA).

"Dukungan petugas di lapangan sebagai ujung tombak dapat memotivasi petani baik secara swadaya maupun mengoptimalkan bantuan dari pemerintah seperti revitalisasi sumur dangkal, dam parit dan saluran irigasi sederhana," kata Suwandi.

Olah Lahan
Sebelumnya diberitakan, realisasi olah lahan untuk luas tambah tanam (LTT) Kabupaten Kebumen, Provinsi Jawa Tengah meningkat 2.989%, ditarget 18 ha realisasi 538 ha, berkat dukungan traktor roda dua dan empat (TR2 dan TR4) program Optimalisasi Alsintan (Opsin) di wilayah koordinasi Korem 072 Pamungkas. Sementara total capaian 4.991,2 ha dari target LTT 4.767 ha (103%) lima kabupaten: Magelang, Purworejo, Wonosobo, Temanggung plus Kebumen.

PJ Opsin Alsintan Provinsi Jawa Tengah wilayah Korem 072 Pamungkas, Ali Rachman mengatakan realisasi Opsin lima kabupaten meliputi lahan padi 4.544 ha dan jagung 223 ha. Pemanfataan TR2 mencapai 4.423,6 ha dan TR4 sekitar 487,6 ha atau total 4.911,2 ha atau lebih 145 ha (103%) dari target LTT seluas 4.767 ha.

"Kami mewakili Kementerian Pertanian RI mengapresiasi capaian kelima PJ Opsin Jateng di lima kabupaten, khususnya Kebumen dan Purworejo dengan realisasi luar biasa, 2.989 persen dan 1.286 persen dari target LTT," kata Ali Rachman, yang juga mantan Ketua STPP Magelang.

Dia pun mengelaborasi total capaian PJ Opsin tiap kabupaten seperti realisasi PJ Magelang dipimpin Budi Wijayanto mencapai 1.357,6 ha dari target LTT 1.667 ha atau 81%; PJ Kebumen, Kodrat Winarno capaiannya 538 ha dari target LTT 18 ha (2.989%); realisasi PJ Purworejo, Daryanto adalah 1.003 ha dari target LTT 78 ha (1.286%); PJ Wonosobo, Akimi mencapai 975 ha dari target LTT 1.337 ha (73%); dan PJ Temanggung, Giyarto mencapai 1.037,6 ha dari target LTT 1.667 ha (62%).
Kebumen of Central Java (B2B) - Synergy of the central and regional governments in Kebumen district of Central Java province shown by Person in Charge of increased production of strategic food or the PJ Upsus Kebumen, Ali Rachman with the Head of Kebumen's agriculture office, Pudji Rahayu successfully extending the rice planting an area of 81,406 hectares in September to October 2018 or the surplus of 2,901 hectares of 2017 realization of 78,145 hectares in the same period.

The achievement is appreciated by Indonesian Agriculture Ministry by the award who was submitted by Suwandi as the PJ Upsus of Central Java province to the Mrs Rahayu who was accompanied by Mr Rachman here on Tuesday (October 30).

The achievements have also had a positive impact on three subdistricts in Kebumen: Ayah, Buayan and Puring who have managed to plant rice three times a year in the same rice field or the IP300.

"The success is expected to be an inspiration for other districts and subdistricts in Central Java province so that it has a positive impact on increasing rice production," said Suwandi, who goes by one name, like many Indonesians.

He reminded that the key to successful achievement beyond the central government's target is no day without tillage, planting, and harvesting carried out continuously without ignoring environmental sustainability and natural resource potential.

"Support from related officials in the rice field can motivate farmers optimize government assistance," he said.

Agricultural Land
Previously reported, the optimization of agricultural machinery or the Opsin for two- and four-wheeled tractor engines or the TR2 and TR4 support land processing 4,991.2 hectares of land extension targets or the LTT of 4.767 hectares (103%) in five districts of Central Java province in Magelang, Kebumen, Purworejo, Wonosobo and Temanggung under coordination of the Person in Charge or the PJ Opsin Ali Rachman.

Mr Rachman said realization of target in five districts included 4,544 hectares of rice, and 223 hectares for corn. The utilization of TR2 reached 4,423.6 hectares and TR4 of 487.6 hectares or the total 4,911.2 hectares (103%) of LTT target 4,767 hectares.

"I was represent the Indonesian Agriculture Ministry appreciate the achievements of PJ Opsin in five districts, especially Kebumen and Purworejo with the realization of exceeding the target," said Mr Rachman, who was also former of Rector Magelang´s Agriculture Extention College.

He also elaborated on the realization of the target of each district. Realization in Magelang 1,357 of the target 1,667 hectares or 81%; the target in Kebumen is 18 hectares but realization 538 hectares or 2.989%; realization in Purworejo is 1,003 hectares of the target 78 hectares (1.286%); Wonosobo reached 975 from the target of 1,337 hectares (73%), while Temanggung only reached 62% of the target 1,667 hectares only reached 1,037.6 hectares.