Ketua STPP Yogyakarta Sematkan Satyalencana Karya Satya pada 61 PNS
Satyalencana Karya Satya Proof of Indonesian Civil Servant Loyalty to the Country
Reporter : Adipati Edonizar
Editor : Cahyani Harzi
Translator : Dhelia Gani

PUBLISHED: Senin, 20 Agustus 2018 , 19:28:00 WIB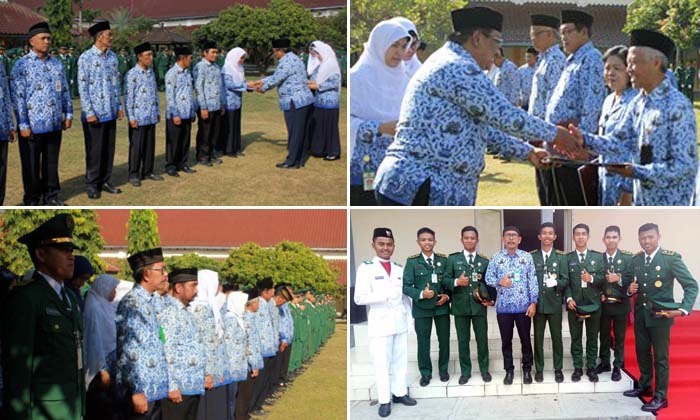 LOYALITAS PNS: Ketua STPP Yogyakarta Ali Rachman menyerahkan penghargaan kepada para PNS (atas); Kabag AU Irwan JS di jajaran pejabat dan bersama mahasiswa pelaksana upacara HUT RI ke-73 (Foto2: Humas STPP Yogya)
Yogyakarta, DIY (B2B) - Sebanyak 61 PNS di Sekolah Tinggi Penyuluhan Pertanian - STPP Yogyakarta jurusan penyuluhan pertanian (Jurluhtan) menerima tanda kehormatan Satyalancana Karya Satya dari Pemerintah RI, yang diserahkan oleh Ketua Ali Rachman mewakili Menteri Pertanian RI Andi Amran Sulaiman dalam rangkaian peringatan HUT Kemerdekaan RI ke-73 di Yogyakarta, Jumat (17/8).
"Tanda penghargaan bagi PNS yang telah berbakti pada negara selama 10, 20 dan 30 tahun lebih secara terus-menerus dengan menunjukkan kecakapan, kedisiplinan, kesetiaan, dan pengabdian diharapkan dapat menjadi teladan bagi PNS lainnya," kata Ali Rachman dalam kata arahannya usai upacara bendera peringatan Detik-detik Proklamasi Kemerdekaan 17 Agustus 1945.
"Syarat utama penerima penghargaan tidak pernah melakukan pelanggaran hukum, disiplin selama berkarier menjadi PNS," kata Ali Rachman.
Dia mengingatkan pemberian penghargaan tersebut merupakan bagian dari upaya menciptakan good gorvenance, di dalamnya ada clean governance, dan secara tidak langsung para PNS akan melaksanakan azas struktural normatif.
"PNS saat ini harus dapat menciptakan good governance yang mengedepankan transparansi dan akuntabilitas. Artinya, semua kebijkan publik diinfokan kepada publik dan masuk dalam sistem informasi website di internet. Pemerintahan yang baik itu memberikan informasi yang mudah kepada masyarakat," kata Ali Rachman.
Kabag Administrasi Umum, Irwan Johan Sumarno menambahkan total penerima penghargaan adalah 61 PNS terdiri atas kesetiaan 30 tahun kepada tujuh orang, sembilan orang selama 20 tahun, dan 46 orang untuk kesetiaan mengabdi selama 10 tahun.
"Semangat juang dan pengabdian yang tidak pernah surut harus diteladani oleh para PNS di lingkungan STPP Yogyakarta, dari semangat para pahlawan kemerdekaan yang rela dan ikhlas mengorbankan jiwa dan raga untuk kemerdekaan bangsa dan negara," kata Irwan JS.
Yogyakarta (B2B) - At least 61 civil servants of Yogyakarta´s Agriculture Extentionist College or the STPP Yogyakarta was awarded as an outstanding employee, locally known as the Satyalancana Karya Satya from Indonesian government. The service mark was handed over by Rector Ali Rachman representing the agriculture minister in Yogyakarta recently.
"Government awards are given to civil servants who have worked more than 10, 20 and 30 years continuously good working, disciplined and loyal to the country," said Rector Rachman in his direction.
"The main requirement for award recipients has never violated the law, discipline during a career as the civil servant," he said.
He reminded the Satyalencana Karya Satya award to be part of good gorvenance and clean governance.
"The civil servants currently have to create good governance that prioritizes transparency and accountability. This means that all public policies are known to the public by online services. Good governance provides easy information to the community," Mr Rachman said.
The Head of STPP´s General Affairs, Irwan Johan Sumarno said the civil servant who received the Satyalencana Karya Satya for 30 years of service to seven people, nine people for 20 years, and 46 people for 10 years of loyalty.
Fighting spirit and dedication of Indonesia´s independence heroes must be a trigger for working spirit," Mr Sumarno said.