Pangdam Siliwangi Kawal Distribusi Beras Warga Miskin via Markas Kodim
Indonesia`s Agriculture Anticipate Covid-19 by Weaker Health Systems
Reporter : Gusmiati Waris
Editor : Cahyani Harzi
Translator : Dhelia Gani

PUBLISHED: Senin, 27 April 2020 , 19:58:00 WIB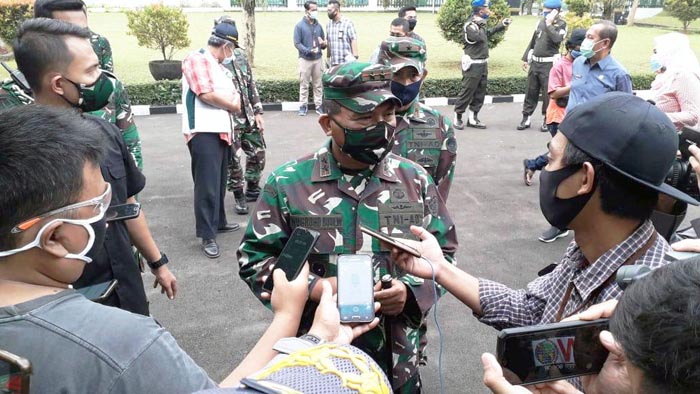 DUKUNGAN TNI AD: Panglima Kodam III/Siliwangi, Mayor Jenderal TNI Nugroho Budi Wiryanto menyatakan siap siap mengamankan distribusi beras gratis selama pandemi Covid-19 [Foto: Biro Humas Kementan]
Bogor, Jabar [B2B] - Kodam III/Siliwangi menyatakan komitmennya untuk mengawal dan mengamankan distribusi beras gratis untuk warga miskin melalui ATM Beras Kementerian Pertanian RI yang ditempatkan di markas Komando Distrik Militer [Kodim] yang tersebar di kabupaten/kota di seluruh Provinsi Jawa Barat.
Panglima Kodam III/Siliwangi, Mayor Jenderal TNI Nugroho Budi Wiryanto menyatakan siap siap mengamankan distribusi beras gratis selama pandemi Covid-19 dan selama Ramadan serta menjelang Lebaran.
"ATM Beras ini harus kita dukung penuh karena membantu persediaan kebutuhan pokok masyarakat kurang mampu, terutama yang ada di sekitar markas Kodim," kata Mayjen TNI Nugroho BW di Bogor, Jawa Barat pada Senin [27/4].
Pangdam III Siliwangi menambahkan, ATM Beras Kementan sangat vital karena bertujuan membantu Program 9 Pintu Pertolongan Darurat Corona yang disiapkan Pemprov Jawa Barat. Maka itu, dia berharap ATM ini terus tersedia di pusat-pusat penduduk miskin.
"Di wilayah Bogor sendiri, sekarang baru ada dua ATM Beras. Satu di Kota Bogor dan satu lagi di Kabupaten Bogor. Namun untuk rencana ke depan apakah nantinya ada penambahan atau tidak, kita menunggu arahan Kasad dan Mentan," katanya.
Sebagaimana diketahui, Pemprov Jawa Barat telah menyiapkan 9 Pintu Pertolongan Darurat Covid-19 di antaranya melalui pemanfaatan kartu PKH, pemanfaatan bantuan kartu sembako, pemanfatan bantuan kartu prakerja, bantuan dana desa, bantuan Kemensos, serta bantuan Presiden Jokowi yang diperuntukkan bagi para perantau di Bodebek agar tidak mudik atau merantau selama pandemi Covid-19.
"Nah, ATM Sikomandan ini mendukung Program 9 Pintu. Saya kira ini langkah yang sangat bagus dalam hal membantu rakyat pra sejahtera," katanya.
Sebelumnya, Menteri Pertanian Syahrul Yasin Limpo memantau jalanya distribusi beras gratis melalui ATM Pertanian Sikomandan di Kodim 0621 Kabupaten Bogor, Jawa Barat, Minggu [26/4]. ATM Beras berkapasitas oprasional 1,5 ton per hari yang akan dibagikan kepada 1.000 warga penerima kartu yang disuplai selama dua bulan ke depan.
"ATM Beras ini adalah rencana saya bersama Kasad untuk memberi dukungan kepada masyarakat terkena dampak Corona, yang belum mendapat bantuan dari berbagai pihak. Ini adalah giliran Pangdam dan jajaran TNI AD untuk bergerak membantu rakyat," kata Mentan Syahrul.
Bogor of West Java [B2B] - Indonesia´s Agriculture Ministry is in intensive care after testing positive for the novel coronavirus, as civil servants in head office and across the country were ordered to close over the health threat. The World Health Organization has said it is particularly concerned about high-risk nations with weaker health systems, which who may lack the facilities to identify cases.