Rp34 Triliun, Relaksasi Pembayaran Angsuran dan Subsidi bagi Petani dan Nelayan
Indonesian Agriculture Ministry Anticipate Covid-19 by Weaker Health Systems
Editor : Cahyani Harzi
Translator : Dhelia Gani

PUBLISHED: Minggu, 31 Mei 2020 , 19:07:00 WIB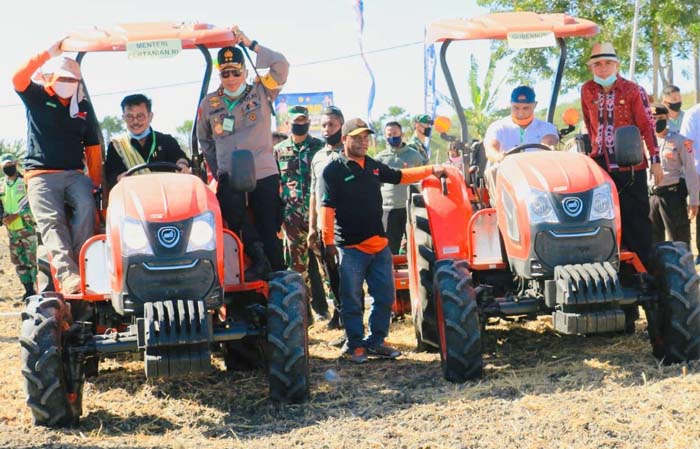 PETANI GUREM: Kementan melakukan refocusing anggaran untuk penguatan produksi pertanian, baik penyiapan benih/bibit hingga alat mesin pertanian [Alsintan] Foto: Biro Humas Kementan
Bima, NTB [B2B] - Pemerintah RI alokasikan anggaran Rp34 triliun bagi petani dan nelayan melalui kebijakan relaksasi pembayaran angsuran dan subsidi bunga kredit. Khusus kepada 2,76 juta petani gurem, akan mendapat dana tunai Rp300.000 per orang selama tiga bulan untuk pembelian sarana produksi [Saprodi] dan biaya operasional Rp300.000. Tujuannya, stimulus bagi petani sekaligus menjaga semangat petani dan nelayan tetap berproduksi.
Menteri Pertanian RI Syahrul Yasin Limpo mengatakan hal itu telah diputuskan Presiden Jokowi pada rapat terbatas via telekonferensi di Jakarta, Kamis [28/5] kepada sejumlah menteri terkait. Selain Jaring Pengaman Sosial, Presiden RI Joko Widodo mengatakan bahwa pemerintah juga memberikan stimulus modal kerja dan subsidi bunga kredit.
"Relaksasi diberikan kepada penerima pembiayaan yang didapat petani dan nelayan melalui sejumlah program seperti KUR, Mekaar, UMi, pegadaian hingga pembiayaan dan bantuan permodalan dari beberapa kementerian," kata Mentan Syahrul di Jakarta.
Program dimaksud adalah Kredit Usaha Rakyat [KUR], Membina Keluarga Sejahtera [Mekaar] dan Pembiayaan Ultramikro [UMi]. Tujuan utaman relaksasi, meringankan beban biaya konsumsi rumah tangga dari keluarga kurang mampu, khususnya petani dan nelayan terdampak pandemi Covid-19.
"Petani adalah pejuang terdepan dalam menjaga ketahanan pangan nasional. Sesuai arahan Presiden Jokowi, keberlanjutan pertanian Indonesia harus kita jaga. Ada kurang lebih 2,76 juta petani yang masuk kategori miskin. Sebagai bagian dari anak bangsa, negara memperhatikan nasib mereka," kata SYL setelah panen bawang merah di Kabupaten Bima, Jumat [28/5].
Menurutnya, Kementan melakukan refocusing anggaran untuk penguatan produksi pertanian, baik penyiapan benih/bibit hingga alat mesin pertanian [Alsintan]. Bahkan untuk penguatan permodalan, pemerintah menyiapkan KUR dengan alokasi Rp50 triliun bagi petani.
"Sampai pertengahan Mei 2020, serapan KUR yang sudah disalurkan Kementan mencapai Rp17 triliun. Ini sangat menggembirakan karena insentif yang kita siapkan direspons positif petani," kata Mentan Syahrul.
Dia menambahkan bahwa langkah kebijakan pangan tetap terjaga, dengan percepatan tanam padi untuk musim tanam kedua [MT II], perbaikan sistem logistik pangan nasional dengan penyiapan cadangan pangan, pendirian lumbung pangan di provinsi dan kabupaten/kota, serta Komando Strategis Penggilingan Padi (Kostraling) di seluruh kecamatan.
"Jadi, pemerintah tidak benar diskriminatif dalam membuat kebijakan buat petani. Secara simultan, insentif pemerintah bermuara bagi rakyat dan petani secara khusus. Kita harus bersama menjaga pangan Indonesia," katanya.
Bima of West Nusa Tenggara [B2B] - Indonesia´s Agriculture Ministry is in intensive care after testing positive for the novel coronavirus, as civil servants in head office and across the country were ordered to close over the health threat. The World Health Organization has said it is particularly concerned about high-risk nations with weaker health systems, which who may lack the facilities to identify cases, according to senior official of the minister.