Naik Rp500 Triliun, PDB Sektor Pertanian 2018 Capai Rp1.460 Triliun
2018 Indonesia`s Agricultural Gross Domestic Income Rose IDR 499.3 Trillion
Reporter : Gusmiati Waris
Editor : Cahyani Harzi
Translator : Dhelia Gani

PUBLISHED: Kamis, 21 Februari 2019 , 20:17:00 WIB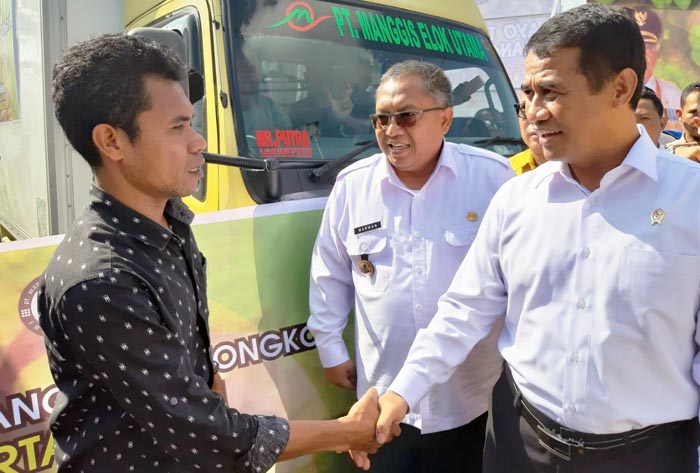 EKSPOR MANGGIS: Mentan menyalami petani manggis Sukabumi yang menyuplai produksi manggis untuk ekspor ke China (Foto: Humas Kementan)
Sukabumi, Jabar (B2B) - Pendapatan domestik bruto (PDB) sektor pertanian 2014 - 2018 naik signifikan, dari Rp906,1 triliun menjadi Rp1.460 triliun dalam empat tahun, atau meningkat Rp500 triliun seperti dilansir Badan Pusat Statistik (BPS) yang disebut sebagai kontribusi meningkatnya produksi 460 komoditas pertanian untuk memenuhi kebutuhan domestik dan ekspor ke mancanegara.
Menteri Pertanian RI Andi Amran Sulaiman mengatakan pertumbuhan positif PDB utamanya ditopang oleh ekspor komoditas pertanian ke mancanegara, seperti diumumkan BPS merupakan hasil kerja keras petani, kementerian dan para pemangku kepentingan, total ekspor komoditas pertanian 2016 ke 2018.
"Ada yang menarik, jarang terekspos khususnya kurun empat tahun terakhir, PDB sektor pertanian terus mengalami pertumbuhan cukup signifikan. Pada 2014 sebesar Rp906,1 triliun dan 2018 meningkat menjadi Rp1.460 triliun sehingga naik kurang lebih Rp470 triliiun sampai Rp500 triliun," kata Mentan Amran Sulaiman di Sukabumi di hadapan lebih 10.000 petani dan santri milenial.
Menurutnya, akumulasi kenaikan PDB sektor pertanian 2014 hingga 2018 adalah Rp1.370 triliun, lebih dari separuh APBN per tahun, dengan demikian terjadi kenaikan PDB sektor pertanian sangat tajam selama pemerintahan Joko Widodo - Jusuf Kalla.
"Kenaikan luar biasa. Meningkat sangat tajam yang dilakukan pemerintah terhadap kepentingan petani. Ini harus diketahui publik. Jangan dipersepsikan pertanian itu cuma beras, jagung dan kedelai. Itu persoalannya, padahal ada 460 komoditas pertanian," kata Mentan didampingi Anggota DPR Dewi Asmara dan Bupati Sukabumi Marwan Hamami.
Sukabumi of West Java (B2B) - The gross domestic income or the PDB of Indonesian agricultural sector in 2014 - 2018 rose significantly of IDR906.1 trillion to IDR1,460 trillion in four years, or an increase of IDR500 trillion as reported by the Central Statistics Agency or the BPS, referred as contributed of increased production of 460 agricultural commodities to meet domestic needs and export to foreign countries.
Indonesian Agriculture Minister Andi Amran Sulaiman said the GDP´s positive growth was mainly supported by exports of agricultural commodities to foreign countries, as announced by the BPS about the total 2016 agricultural commodity exports to 2018.
"The GDP of agricultural sector grew significantly, 2014 reached IDR906.1 trillion and 2018 increased to IDR1,460 trillion or increased around IDR470 billion to IDR500 billion," he said in front of more than 10,000 farmers and millennial students.
According to him, the accumulated increase of agriculture sector GDP in 2014 to 2018 reached IDR1,370 trillion, more than half of state budget per year.
"Indonesia´s agricultural production has increased tremendously. Many things have been done by the government for farmers. Agriculture is not just rice, corn and soybeans, because there are 460 agricultural commodities," said Minister Sulaiman.