Polbangtan YoMa, Identifikasi Prodi Jurusan Pertanian dengan TeFa & DuDi
Indonesia`s Polbangtan YoMa Synchronizes TeFa with Business and Industry
Editor : M. Achsan Atjo
Translator : Dhelia Gani

PUBLISHED: Kamis, 14 Februari 2019 , 20:32:00 WIB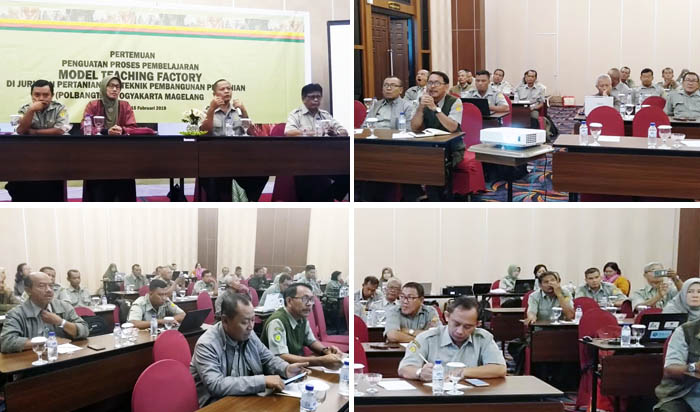 PROSES PEMBELAJARAN: Direktur Polbangtan YoMa, Dr Rajiman SP membuka rapat didampingi Wadir I, Dr Ananti Yekti SP MP (inset kiri atas) dan para peserta rapat di Yogyakarta (Foto2: Humas Polbangtan YoMa)
Yogyakarta, DIY (B2B) - Politeknik Pembangunan Pertanian (Polbangtan) menerapkan Teaching Factory (TeFa) sebagai upaya akselerasi kurikulum Polbangtan dengan kebutuhan dunia usaha dan dunia industri disingkat DuDi, untuk meningkatkan kesesuaian kebutuhan dan kompetensi lulusan Polbangtan dengan DuDi sehingga dapat meminimalisir ´gap kompetensi´ tersebut.
Kondisi tersebut mendorong civitas academica Polbangtan YoMa terus meningkatkan kemampuan seluruh jajarannya sesuai instruksi Menteri Pertanian RI Andi Amran Sulaiman antara lain dengan rapat koordinasi ´penguatan proses pembelajaran model TeFa di jurusan pertanian´ untuk mendengarkan paparan rencana proses pembelajaran model TeFa oleh tiga program studi (Prodi) diikuti paparan company profile DuDi dan TeFa, yang berlangsung dua hari, 14 - 15 Februari 2019 di Yogyakarta.
"Prinsip dasar TeFa mengintegrasikan pengalaman dunia kerja ke dalam kurikulum sekolah, yang merupakan perpaduan dari pembelajaran berbasis produksi dan pembelajaran kompetensi," kata Direktur Polbangtan YoMa, Dr Rajiman SP MP dalam arahannya saat membuka Rakor di Yogyakarta didampingi Wakil Direktur I, Dr Ananti Yekti SP MP di Yogyakarta, Kamis (14/2).
Menurutnya, Polbangtan YoMa harus mengambil peran sebagai pelopor pembangunan SDM, karena saat ini pemerintah di negara-negara maju ´berbagi peran´ dengan DuDi dalam investasi SDM. Sebaliknya, DuDi memandang perkembangan politeknik pertanian kian penting dan strategis, khususnya DuDi di sektor pangan harus concern pada kemajuan Polbangtan.
Dalam pembelajaran berbasis produksi, mahasiswa terlibat langsung dalam proses produksi, sehingga kompetensinya dibangun berdasarkan kebutuhan produksi. Kapasitas produksi dan jenis produk menjadi kunci utama keberhasilan pelaksanaan pembelajaran.
"Dengan TeFa, Polbangtan melaksanakan kegiatan produksi atau layanan jasa yang merupakan bagian dari proses belajar dan mengajar. Dengan demikian kampus diharuskan memiliki workshop atau unit usaha untuk kegiatan pembelajaran," kata Dr Rajiman SP MP melalui pernyataan tertulis.
Ketua panitia, Dr Ir Sujono MP mengingatkan peserta mengadakan diskusi tim TeFa per Prodi dengan pengelola Prodi, dosen, asisten dosen, dan PLP terkait identifikasi keterlibatan mata kuliah dengan TeFa, DuDi, dan dukungan laboratorium.
Rakor yang berlangsung hingga Kamis malam dijadwalkan menghadirkan Rektor Institut Pertanian Stiper Yogyakarta, Dr Ir Purwadi MS untuk memaparkan ´kesiapan SDM politeknik yang profesional dan berdaya saing dalam penyelenggaraan pendidikan di era industri 4.0´.
"Jumat pagi hingga siang, akan digelar panel pemaparan hasil diskusi dengan proses pembelajaran TeFa di setiap Prodi," kata Kabag Administrasi Polbangtan YoMa, Irwan Johan Sumarno.
Yogyakarta (B2B) - Indonesian Agricultural Development Polytechnic or the Polbangtan implement Teaching Factory or TeFa as an effort to accelerate Polbangtan curriculum with the needs of business and industry or the DuDi to improve suitability of the needs and competencies of Polbangtan graduates with DuDi so that it can minimize the ´competency gap´.
The condition encouraged academic community of Polbangtan YoMa continue to improve capabilities of all its ranks according to instructions of Agriculture Minister Andi Amran Sulaiman such as coordination meetings ´strengthening the learning process of TeFa´s model in agriculture´ to find out the TeFa model learning process plan by three study programs which lasts two days, here on 14 and February 15, 2019.
"The basic principle of TeFa is the integration of work experience into the school curriculum as a combination of production-based learning and competence," said Director of Polbangtan YoMa, Dr Rajiman SP MP while opened the coordination meeting here on Thursday (February 14).
According to him, the DuDi must be a pioneer of HR development, because currently the government in developed countries is ´sharing roles´ with DuDi in developing HR. On the contrary, DuDi considers agricultural polytechnics to be more important and strategic, especially DuDi in food sector must be concerned with progress of Polbangtan.
In production-based learning, students are directly involved in the production process, so that student competencies are built based on production needs. Production capacity and type of product are the main keys to the successful implementation of learning.
"In TeFa, the Polbangtan perform production activities or provide services as part of the learning and teaching process. The campus should have workshop or other business unit for learning activities," said Dr Rajiman.
Chairperson of the committee, Dr. Ir Sujono MP reminded the participants to hold a TeFa team discussion per study program with the study program manager, lecturers related to the identification of subjects with TeFa, DuDi, and the laboratory.
The meeting lasted until Thursday night scheduled for the Chancellor of Yogyakarta´s Stiper Agricultural Institute, Dr Ir Purwadi MS as the speaker about readiness of agricultural polytechnic HR in the industrial era 4.0.
"Tomorrow morning a panel will be held result of discussions about TeFa´s learning process in each study program," said the Head of Administration, Irwan Johan Sumarno.