TEFA, Model Pembelajaran Vokasional Polbangtan Yogya - Magelang
Indonesian Govt Develop the Teaching Factory for Agricultural Education
Editor : M. Achsan Atjo
Translator : Dhelia Gani

PUBLISHED: Kamis, 30 Agustus 2018 , 20:38:00 WIB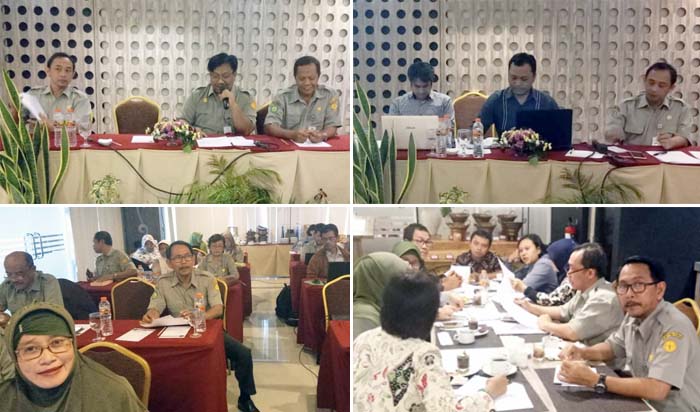 SONGSONG POLBANGTAN: Ketua STPP Magelang, Ali Rachman memimpin rapat pembahasan bahas model pembelajaran TEFA, konsekuensi pengembangan pendidikan vokasional Polbangtan (Foto2: Humas STPP Yogyakarta)
Yogyakarta, DIY (B2B) - Penerapan teaching factory/teaching farm (TEFA) pada perguruan tinggi binaan Badan SDM Pertanian di Kementerian Pertanian RI akan mengintegrasikan proses pembelajaran dengan kegiatan produksi, menumbuhkan kewirausahaan pada mahasiswa melalui model pembelajaran TEFA, dengan mengembangkan kebun praktik yang berbasis industri sebagai ´prasyarat utama´ transformasi sekolah tinggi penyuluhan pertanian (STPP) menjadi Politeknik Pembangunan Pertanian (Polbangtan).
Ketua STPP Magelang, Ali Rachman mengatakan kampus yang dipimpinnya akan beralih nama menjadi Polbangtan Yogyakarta - Magelang, konsekuensinya harus mampu mengintegrasikan proses pembelajaran yang berorientasi produksi dan bisnis.
"Targetnya, adalah proses penguasaan keahlian atau keterampilan yang dilaksanakan berdasarkan prosedur dan standar bekerja yang sesungguhnya, untuk menghasilkan produk atau jasa sesuai kebutuhan konsumen. Bukan lagi sekadar lulus sebagai penyuluh pertanian atau peternakan," kata Ali Rachman pada pertemuan persiapan pembelajaran Polbangtan Yogyakarta - Magelang di kampus jurusan penyuluhan pertanian (Jurluhtan) di Yogyakarta, belum lama ini.
Menurutnya, prinsip dasar TEFA adalah mengintegrasikan pengalaman dunia kerja ke dalam kurikulum sekolah, yang merupakan perpaduan dari pembelajaran berbasis produksi dan pembelajaran kompetensi.
"Semua peralatan dan bahan serta pelaku pendidikan disusun dan dirancang untuk melakukan proses produksi dengan tujuan menghasilkan produk atau jasa," katanya pada 30 peserta rapat koordinasi.
Dalam pembelajaran berbasis produksi, mahasiswa terlibat langsung dalam proses produksi, sehingga kompetensinya dibangun berdasarkan kebutuhan produksi. Kapasitas produksi dan jenis produk menjadi kunci utama keberhasilan pelaksanaan pembelajaran.
"Dengan TEFA, Polbangtan Yogya - Magelang melaksanakan kegiatan produksi atau layanan jasa yang merupakan bagian dari proses belajar dan mengajar. Dengan demikian kampus diharuskan memiliki sebuah pabrik, workshop atau unit usaha lain untuk kegiatan pembelajaran," kata Ali Rachman.
Hingga saat ini, Kementan telah menyiapkan sedikitnya 29 personel yang berkompeten dan berintegritas untuk mengisi jabatan fungsional pranata laboratorium pendidikan (PLP) melaksanakan fungsi motoris, untuk mendukung pengembangan Polbangtan di Yogyakarta dan Magelang.
"Saat ini, di Polbangtan Yogya - Magelang ada enam PLP yang siap mendukung penyelenggaraan TEFA untuk merumuskan jenis kegiatan TEFA. Mampu melakukan pemberkasan, perhitungan angka kredit, pengajuan penilaian angka kredit, dan memperoleh status peningkatan jenjang fungsional," kata Kabag Administrasi Umum, Irwan Johan Sumarno melalui pesan tertulis.
Yogyakarta (B2B) - Indonesian agriculture ministry prepares the transformation transformation into agricultural development polytechnic or Polibangtan by integrating learning process with production and entrepreneurship to students through teaching factory and teaching farm, or TEFA.
Rector of Magelang´s Agriculture Extention College or the STPP Magelang, Ali Rachman said his college will implement the TEFA as learning-oriented production and business.
"The goal is the process of mastering skills based on actual procedures and working standards for products and services according to the needs of consumers," said Mr Rachman while opened the coordination meeting ahead of the odd semester lecture of his college here, recently.
According to him, the basic principle of TEFA is the integration of work experience into the school curriculum as a combination of production-based learning and competence.
"Equipment and teachers are designed for the process of making products or services," Mr Rachman said.
According to him, production-based learning encourages students to engage in the production process, building competencies based on production needs, by knowing the capacity and type of products.
The production-based learning encourages students to engage in the production process, building competencies based on production needs, by knowing the capacity and type of products.
"In TEFA, the Polbangtan Yogya - Magelang perform production activities or provide services as part of the learning and teaching process. The schools and academies should have a factory, workshop or other business unit for learning activities," he said.
Until today, Indonesian agriculture ministry prepares 29 competent and integrity personnel to fill the functional positions of institution educational laboratory, or PLP to support development of agricultural polytechnic education in the STPP.
"By the workshop is expected the PLP will understand concept and technical to carry out its duties and obligations, and understand TEFA as a model of learning in agricultural polytechnics," said the Head of General Affairs, Irwan Johan Sumarno.