Bukber Polbangtan YoMa, Rekatkan Silaturahim dan Gelar Kajian Islam
Breaking Fast Together is a Hospitality Event for Indonesian Muslim Students
Editor : M. Achsan Atjo
Translator : Dhelia Gani

PUBLISHED: Rabu, 22 Mei 2019 , 20:49:00 WIB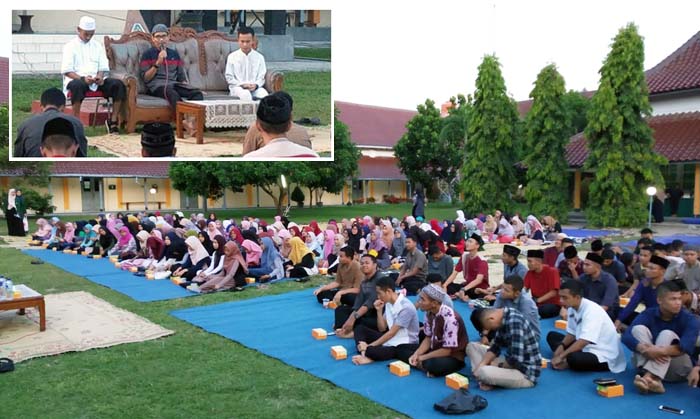 LAPANGAN TENGAH: Mahasiswa, pimpinan dan dosen Bukber di lapangan tengah kampus jurusan pertanian di Yogyakarta, menyimak tausiyah Ustadz Ihsan sebelum adzan Maghrib [Foto2: Humas Polbangtan YoMa]
RASULULLAH SAW bersabda: "Ada dua kebahagiaan bagi orang yang puasa; kebahagiaan pada saat buka dan kebahagiaan pada saat berjumpa dengan Allah SWT".
Buka puasa bersama, kerap disebut ´bukber´ menjadi agenda yang selalu ada pada bulan suci Ramadan, bersama dengan keluarga, sanak saudara, rekan kerja, teman sekolah/kuliah, hal serupa dilakukan mahasiswa/i Polbangtan YoMa yang menggelar bukber dengan dosen, pimpinan dan karyawan di lapangan kampus jurusan pertanian di Jl Kusumanegara 2, Yogyakarta pada Senin [20/5].
Kegiatan Bukber diperuntukkan bagi mahasiswa jurusan pertanian di Yogyakarta, perwakilan mahasiswa dan dosen jurusan pertanian di Magelang, beberapa perwakilan dosen dan mahasiswa dari kampus di sekitar kampus pendidikan tinggi vokasi pertanian Politeknik Pembangunan Pertanian Yogyakarta - Magelang [Polbangtan YoMa].
"Kegiatan Bukber dan Kajian Islam digagas dan dilaksanakan mahasiswa yang dilaksanakan secara rutin setiap Ramadan, namun baru pertama kali ini digelar di lapangan tengah," kata Hasan, pembina Kerohanian Islam [Rohis] Polbangtan Yoma.
Dia berharap kegiatan tersebut tidak sebatas Bukber, yang perlu diikuti kegiatan lanjutan seperti pengajian dan tausiyah dengan mengundang ustadz ternama. Dilaksanakan pukul 16:30 hingga buka bersama dilanjutkan Shalat Maghrib dan Isya berjamaah yang ditutup Shalat Tarawih.
Ustadz Ihsan melalui tausiyah mengatakan bahwa hidayah itu datangnya dari Allah SWT. Hidayah itu tidak ternilai, karena Allah SWT memberikan hidayah kepada mahluk ciptaan dikehendaki-Nya.
"Banyak ajaran Islam yang disampaikan Rasulullah SAW yang kita tidak hiraukan, bahkan kita tinggalkan, akan tetapi Allah SWT tetap memilih kita untuk mendapat hidayah. Kita harus banyak bersyukur pada karunia dan nikmat Allah SWT," kata Ustadz Ihsan seperti dikutip Kabag Umum, Irwan Johan Sumarno melalui pernyataan tertulis. [IJS]
THE PROPHET MUHAMMAD said "There are two happiness for Muslims who carry out fasting; happiness when breaking fast and happiness meeting God".
Breaking fast together, locally known as the ´Bukber´ become a routine activity in the holy month of Ramadan with family, relatives, work colleagues, school friends and colleges, the same thing was done by students of Polbangtan YoMa who held Bukber with lecturers, leaders and employees in the central ground of agricultural campus in 2 Kusumanegara Street on Monday [May 20].
"The Bukber and Islamic Studies activities are initiated and carried out by students held regularly every Ramadan," said Hasan as the Head of Islamic Spiritual Education of Polbangtan Yoma.
He hoped that the activity was not limited to Bukber, which needed to be followed up with recitation by inviting well-known Islamic clerics. Conducted at 16:30 until breaking the fast together followed by Maghrib and Isha Prayers in congregation and closed with Tarawih Prayers.