175 Calon Mahasiswa, Dr Rajiman Buka Mabidama 2019 Polbangtan YoMa
Indonesia`s Polbangtan YoMa Students Participate the 2019 Student Orientation
Editor : M. Achsan Atjo
Translator : Dhelia Gani

PUBLISHED: Senin, 02 September 2019 , 20:55:00 WIB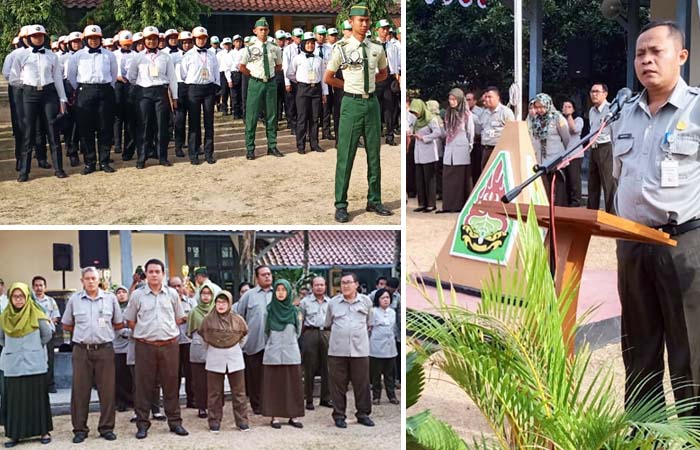 APEL AKBAR: Direktur Polbangtan YoMa, Dr Rajiman [inset kanan] membuka kegiatan Mabidama 2019 yang diikuti 175 mahasiswa di lapangan tengah kampus pertanian Yoyakarta. [Foto2: Humas Polbangtan YoMa/Asnuri]
Yogyakarta, DIY [B2B] - Sekitar 175 calon mahasiswa Polbangtan YoMa TA 2019/2020 mengikuti ´pembinaan karakter dan mental´ sebagai intrakurikuler kampus melalui kegiatan Masa Bimbingan Dasar Mahasiswa [Mabidama] setelah dibuka oleh Direktur Dr Rajiman, dengan pemukulan gong pada apel akbar di lapangan tengah kampus jurusan pertanian Yogyakarta, Senin pagi [2/9] yang dihadiri seluruh civitas academica.
"Kegiatan Mabidama merupakan tonggak awal untuk membentuk kepercayaan diri mahasiswa menempuh pendidikan di sektor pertanian pada era milenial di Polbangtan," kata Dr Rajiman.
Tujuan Mabidama 2019, menurutnya, untuk menanamkan jiwa nasionalisme melalui program pembinaan karakter [bela negara], memperkenalkan pada mahasiswa tentang profil Polbangtan YoMa, menanamkan rasa kecintaan dan kebanggaan terhadap almamater, menanamkan kedisiplinan, mengembangkan jiwa kepemimpinan dan kewirausahaan.
"Mahasiswa harus belajar sungguh-sungguh. Siap tempur dalam persaingan pertanian global ke depan, yang mengandalkan mekanisasi pertanian dan digitalisasi di era 4.0. Jadilah inovator pertanian modern," kata Dr Rajiman.
Direktur Polbangtan YoMa mengingatkan lagi bahwa pembangunan sumber daya manusia unggul adalah kebijakan Presiden RI Joko Widodo dalam lima tahun ke depan. Polbangtan YoMa sebagai unit pelaksana teknis dari BPPSDMP Kementan, tupoksi-nya adalah menciptakan SDM unggul yang akan berpartisipasi aktif mendukung penyediaan pangan rakyat.
"Mewakili civitas academica, kami mengucapkan selamat datang kepada adik-adik calon mahasiswa Polbangtan YoMa. Jaga kesehatan dan stamina agar dapat mengikuti seluruh kegiatan Mabidama 2019," Dr Rajiman.
Tampak hadir Wakil Direktur I Dr Ananti Yekti; Ketua Jurusan Pertanian, Dr H Sudjono; Kabag Umum, Irwan Johan Sumarno sejumlah dosen, pejabat dan staf Polbangtan YoMa.
Ketua Panitia Mabidama 2019, Joni Kurniawan melaporkan kegiatan tahun ini bertema ´petani muda berkarya´ bertujuan menciptakan energi positif pada mahasiswa dan kehidupan pribadi yang berkualitas. Membiasakan diri dengan sikap disiplin dalam kondisi dan situasi apa pun.
Materi Mabidama 2019, menurutnya, pengenalan akademik dan kemahasiswaan, kode etik penyuluhan, dan student government dengan pemateri dari internal Polbangtan YoMa [rektorat, jurusan, kemahasiswaan, badan eksekutif mahasiswa [BEM], badan perwakilan mahasiswa [BPM], dosen dan pejabat struktural].
"Polbangtan YoMa juga melibatkan Badan Narkotika Nasional Yogyakarta dan Polda Yogyakarta," kata Joni Kurniawan [Asnuri]
Yogyakarta [B2B] - At least 175 prospective students of Indonesia´s Polbangtan Yoma in Yogyakarta of the 2019/2020 academic year participate ´character and mental development´ as campus intracuricular activities, after it was opened by Director Dr. Rajiman at the morning ceremony in campus of Yogyakarta´s agriculture department here on Monday morning [2 September].