Optimalisasi LTT, Mahasiswa Polbangtan YoMa `Gropyok` Tikus di Lahan 62 Ha
Indonesian Agricultural Polytechnic Students Eradicate Rice Fields in Yogyakarta
Editor : M. Achsan Atjo
Translator : Dhelia Gani

PUBLISHED: Minggu, 03 Maret 2019 , 20:56:00 WIB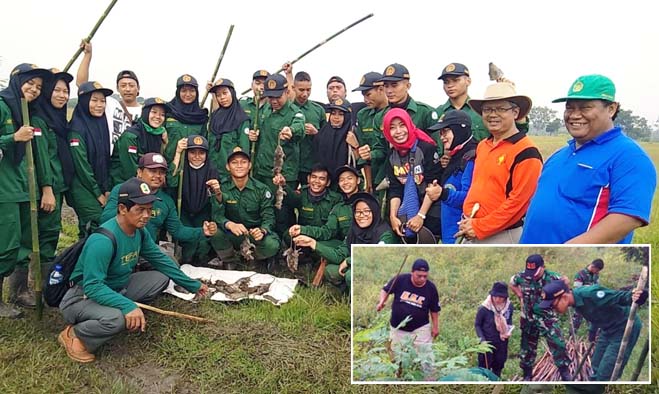 PENGABDIAN MASYARAKAT: PJ Upsus Pajale Gunawan Yulianto (kaos oranye) bersama mahasiswa Polbangtan YoMa setelah `gropyok` tikus di Moyudan, DIY (Foto2: Humas Polbangtan YoMa)
Sleman, DIY (B2B) - Menyongsong musim tanam Maret 2019 dan optimalisasi pencapaian target luas tambah tanam (LTT) di Yogyakarta, puluhan mahasiswa Polbangtan YoMa turun ke sawah seluas 62 hektar di Kecamatan Moyudan, Kabupaten Sleman di Provinsi DI Yogyakarta untuk gropyok tikus, untuk mengendalikan hama tikus sampai di bawah ambang batas untuk meningkatkan LTT.
"Kegiatan gropyok tikus untuk mengendalikan serangan hama menjelang musim tanam Maret dan LTT, sehingga perlu gerakan massal pembersihan lahan dan pengasapan lubang-lubang tikus sebelum musim tanam, aksi pengendalian hama tikus diharapkan mampu menekan populasi tikus musim tanam mendatang," kata Gunawan Yulianto, mewakili PJ Upsus Pajale Yogyakarta, Idha Widi Arsanti usai gropyok tikus di Bulak Kedungbanteng, Sleman, Minggu (3/3).
Kegiatan gropyokan di Bulak Kedungbanteng dimulai pukul 06:00 sampai 09:00 berhasil memperoleh 380 ekor tikus dalam keadaan mati. Tindakan tersebut juga mengantisipasi kerugian petani lantaran Moyudan tergolong daerah endemis tikus, dan Polbangtan YoMa memberi bantuan 15 liter herbisida.
Tampak hadir Kepala Balai Pengkajian dan Penerapan Teknologi Yogyakarta (BPTP Yogya) Joko Pramono; Kepala Dinas Pertanian DI Yogyakarta, Sasangka; Kepala Dinas Pertanian dan Perikanan Kabupaten Sleman, Heru Saptono; bintara pembina desa (Babinsa) dari Koramil Moyudan, kelompok tani, petani dan para penyuluh.
"Tikus sawah merupakan hama tanaman padi yang meresahkan sekaligus merugikan petani, dan meningkat luas karena tidak antisipasi maka gerakan massal secara intensif dengan membersihkan dan pengasapan lubang-lubang tikus sebelum tanam padi dapat menekan populasi tikus secara frontal," kata Dosen Budidaya Tanaman Pangan Polbangtan YoMa, Suharno.
Dia mengharapkan aksi gropyok tikus dilakukan serentak di tempat lain, sehingga dampak pembasmian tikus dapat maksimal, untuk mencegah pematang sawah dilubangi tikus karena akan mengakibatkan longsornya pematang sawah dan memicu kebocoran air irigasi. (IJS)
Sleman of Yogyakarta (B2B) - Ahead of the rice planting season in March 2019 in Indonesia´s Yogyakarta province, dozens of Yogyakarta - Magelang agricultural polytechnic students go to the rice fields in Moyudan subdistrict of Sleman district in Yogyakarta province to suppress the population of mice by being captured and then killed.
"Rat pest control is very important ahead of the rice growing season especially this month, so the mass movement needs to clear the land and fumigate the rat holes before planting rice," said the Person in Charge of Yogyakarta´s increase food production, Gunawan Yulianto here on Sunday (March 3).
Rat eradication activities start at 6:00 to 9:00 a.m in the morning killing 380 rats because rice fields in Moyudan are rat endemic areas.
"Rice mice are plant pests that are troubling and detrimental to farmers, and the population is increasing because there is no anticipation hence intensive mass movements by cleaning and fumigating rat holes before planting rice can suppress the rat population," said Food Crop Cultivation Lecturer, Suharno.
According to him, eradication of mice should be carried out simultaneously in other places so that it has maximum impact, to prevent rice fields from being ripped by rats.