Realokasi Pompa Air, PJ Upsus Kebumen Antisipasi Dampak Kekeringan MT3
Indonesia`s Kebumen District Govt Optimizes Water Pumps for Irrigation
Editor : M. Achsan Atjo
Translator : Dhelia Gani

PUBLISHED: Sabtu, 04 Agustus 2018 , 21:04:00 WIB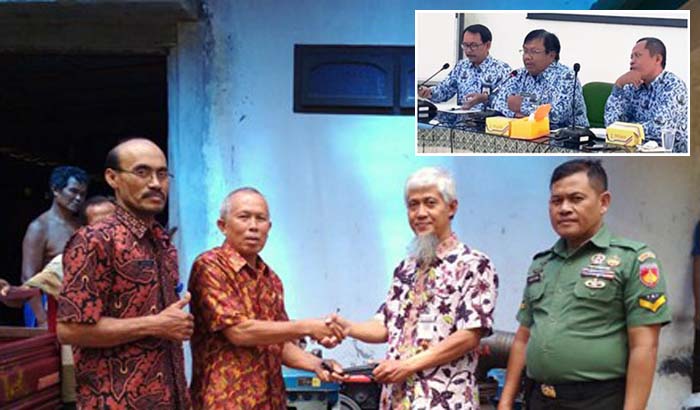 PJ Upsus Kebumen, Ali Rachman didampingi Koordinator Tim Alsintan, Irwan Johan Sumarno melakukan rapat koordinasi Opsin (inset) dan realokasi pompa air di Kecamatan Ayah (Foto2: Humas Polbangtan Yogya-Magelang)
Kebumen, Jateng (B2B) - Para pemangku kepentingan sektor pertanian di Kabupaten Kebumen, Provinsi Jawa Tengah bahu-membahu mengantisipasi dampak kekeringan di Kecamatan Ayah, dengan melakukan realokasi empat unit pompa air bantuan pemerintah untuk menjaga pasokan air di musim tanam ketiga (MT3) demi mengoptimalkan pencapaian target luas tambah tanam (LTT) padi Kebumen pada Agustus 2018.

Realokasi pompa air dilakukan pada Kamis (2/8) oleh perwakilan dari Dinas Pertanian dan Pangan Pemkab Kebumen; Koordinator balai penyuluhan pertanian (BPP) Kecamatan Ayah, Cipwiyadi; disaksikan Komandan Koramil 22/Ayah Dim 0709/Kebumen, Kapten Inf Sukirno di bawah koordinasi Penanggung Jawab Upsus Swasembada Pajale wilayah Kebumen, Ali Rachman.

Koordinator Tim Alsintan Polbangtan Yogya - Magelang, Irwan Johan Sumarno mengatakan empat unit pompa air direalokasi dari Poktan Sri Makmur di Desa Candirenggo ke Poktan Sri Tani Jajar di Desa Jatijajar; Poktan Randu di Desa Demangsari; dan Poktan Muji Rahayu di Desa Kedungweru.

"Saat ini Poktan Sri Makmur di Desa Candirenggo sedang tidak menanam padi, maka pompa air bantuan pemerintah pada 2017 tidak dipakai sehingga dilakukan realokasi kepada kelompok tani atau Poktan yang mengikuti program LTT Padi di Kebumen," kata Irwan JS melalui pernyataan tertulis kepada B2B.

Koordinator BPP Ayah, Cipwiyadi menambahkan petani di ketiga desa yang mendukung program LTT padi di Kebumen sangat membutuhkan air untuk menjamin pasokan air irigasi.

"Di Kecamatan Ayah banyak mata air yang tidak sampai ke lahan pertanian, karena letak sawah lebih tinggi dari sungai yang ada sehingga petani sangat membutuhkan pompa air untuk memenuhi ketersediaan air pada MT3," kata Cipwiyadi.

Empat Mata Air
Irwan JS mengutip PJ Upsus Kebumen, Ali Rachman menambahkan bahwa pemerintah senantiasa siap membantu petani dalam memenuhi kebutuhan sektor pertanian khususnya benih, pupuk dan Alsintan.

Sebelumnya, Ali Rachman melakukan pengecekan sumber air di Kecamatan Ayah, dan didapati sekitar empat mata air di bagian timur kecamatan. Lokasinya tersebar di empat desa yakni Jatijajar, Ayah, Kedungweru, dan Demangsari.

"Sebagian besar sumber air tersebut berasal dari mata air yang keluar dari sela-sela bebatuan karst. Mata air tersebut mengalir sepanjang tahun ke sungai-sungai di sekitar Kecamatan Ayah," kata Ali Rachman, yang juga menjabat Direktur Polbangtan Yogyakarta - Magelang atau dahulu dikenal sebagai STPP Magelang dan STPP Jurluhtan Yogyakarta.

Ali Rachman seperti dikutip Irwan JS menambahkan untuk memanfaatkan air dari sungai untuk irigasi, petani meminta bantuan kepada pemerintah berupa selang dan paralon, yang dinilai lebih praktis ketimbang jaringan irigasi desa.

"Salah satu desa di Kecamatan Ayah telah memanfaatkan penggunaan pralon untuk irigasi dan dinilai berhasil, sehingga perlu ditambah untuk memperluas jangkauan layanan irigasi," kata Ali Rachman.
Kebumen of Central Java (B2B) - The stakeholders of the agricultural sector in Kebumen district of Central Java province anticipate effects of drought in Ayah subdistrict, by reallocating four water pump units from the central government to maintain water supply in the third planting season in August 2018.

Reallocation of water pumps is carried out here on Thursday (August 2) by representatives of Kebumen's agriculture office; coordinator of Ayah's agricultural extension center, Cipwiyadi witnessed by the village commissioner under the coordination of Person in Charge of increased production of food crops or Upsus Pajale for Kebumen district, Ali Rachman.

The Alsintan´s Team Coordinator of Polbangtan Yogyakarta - Magelang, Irwan Johan Sumarno four water pump units were relocated from Sri Makmur farmer group in Candirenggo village to Sri Tani Jajar in Jatijajar village; Randu in Demangsari village; and Muji Rahayu in Kedungweru village.

"Sri Makmur farmer group in Candirenggo village has not planted rice, then the water pump of government assistance in 2017 relocated to other farmer groups," Mr Sumarno said in his written statement to the B2B.

Cipwiyadi said the farmers of three villages in Kebumen needed water to ensure irrigation supplies.

"In Ayah subdistrict there are many springs that don't reach agricultural land, because location of rice fields is higher than the river so farmers need a water pump," Cipwiyadi said.

Four Springs
Mr Sumarno quoted Mr Rachman as saying that the central government was always ready to help farmers especially seeds, fertilizers and agricultural machinery.

Mr Rachman has monitored the water source in Ayah subdistrict, and found around four springs in the eastern part of the subdistrict. Its location is spread in four villages namely Jatijajar, Ayah, Kedungweru, and Demangsari.

"Most of the water sources come from springs coming out of the karst rocks. The spring flows throughout the year to the rivers around Ayah subdistrict," Mr Rachman said.

Mr Rachman was quoted as saying by Mr Sumarno to use river water for irrigation, farmers ask for help from plastic hoses and pipes because they are considered more practical.

"One village in Ayah subdistrict uses plastic pipes for irrigation so it needs to be added to expand the water supply range," Mr Rachman said.