Dukung Upsus, Penangkar Benih Libatkan Mahasiswa Jurluhtan Yogyakarta
Indonesian Agricultural Students Support Seed Breeding in Yogyakarta
Editor : M. Achsan Atjo
Translator : Dhelia Gani

PUBLISHED: Rabu, 08 Agustus 2018 , 21:31:00 WIB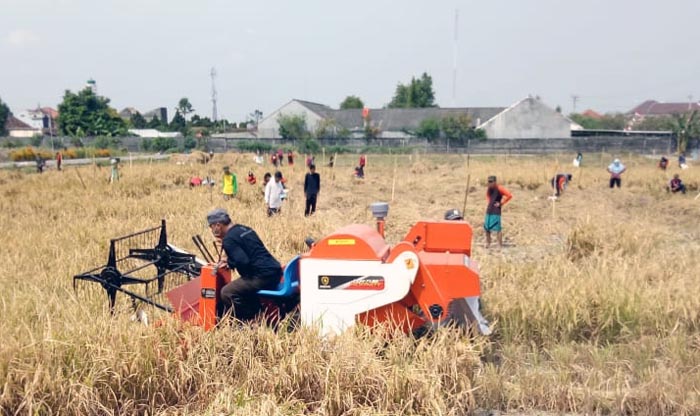 Panen di lahan penangkaran benih padi seluas setengah hektar, tak jauh dari kampus Jurluhtan Yogyakarta diapresiasi Direktur Polbangtan Yogya - Magelang, Ali Rachman (Foto2: Polbangtan Yogya - Magelang/Irwan JS)
Yogyakarta, DIY (B2B) - Pemerintah RI mendorong sejumlah kampus yang memiliki program studi pertanian untuk mendukung startup industri benih padi, sehingga dapat mengatasi kendala utama penerapan Upsus di berbagai daerah adalah peredaran benih tidak resmi, dan keterbatasan pilihan varietas yang sesuai dengan preferensi petani.
Kabar gembira datang dari Politeknik Pembangunan Pertanian disingkat Polbangtan di Yogyakarta - Magelang setelah mahasiswa jurusan penyuluh pertanian (Jurluhtan) dilibatkan oleh produsen benih PB Usaha Tani dari Kalasan di Kabupaten Sleman, Provinsi DIY untuk mendukung kegiatan penangkaran benih padi sejak ditanam pada 22 April 2018.
"Patut disyukuri keterlibatan mahasiswa Jurluhtan Yogyakarta dalam penangkaran benih PB Usaha Tani, yang ditanam 22 April dan kini siap panen setelah seleksi akhir atau fase masak penuh pada 24 Juli lalu," kata Direktur Polbangtan Yogya - Magelang, Ali Rachman menyaksikan panen di lahan penangkaran benih padi seluas setengah hektar, yang berada tak jauh dari kampus Jurluhtan Yogyakarta, Rabu (8/8).
Menurutnya, benih padi yang ditanam adalahb varietas Gilirang, kelas Breeder Seed atau BS label kuning dari BB Padi Sukamandi di Provinsi Jawa Barat.
Kabag Administrasi Umum Polbangtan Yogya - Magelang, Irwan Johan Sumarno menambahkan penetapan kelulusan lapangan oleh Balai Pengawasan dan Sertifikasi Benih Pertanian - BPSBP Yogyakarta pada Jumat (3/8) dengan calon benih foundation seed label putih.
"Panen dilakukan hari ini, umur panen 108 hari setelah tanam dan dilanjutkan sertifikasi benih pada September mendatang," kata Irwan JS.
Kerjasama Polbangtan dan perusahaan penangkar benih membuka peluang untuk melakukan sertifikasi lokal benih unggul dan memberdayakan universitas atau lembaga sertifikasi alternatif setempat sebagai mitra pemerintah daerah dalam menjamin ketersediaan benih tersertifikasi di petani.
Yogyakarta, DIY (B2B) - The Indonesian government is encouraging a number of campuses that have agricultural study programs to support rice seed startup, so that it can overcome the obstacles to increasing rice production in a number of regions, because fake seeds and varieties are limited.
The good news came from the Yogyakarta - Magelang´s Polytechnic Agricultural Development or the Polbangtan Yogya - Magelang after students majoring in agricultural extension were involved by rice seed producers from Yogyakarta to support rice seed breeding activities since April 22, 2018.
"We are grateful that our students are involved in seeding seeds from local producers, which was planted April 22 and ready for harvest after the mature phase on July 24," said Director of the Polbangtan Yogya - Magelang, Ali Rachman while he saw rice harvest in seed breeding land who were near campus on Wednesday (August 8).
According to him, rice seeds grown of the Gilirang variety, class of Breeder Seed or BS yellow label from BB Padi Sukamandi in West Java province.
The Head of General Affairs of Polbangtan Yogya - Magelang, Irwan Johan Sumarno said the decision was made by the Agricultural Seed Monitoring and Certification Agency or BPSBP Yogyakarta with a white foundation seed label.
"Harvesting of rice is carried out today, harvesting age 108 days after planting and continued seed certification in September," Mr Sumarno said.
The collaboration between Polbangtan and seed breeding companies opens up opportunities for superior seed local certification.