Jogja Menari 2018, Penari Polbangtan YoMa Dukung Capai Rekor Dunia Muri
Yogyakarta`s Jaranan Dance Breaks the World Record of Indonesian Record Museum
Editor : M. Achsan Atjo
Translator : Dhelia Gani

PUBLISHED: Minggu, 23 Desember 2018 , 21:50:00 WIB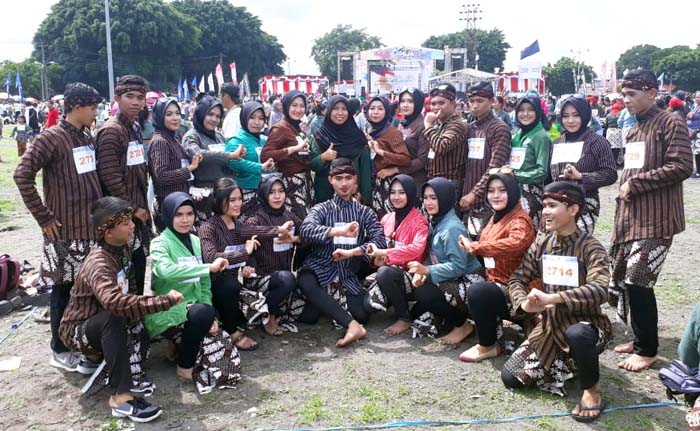 Ke-22 mahasiswa dari unit kegiatan mahasiswa (UKM) Tari Polbangtan YoMa berpartisipasi pada Jogja Menari 2018 yang digelar di Alun Alun Utara Kraton Yogyakarta (Foto: Humas Polbangtan YoMa)
Yogya, DIY (B2B) - Sebanyak 22 mahasiswa/i Politeknik Pembangunan Pertanian Yogyakarta - Magelang (Polbangtan YoMa) mendukung pencapaian rekor dunia Jogja Menari 2018, kategori pagelaran tari Jaranan kolosal dengan penari terbanyak selama 8,5 menit, diikuti 4.279 peserta dari berbagai usia memecahkan rekor dunia yang dicatatkan pada Museum Rekor Indonesia (Muri).
Ke-22 mahasiswa dari unit kegiatan mahasiswa (UKM) Tari Polbangtan YoMa berpartisipasi pada Jogja Menari 2018 yang digelar di Alun Alun Utara Kraton Yogyakarta, Minggu (23/12).
"Terima kasih atas dukungan civitas academica, dua event tari berturut-turut telah memberikan motivasi bagi UKM Tari untuk lebih baik lagi. Selalu siap mengikuti event lainnya, membawa nama besar Polbangtan YoMa," kata ketua tim melalui pernyataan tertulis.
Kegiatan pemecahan rekor yang digelar oleh Alumni SMA 1 Teladan Yogyakarta bertujuan memberikan sumbangsih bagi keberagaman dan kemajemukan di Yogyakarta.
Yogyakarta (B2B) - At least 22 students of Yogyakarta - Magelang´s Agricultural Development Polytechnic or the Polbangtan YoMa support the Jogja Menari 2018 world record achievement, the colossal social dance category or the Jaranan followed by 4,279 participants who danced for 8.5 minutes, success broke the world record of Indonesian Record Museum or the Muri.
22 students of Tari student activity unit participated in the 2018 Jogja Dancing which was held in the North Square of Yogyakarta Palace on Sunday (December 23).
"Thank you for support of academic community, two dance events increase our motivation to perform better. Always ready to take part in other events, represent of Polbangtan YoMa," said the team leader through written statement.
Dance record-breaking activities were held by alumni of Teladan Yogyakarta´s Senior High School to increase harmony of Yogyakarta´s pluralistic citizens.