Siswi Aceh yang Dikabarkan Lapar Dapat Bantuan Pendidikan dari Mentan
Indonesian Minister Helps Acehnese Students after She Reported to be Starving
Reporter : Gusmiati Waris
Editor : Cahyani Harzi
Translator : Dhelia Gani

PUBLISHED: Selasa, 13 Agustus 2019 , 21:58:00 WIB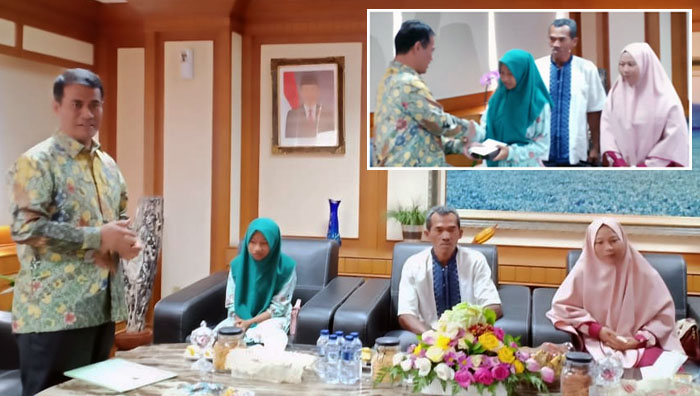 BURUH BANGUNAN: Mentan Amran Sulaiman mengundang Putri Nila disertai ayah dan ibunya di ruang kerjanya, dan memberi bantuan pendidikan gratis serta bantuan traktor untuk ayahnya [Foto2: B2B/Mya]
Jakarta [B2B] - Menteri Pertanian RI Andi Amran Sulaiman mengundang dan memberi bantuan kepada Putri Dewi Nila Ratih, siswi SMPN 4 di Peureulak, Kabupaten Aceh Timur, Provinsi Aceh yang sempat diberitakan kelaparan saat sedang sekolah, karena orangtuanya tak memiliki beras.
Mentan Amran Sulaiman memberikan bantuan kepada keluarga Putri berupa sapi bunting, traktor dan sejumlah uang untuk membantu perekonomian keluarganya serta menawarkan pendidikan gratis untuk Putri hingga selesai, dan kakak Putri yang lulusan SMK pun ditawari pekerjaan di Kendari.
"Kalau kamu mau sekolah hingga tingkat lanjut ikut saya ke Kendari. Saya sekolahkan di sana. Begitu pula sang kakak saya kasih pekerjaan di Kendari," kata Amran yang djjawab dengan senyuman oleh Putri. Ayah putri, Suparno hanya seorang buruh bangunan dan ibunya berjualan gorengan.
Mentan menjelaskan bahwa bantuan itu diberikan kepada keluarga Putri setelah membaca kisah mirisnya di media massa, yang dibacanya saat berada di kampung halamannya saat sedang merayakan Idul Adha. Menteri juga mengaku bahwa dirinya dulu juga orang susah yang berasal dari kampung.
"Dulu, saya adalah buruh pemecah batu dan hidup kekurangan. Tapi sekarang tidak boleh ada anak bangsa yang susah dan kelaparan," tegasnya.
Menurutnya, traktor bantuan Mentan dapat disewakan apabila keluarga Putri menyewakan traktornya, dapat menghasilkan keuntungan Rp10 juta hingga Rp12 juta. Pihaknya juga akan menerjunkan Brigade alat mesin pertanian (Alsintan) untuk melakukan pendampingan dalam penggunaan aalsintan, termasuk traktor yang diberikan kepada keluarga Putri.
"Bapak masih sehat dan kuat, pasti bisa mengoperasikan traktor. Dalam tiga sampai empat hari akan sampai, dan bapak harus tetap bekerja. Tidak ada alasan anak bangsa tidak bekerja," imbau Amran.
Jakarta [B2B] - Indonesian Agriculture Minister Andi Amran Sulaiman invited and gave assistance to Putri Dewi Nila Ratih, junior high school student in Peureulak, East Aceh district of Aceh province which was reported by the mass media was starving while at school, because his parents did not have rice.