Panen Perdana Rosella, Mahasiswa Polbangtan Yoma Tuai Hasil Praktikum TeFa
Indonesian`s Agricultural Polytechnic Students Harvest Organic Rosella
Editor : M. Achsan Atjo
Translator : Dhelia Gani

PUBLISHED: Jum'at, 24 Mei 2019 , 02:19:00 WIB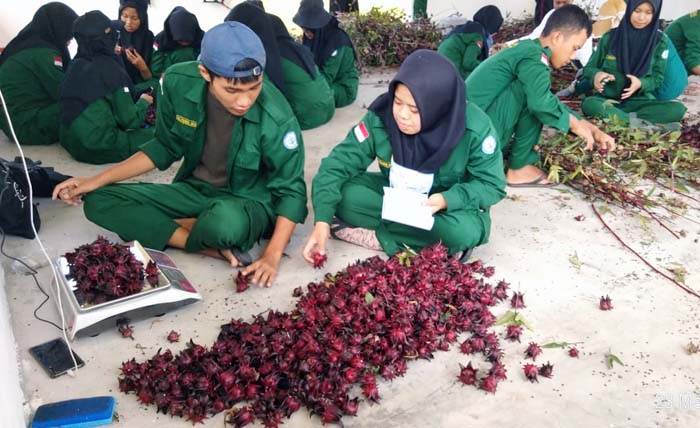 AGRIBISNIS HORTIKULTURA: Mahasiswa semester dua Agribisnis Hortikultura menyortir tanaman Rosella, hasil panen 45 kg kering per 100 meter [Foto: Humas Polbangtan YoMa/Asnuri]
Sleman, DIY [B2B] - Sejumlah mahasiswa semester dua jurusan Agribisnis Hortikultura di Polbangtan YoMa antusias melakukan panen perdana Rosella [hibiscus sabdariffa L] diikuti sortir dan pengepakan awal, Kamis [23/5] di lahan praktik TeFa Kebun Sempu, Werdomertani, Kecamatan Ngemplak, Kabupaten Sleman, DI Yogyakarta.
Rosella diketahui berkhasiat untuk obat dengan harga jual tinggi, salah satu komoditas tanaman yang dipilih oleh Lektor Kepala jurusan pertanian Polbangtan YoMa untuk mengembangkan minat dan kemampuan lulusannya kelak sebagai job creator dan job seeker di sektor pangan.
"Praktik dengan metode Teaching Factory disingkat TeFa dilakukan melalui mata kuliah budidaya tanaman organik, mahasiswa berhasil memanen 45 kg kering panen per 100 meter persegi," kata Galuh, dosen mata kuliah Budidaya Tanaman Organik.
Menurutnya, Rosella organik dipilih karena peluang komoditas tanaman berkhasiat diminati pasar dengan harga relatif tinggi, sehingga mahasiswa sejak tahun pertama kuliah vokasi pertanian di Polbangtan YoMa untuk mengasah pengetahuan dan kemampuan sebagai job creator dan job seeker kelak setelah lulus.
Polbangtan YoMa sebagai unit pelaksana teknis [UPT] dari Pusat Pendidikan Pertanian [Pusdiktan BPPSDMP Kementan] mendorong mahasiswa belajar dan praktik langsung bagaimana cara budidaya tanaman seperti Rosella, mulai dari pemilihan lahan, pembibitan hingga panen dan pascapanen dengan sistem organik.
"Melalui bercocok tanam organik, mahasiswa Polbangtan YoMa turut aktif menjaga lingkungan dan memenuhi kebutuhan pangan sehat. Ke depan, pertanian organik akan lebih digalakkan untuk kepentingan lingkungan dan kesehatan konsumen," kata Galuh.
Polbangtan YoMa ke depan, akan mendorong pengembangan tanaman organik agar harganya lebih terjangkau semua kalangan, lantaran kebutuhan pasar dapat dipenuhi oleh petani "sementara saat ini masih tinggi karena jumlah produksi di bawah kebutuhan konsumen, sesuai hukum ekonomi." [Asnuri]
Sleman, Yogyakarta [B2B] - A number of 2nd semester students majoring of agri-horticulture majors in Yogyakarta - Magelang Agricultural Development Polytechnic [Polbangtan YoMa] enthusiastically doing the first harvest of Rosella [hibiscus sabdariffa L] followed by sorting and initial packing, Thursday [ May 23] in the Sempu practice garden, Sleman of Yogyakarta.
Rosella is known to be efficacious for drugs with high selling prices, one of the selected commodities chosen by YoMa Polbangtan to develop ability of its graduates as job creators and job seekers in food sector.
"Practices the Teaching Factory or TeFa method is done through organic plant cultivation courses, the students managed to harvest 45 kg of dried crops per 100 square meters," said Galuh, lecturer of Organic Plant Cultivation.
According to him, organic Rosella was chosen because the opportunity for plant commodities is effective in attracting the market with relatively high prices, so that students from the first year of vocational education at Polbangtan YoMa to hone their knowledge and abilities as job creators and job seekers after graduation.
The Polbangtan YoMa support students to learn and practice the cultivation of organic plants such as Rosella, from the selection of land, nurseries to harvest and postharvest.
"Through organic farming, Polbangtan YoMa students actively take care of environment and meet healthy food needs. In the future, organic agriculture will be more encouraged for environment and consumer health," said Galuh who goes by one name, like many Indonesians.
The Polbangtan YoMa in the future, will encourage development of organic plants so that the price is more affordable, because market needs can be met by farmers "while currently it is still high because production capacity is below the needs of consumers, that is economic law."