Tiga Pekan, Mahasiswa Polbangtan Tingkatkan Kompetensi Inseminasi Buatan
Artificial Insemination by Indonesian Students for Increase the Cattle Population
Editor : M. Achsan Atjo
Translator : Dhelia Gani

PUBLISHED: Minggu, 16 Februari 2020 , 22:02:00 WIB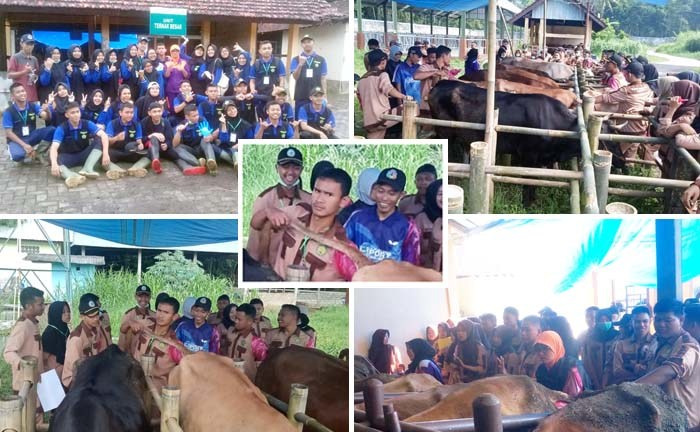 JURUSAN PETERNAKAN: 139 mahasiswa Polbangtan YoMa mengikuti pelatihan inseminasi buatan [IB] untuk meningkatkan kompetensi selama tiga pekan di kampus jurusan peternakan Magelang [Foto2: Humas Polbangtan YoMa]
Magelang, Jateng [B2B] - Sekitar 139 mahasiswa tingkat tiga jurusan peternakan Polbangtan Yoma mengikuti kegiatan ´peningkatan kompetensi inseminasi buatan´ di Kampus Magelang selama tiga pekan, hingga Jumat [6 Maret], yang dibuka oleh Wakil Direktur II Polbangtan YoMa, drh Yudiani Rina Kusuma MP di mewakili Direktur Dr Rajiman di Magelang, Kamis [13/2].
"Rangkaian kegiatan peningkatan kompetensi terdiri dari pemberian materi di kelas oleh para narasumber dan pelatih internal maupun eksternal serta praktik di lapang. Tujuannya, untuk menunjang mahasiswa menguasai keahlian terapan peternakan di bidang inseminasi buatan atau IB," kata Wadir II drh Yudiani Rina Kusuma MP mengutip arahan Dr Rajiman.
Polbangtan YoMa tidak hanya mengandalkan narasumber pelatih internal, namun juga melibatkan Dinas Peternakan dan Kesehatan Hewan [PKH] Pemprov Jawa Tengah; Dinas Pertanian dan Ketahanan Pangan Pemkab Rembang; Fakultas Kedokteran Hewan Universitas Gadjah Mada [UGM Yogya] dan Balai Pelatihan Peternakan dan Kesehatan Hewan - BPPSDMP [BPPKH] Cinagara di Bogor, Jabar.
Teori dan praktik yang didapat dan dilakukan mahasiswa selama pelatihan meliputi cara penerapan kesehatan dan keselamatan kerja serta lingkungan; mengorganisasikan pekerjaan; melakukan komunikasi dengan peternak; membangun jejaring kerja; menangani alat inseminasi buatan; merencanakan kebutuhan semen beku; kelayakan akseptor; pelaksanaan IB; dan melakukan evaluasi hasil IB.
Dr Rajiman mengharapkan pelatihan IB tiga pekan, mahasiswa dibekali dengan skill yang mumpuni, harapannya mampu bersaing di dunia usaha maupun dunia kerja begitu pula dengan program studi [Prodi] lain akan menghasilkan kompetensi yang bernilai jual dan berdaya saing.
"Mahasiswa harus didorong untuk mengembangkan potensinya sebagai generasi penerus pembangunan pertanian di Indonesia," kata Wadir II drh Yudiani Rina Kusuma MP mengutip arahan Direktur Dr Rajiman. [IJS]
Magelang of Central Java [B2B] - Indonesian government developing the special program to increase the population and livestock production for self-sufficiency in proteins through the artificial insemination program for cattle or called the Upsus Siwab with a target of four million artificial insemination of cows that can produce three million of calf, according to senior official ministry.