HUT RI ke-73, Ini Makna Kemerdekaan bagi STPP `Jurluhtan` Yogyakarta
Commemoration of Indonesia`s Independence Day in Yogyakarta
Reporter : Khairullah Musyafa
Editor : Cahyani Harzi
Translator : Dhelia Gani

PUBLISHED: Jum'at, 17 Agustus 2018 , 22:26:00 WIB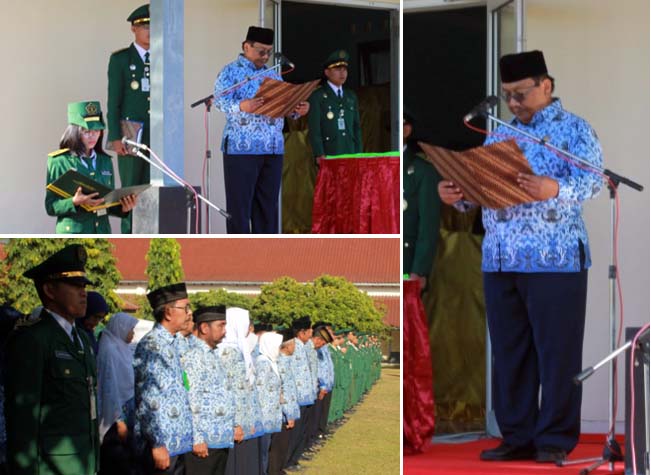 UPACARA BENDERA: Ketua STPP Yogyakarta, Ali Rachman (kanan) membaca naskah Proklamasi Kemerdekaan RI yang dihadiri civitas academica di halaman tengah kampus (Foto2: Humas STPP Yogyakarta)
Yogyakarta, DIY (B2B) - Upacara bendera memperingati HUT Kemerdekaan RI ke-73 berlangsung khidmat di lapangan tengah Sekolah Tinggi Penyuluhan Pertanian - STPP Yogyakarta. Upacara dipimpin oleh Ketua Ali Rachman sebagai inspektur upacara, dan dihadiri oleh segenap civitas academica di kampus jurusan penyuluhan pertanian (Jurluhtan).
Upacara bendera merupakan agenda wajib yang dilaksanakan STPP Magelang setiap kali merayakan dirgahayu kemerdekaan RI seperti halnya di Istana Negara Jakarta, kantor-kantor instansi pemerintah, sekolah dan kampus di seluruh Indonesia.
"Upacara bendera merupakan momen sakral yang hendaknya mengingatkan kita tentang perjuangan para pahlawan untuk memperoleh kemerdekaan Indonesia," kata Ali Rachman dalam arahannya usai membacakan naskah Proklamasi Kemerdekaan RI 17 Agustus 1945.
Dia menambahkan bahwa secara harfiah kemerdekaan memiliki makna kebebasan, sementara memperingati hari ulang tahun kemerdekaan bagi suatu negara berarti memperingati hari di mana suatu bangsa terbebas dari segala bentuk penjajahan dari bangsa asing, bebas membangun bangsanya sendiri tanpa campur tangan maupun tergantung pada bangsa lain.
Ali Rachman mengingatkan tanggal 17 Agustus merupakan momen untuk mengingatkan seluruh rakyat Indonesia terhadap perjuangan para pahlawan untuk merebut kemerdekaan. Pada tanggal itu pula di tahun 1945, Proklamator Soekarno dan Mohammad Hatta membacakan teks proklamasi kemerdekaan RI.
"Naskah yang dibacakan oleh Soekarno - Hatta tersebut menyatukan seluruh rakyat Indonesia pada jiwa nasionalisme. Meskipun rakyat Indonesia terdiri atas berbagai macam suku, agama, kebudayaan, dan ras namun perbedaan tersebut menyatukan bangsa Indonesia melalui rasa nasionalisme dan kecintaan kepada bangsa Indonesia," katanya lagi.
Kabag Administrasi Umum STPP Yogyakarta, Irwan Johan Sumarno mengatakan kampus di selatan kota Yogyakarta mengharapkan melalui upacara bendera 17 Agustus maka para mahasiswa dapat mengenang jasa dan perjuangan para pahlawan untuk memperoleh kemerdekaan.
"Mahasiswa juga diharapkan meneladani kecintaan para pahlawan untuk bangsanya, sehingga dapat menjadi motivasi bagi mahasiswa untuk meneruskan perjuangan mereka, dengan mendukung pembangunan pertanian nasional," kata Irwan JS melalui pesan tertulis.
Yogyakarta (B2B) - The ceremony commemorates the 73rd Indonesia´s Independence Day in the central field of Magelang´s Agriculture Extentionist College or the STPP Magelang. The flag ceremony was led by Rector Ali Rachman as the ceremony inspector and attended by the civitas academica.
The flag ceremony is main agenda of the STPP Magelang in commemoration of Indonesia´s independence day as in the Jakarta State Palace, government offices, schools and campuses across the country.
"The flag ceremony is a sacred moment that reminds us of the struggle to win and defend Indonesia´s independence," said Mr Rachman in his direction after reading the declaration of independence August 17, 1945.
He added, independence literally means freedom, while commemorating the anniversary of independence for a country means commemorating the day when a nation is free from colonialism and imperialism free to build their nation without interference or depending on other nations.
Mr Rachman said August 17 is a moment that should remind all Indonesian people of the heroes´ struggle to win independence. On that date in 1945, Proclamator Soekarno and Mohammad Hatta declared Indonesia´s independence.
"The declaration of independence read by Soekarno-Hatta united all Indonesian people to the spirit of nationalism. Although Indonesian people differ in ethnicity, religion, culture and races but the difference unites the Indonesian people through nationalism and love for the nation," he said.
The Head of General Affairs of STPP Magelang, Irwan Johan Sumarno said the Flag ceremony activities are expected to inspire students to remember and carry on the fighting spirit of Indonesian independence heroes.
"Students must imitate the sacrifice of independence heroes for the nation and state, as motivation to continue their struggle, by supporting national agricultural development," Mr Sumarno said through the written statement.