Praktikum Alsintan, UKM Polbangtan YoMa Dampingi Mahasiswa APTA Yogyakarta
Indonesia`s Polbangtan YoMa Synchronizes TeFa with Other Universities
Editor : M. Achsan Atjo
Translator : Dhelia Gani

PUBLISHED: Jum'at, 03 Mei 2019 , 22:30:00 WIB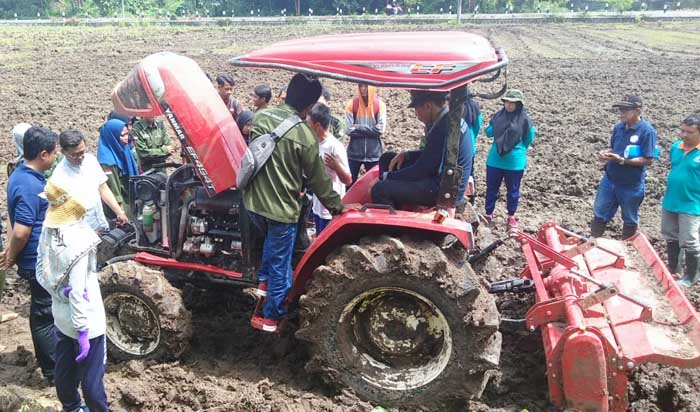 MODEL TEFA: Mahasiswa Apta mengikuti pelatihan Alsintan di kebun praktik Banyakan [Foto2: Humas Polbangtan YoMa/Asnuri]
Bantul, Yogyakarta [B2B] - Kebun praktik [teaching factory/TeFa] yang didukung alat mesin pertanian [Alsintan] di Polbangtan YoMa tidak hanya berperan mendukung pendidikan vokasional bagi mahasiswa perguruan tinggi Kementerian Pertanian RI, juga bermanfaat bagi mahasiswa dari kampus lain, seperti halnya 23 mahasiswa semester IV Akademi Pertanian Yogyakarta [Apta] melakukan praktikum mata kuliah mekanisasi pertanian pada kebun TeFa Banyakan di Desa Sitimulyo, Kecamatan Piyungan, Kabupaten Bantul, Jumat [3/5].
"Polbangtan YoMa berperan aktif dalam pengabdian masyarakat, dengan menerima dan melayani pelatihan tematik untuk petani dan penyuluh atau kegiatan praktikum mahasiswa seperti mahasiswa Apta Yogyakarta," kata Kepala TeFa Polbangtan YoMa, Kodrat Winarno STP M AgriCom saat menerima Ir Mashudi MSi, dosen Apta yang mendampingi 23 mahasiswanya.
Kodrat menambahkan bahwa Politeknik Pembangunan Pertanian Yogyakarta - Magelang [Polbangtan YoMa] mengembangkan TeFa sebagai metode pembelajaran, dari mulai perencanaan, pengelolaan lahan dan input produksi yang lain serta pengolahan dan pemasaran hasil pertanian.
"Kami menyambut gembira kunjungan mahasiswa Apta, karena bisa sharing pengalaman dan belajar juga dari Apta, khususnya dalam membina generasi muda untuk mencintai pertanian," kata Kodrat Winarno.
Ir Mashudi MSi menuturkan bahwa mahasiswa Apta memilih praktikum di Polbangtan YoMa lantaran Alsintannya tergolong lengkap, lokasinya pun strategis dan representatif sehingga para mahasiswa lebih cepat mengenal, mengoperasikan dan menghitung efektivitas pemanfaatan Alsintan.
"Kami mewakili civitas academica berharap ke depan, Apta dapat melakukan kerjasama lebih lanjut dengan Polbangtan YoMa," kata Mashudi.
Menurutnya, unit TeFa dari Polbangtan YoMa bertugas memfasilitasi kegiatan praktik mahasiswa bersama dunia usaha dan dunia industri atau DuDi untuk memberikan kemanfaatan kepada mahasiswa untuk menghasilkan produksi pangan atau jasa yang dapat diterima pasar atau mitra usaha Polbangtan YoMa.
Polbangtan YoMa saat ini didukung lima kebun praktik yakni Celeban seluas dua hektar, Sempu [7,2 hektar], Karangsari [7 hektar], Murangan [1,2 hektar], dan Banyakan [15 hektar].
Kabag Administrasi Polbangtan YoMa, Irwan Johan Sumarno mengatakan kebun praktik TeFa fokus menggelar teaching factory untuk mempersiapkan mahasiswa YoMa menjadi wirausaha atau tenaga profesional di bidang teknologi pertanian.
"Penataan dan pengembangan kebun praktik juga untuk memenuhi standar minimal kebun modern didukung mekanisasi pertanian, dan dapat dimanfaatkan untuk agrowisata," kata Irwan JS. [Asnuri]
Bantul of Yogyakarta [B2B] - Indonesian Agriculture Ministry developing integrate learning process with production and entrepreneurship for Agricultural Development Polytechnic or the Polbangtan through teaching factory or the TeFa.
The basic principle of TeFa is the integration of work experience into the school curriculum as a combination of production-based learning and competence.
"Equipment and teachers are designed for the process of making products or services," said Kodrat Winarno as the Head of Tefa.
The production-based learning encourages students to engage in the production process, building competencies based on production needs, by knowing the capacity and type of products.
"In TeFa, the Polbangtan perform production activities or provide services as part of the learning and teaching process. The campus should have workshop or other business unit for learning activities," Winarno said.