Dr Rajiman Pantau KSTM, Surprise atas Capaian Santri Tani Milenial Klaten
Indonesian`s Islamic Boarding Schools Developing Poultry Government Assistance
Editor : M. Achsan Atjo
Translator : Dhelia Gani

PUBLISHED: Sabtu, 01 Juni 2019 , 22:35:00 WIB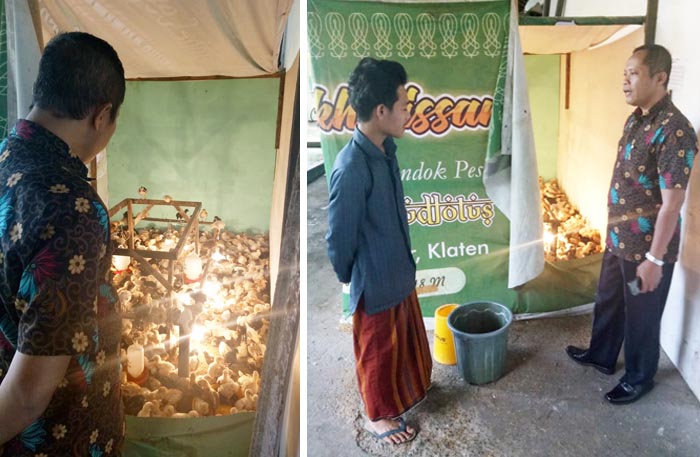 TERNAK AYAM: Direktur Polbangtan YoMa, Dr Rajiman [batik coklat] meninjau dan berbincang dengan santri KSTM, Makruf di Ponpes Roudlotus Sholihin di Klaten, Jateng [Foto2: Humas Polbangtan YoMa/IJS]
Klaten, Jateng [B2B] - Pondok Pesantren Roudlotus Sholihin di Tegal Rejo, Kabupaten Klaten, Provinsi Jawa Tengah yang dibina Polbangtan YoMa mulai menuai hasilnya, setelah menerima bantuan 500 ekor ayam KUB dari Kementerian Pertanian RI yang diserahkan Menteri Pertanian RI Andi Amran Sulaiman melalui Badan Penyuluhan dan Pengembangan SDM Pertanian [BPPSDMP Kementan] pada pertengahan Februari 2019 untuk mendukung pengembangan Kelompok Santri Tani Milenial [KSTM].
Perkembangan positif KSTM di Provinsi Jawa Tengah dan Yogyakarta dipantau langsung oleh Direktur Polbangtan YoMa, Dr Rajiman didampingi Kabag Umum, Irwan Johan Sumarno saat memantau perkembangan KSTM di Pondok Pesantren Roudlotus Sholihin, dengan meninjau ternak ayam yang berkembang biak dari 500 menjadi 800 ekor.
"Alhamdulillah program KSTM Kementan di bawah binaan Polbangtan YoMa telah memberikan manfaat positif bagi kami, yang dirasakan langsung oleh santri Roudlotus Sholihin. Kami terima 500 ekor ayam dan kini telah berkembang biak menjadi 800 ekor," kata Makruf, salah satu santri KSTM binaan Polbangtan YoMa.
Makruf mengakui santri KSTM menargetkan penjualan hasil ternak ayam untuk menutupi biaya operasional, dan mendatangkan bibit baru. Beternak ayam bermanfaat positif bagi santri KSTM untuk memiliki penghasilan dan berbagi dengan pondok pesantren dari hasil usaha tersebut.
"Alhamdulillah, santri dapat berbagi hasil ternak ayam KSTM menghadapi Lebaran, karena kami tidak hanya berharap keuntungan duniawi saja, tapi juga ukhrowi, karena shadaqh menolak bala dan menghapus dosa. Inshaa Allah bantuan Kementan akan bermanfaat dan barokah buat santri dan pondok pesantren," kata Makruf.
Dr Rajiman mengapresiasi keberhasilan KSTM di Roudlotus Sholihin memanfaatkan bantuan Kementan untuk belajar beternak dan mengembangkan hasilnya untuk mendukung pendidikan santri maupun mendapatkan manfaat ekonomi dari program KSTM.
"Pesantren dan pertanian saling melengkapi, baik nilai maupun kultur yang selama ini dibangun. Sesuai kata pak menteri, pesantren biasanya ada di pedesaan, dan ekonomi pedesaan ditopang oleh pertanian," kata Dr Rajiman mengutip arahan Mentan Amran Sulaiman yang disampaikan Kepala BPPSDMP Momon Rusmono saat menyalurkan bantuan Kementan untuk KSTM binaan Polbangtan YoMa di Yogyakarta dan Jawa Tengah.
Menurut Dr Rajiman, Polbangtan YoMa akan mendorong para santri pemimpin dan pengusaha sukses Indonesia di masa depan. Santri memiliki akhlak, moral dan integritas perlu didorong untuk mendukung pembangunan pertanian nasional.
"Inshaa Allah, Polbangtan YoMa siap mendukung dan membantu para santri KSTM mengembangkan usaha ternaknya ke depan," katanya. [IJS]
Klaten of Central Java [B2B] - The Roudlotus Sholihin Islamic boarding school in Tegal Rejo of Klaten district in Central Java province began to reap the benefits of raising chickens of Indonesian government after got assistance of Agriculture Ministry of 500 chickens submitted by Minister Andi Amran Sulaiman in mid-February 2019 to develop farmer youth in Islamic boarding schools [KSTM].
The positive development of KSTM in Central Java and Yogyakarta provinces was monitored directly by Director of Polbangtan YoMa, Dr Rajiman accompanied by the Head of Public Affairs, Irwan Johan Sumarno by reviewed chickens that breed from 500 to 800.
"Alhamdulillah, the chickens assisted by Polbangtan YoMa have positive benefits for us. We got 500 chickens and have now multiplied to 800," said Makruf, one of the KSTM students assisted by Polbangtan YoMa.
Makruf acknowledged KSTM students targeted the sale of chicken products to cover operational costs, and buy new seeds. Chicken farming is positive for KSTM students to earn income.
"Islamic boarding schools and agriculture complement each other, both values and culture that have been built so far. According to the minister´s direction, pesantren are usually in the countryside, and the rural economy is supported by agriculture," Dr Rajiman said.
According to him, the government encourage santri to become successful leaders and entrepreneurs in the future. Santri has character and integrity must be encouraged to support national agricultural development.