Pelayanan Publik, Polbangtan YoMa Jaring Masukan Rumuskan Standar
Indonesia`s Polbangtan YoMa Held Public Hearing for Public Service Standards
Editor : M. Achsan Atjo
Translator : Dhelia Gani

PUBLISHED: Rabu, 29 Mei 2019 , 22:40:00 WIB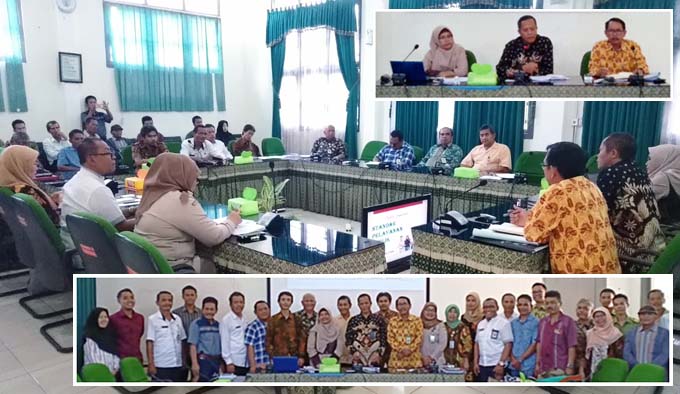 PUBLIC HEARING: Direktur Dr Rajiman [batik hitam] didampingi Kabag Umum Irwan JS [inset atas] pada `public hearing` SPP dihadiri Wadir I dan II Dr Ananti Yekti SP MP dan Drh Yudiani Rina Kusuma MP [Foto2: Humas/JK Hasan]
Yogya, DIY [B2B] - Perguruan tinggi vokasi pertanian, Polbangtan YoMa menjaring masukan dari internal maupun mitra kerja dan alumni sebagai ´pengguna jasa´ melalui public hearing sebagai bagian dari proses perumusan ´Standar Pelayanan Publik´ disingkat SPP untuk menindaklanjuti SK Direktur Polbangtan YoMa No 25/Kpts/OT.140/I.8/01/2019 tertanggal 2 Januari 2019 tentang Penunjukan Tim Penyusun Standar Pelayanan Publik.
Hal itu dikemukakan Direktur Polbangtan YoMa Dr Rajiman pada ´public hearing´ di kampus jurusan pertanian Yogyakarta, Rabu [29/5] dihadiri lebih 50 peserta di antaranya para pimpinan dari Disnak Keswah Pemprov Jateng, Saiful Lade; Balai Karantina Yogyakarta, Ismah Harusaty; Disnakan Kabupaten Temanggung, Nur Falah; dan para koordinator Balai Penyuluhan Pertanian [BPP] di Provinsi Yogyakarta dan Jawa Tengah. Turut hadir Wakil Direktur I Polbangtan YoMa, Dr Ananti Yekti SP MP; Wakil Direktur II Drh Yudiani Rina Kusuma MP; dan Kabag Umum, Irwan Johan Sumarno.
"Kegiatan pelayanan publik di Polbangtan YoMa mengacu pada ISO 9001:2015. Seluruh kebutuhan terkait pelayanan publik dialokasikan dalam DIPA dan Rencana Kerja dan Anggaran Kementerian [RKAKL] TA 2019," kata Dr Rajiman.
Menurutnya, pelaksanaan monitoring dan evaluasi [Monev] pelayanan publik mengacu pada pengukuran indeks kepuasan masyarakat (IKM), indeks pengukuran nilai dan budaya kerja [IPNBK], penyempurnaan standar operasional prosedur [SOP], Surveilance ISO 9001: 2015, audit internal, dan public awareness pada Politeknik Pembangunan Pertanian Yogyakarta - Magelang [Polbangtan YoMa].
"SPP bertujuan untuk memberikan kepastian, meningkatkan kuantitas dan kinerja pelayanan sesuai dengan kebutuhan masyarakat, dan selaras dengan kemampuan penyelenggaraan sehingga mendapatkan kepercayaan dari masyarakat," kata Dr Rajiman.
Dia mengingatkan SPP adalah tolok ukur yang dipergunakan sebagai pedoman penyelenggaraan pelayanan dan acuan penilaian kualitas pelayanan sebagai kewajiban dan janji penyelenggara kepada masyarakat mewujudkan pelayanan berkualitas, cepat, mudah, terjangkau dan teratur.
Wakil Direktur II Drh Yudiani Rina Kusuma MP mengatakan setiap penyelenggara pelayanan publik wajib menyusun, menetapkan, dan menerapkan standar pelayanan yang memuat sekurang-kurangnya 14 komponen standar pelayanan, serta menyusun dan menetapkan Maklumat Pelayanan dengan memperhatikan kemampuan penyelenggara, kebutuhan masyarakat dan kondisi lingkungan.
"Prinsip standar pelayanan meliputi sederhana, partisipatif, akuntabel, berkelanjutan, transparansi dan keadilan," kata Wadir II Polbangtan YoMa.
Maklumat Pelayanan dimaksud adalah "Sanggup menyelenggarakan pelayanan Tri Dharma Perguruan Tinggi sesuai standar mutu pendidikan, apabila tidak menepati janji, kami menerima sanksi untuk setiap pengaduan yang tidak ditindaklanjuti sesuai peraturan perundangan." [Asnuri]
Yogyakarta [B2B] - Indonesian´s agricultural vocational college in Yogyakarta, Polbangtan YoMa hold the public hearing to get input of internal as well as work partners and alumni as part the process of formulating Public Service Standards, according to the director of Polbangtan YoMa.
"Public service activities at the Polbangtan YoMa refer to ISO 9001:2015. All needs related to public services are allocated to the state budget and ministry work plan and budget," said Director of Polbangtan YoMa, Dr Rajiman.
According to him, the implementation of monitoring and evaluation of public services refers to measurement of community satisfaction index, index of measurement of work values and culture [IPNBK], improvement of standard operating procedures [SOP], surveillance of ISO 9001: 2015, internal audit, and public awareness at the Yogyakarta - Magelang´s Agricultural Development Polytechnic [Polbangtan YoMa].
"Public Service Standards or the SPP aim to provide certainty, improve the quantity and performance of services according to community needs, and harmony with ability of organization to gain trust of the community," said Dr Rajiman, who goes by one name, like many Indonesians.
He reminded that SPP is benchmark used as a guideline for implementation of services and references for evaluating service quality as the obligation of the civitas academica to the community to realize quality, fast, easy, affordable and regular service.
Drh Yudiani Rina Kusuma MP said that public service providers must compile, establish and implement service standards which contains at least 14 components of service standard, by compiling and stipulating the Notification of Services in accordance ability of public service providers and community needs.
"The principle of service standards is simple, participatory, accountable, sustainable, transparency and justice," she said.
The Service Notice is "capable of providing agricultural vocational higher education services according to educational quality standards, if it cannot implement it, are ready to accept sanctions for any complaints that are not followed up according to the laws and regulations."