198 Lulusan Polbangtan YoMa akan Diwisuda Mentan di Jakarta
The 1st Graduation of Indonesian`s Polbangtan YoMa Agricultural Vocational Education
Editor : M. Achsan Atjo
Translator : Dhelia Gani

PUBLISHED: Kamis, 15 Agustus 2019 , 02:24:00 WIB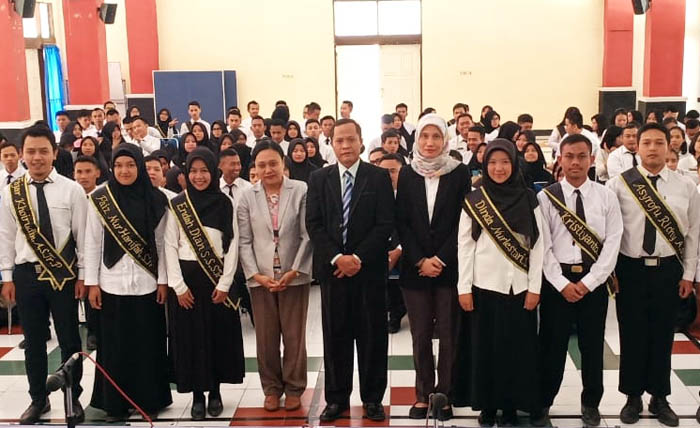 WISUDAWAN TERBAIK: Direktur Dr Rajiman [jas hitam] bersama Wadir I Dr Ananti Yekti [ke-4 kanan] bersama 10 mahasiswa dengan IPK tertinggi saat yudisium Polbangtan YoMa [Foto: Humas Polbangtan YoMa/Asnuri]
Yogyakarta, DIY [B2B] - Sebanyak 123 lulusan Polbangtan YoMa akan mengikuti wisuda nasional di Jakarta oleh Menteri Pertanian RI Andi Amran Sulaiman di kantor pusat Kementerian Pertanian, kawasan Ragunan di Jakarta Selatan, Selasa pekan depan [20/8].
Direktur Polbangtan YoMa Dr Rajiman mengatakan 123 lulusan dari kampus yang dipimpinnya merupakan bagian dari 821 wisudawan Polbangtan dari enam kampus di seluruh Indonesia.
"Atas nama civitas academica Polbangtan YoMa, Dr Rajiman mengucapkan selamat dan turut berbahagia kepada 123 mahasiswa yang telah lolos berbagai tahapan ujian akhir, dan dinyatakan lulus selanjutnya akan mengikuti wisuda di Jakarta," kata Dr Rajiman melalui pernyataan tertulis, Rabu [14/8].
Dr Rajiman juga menyatakan bangga dan haru serta menyampaikan apresiasi kepada Puri Eka Fortuna, mahasiswi Prodi Penyuluhan Pertanian Berkelanjutan - Polbangtan YoMa, sebagai wisudawan terbaik Polbangtan 2019 dengan indeks prestasi kumulatif [IPK] tertinggi yakni 3.92.
Polbangtan YoMa saat ini telah menghasilkan banyak lulusan andal dan berkompeten sejak didirikan pada 3 Agustus 1942 dengan nama SPMT. Pada 1946 menjadi Sekolah Pertanian Menengah Atas (SPMA) dan kemudian menjadi Sekolah Pertanian Pembanguanan (SPP-SPMA). Nama berganti dan fungsinya ditingkatkan setelah menjadi Akademi Penyuluhan Pertanian [APP] pada 1993. Berubah status menjadi Sekolah Tinggi Penyuluhan Pertanian [STPP] pada 2002 yang bertahan 16 tahun sebelum menjadi Politeknik Pembangunan Pertanian Yogyakarta - Magelang [Polbangtan YoMa].
"Sejak 1949 berpartisipasi aktif menghasilkan lulusan sebagai agen perubahan dalam pembangunan pertanian nasional khusunya di Provinsi Yogyakarta dan Jawa Tengah," kata Dr Rajiman. [Asnuri]
Yogyakarta [B2B] - At least 123 Polbangtan YoMa graduates will be inaugurated by Indonesian Agriculture Minister Andi Amran Sulaiman at the agriculture ministry´s headquarters, Ragunan area in South Jakarta, next Tuesday [Agusut 20].