HUT Korpri, 47 UKPP Raih Penghargaan AbdiBaktiTani dari Mentan SYL
Indonesian Agriculture Ministry Gave an Award to the Outstanding Civil Servants
Reporter : Gusmiati Waris
Editor : Cahyani Harzi
Translator : Dhelia Gani

PUBLISHED: Jum'at, 29 November 2019 , 22:45:00 WIB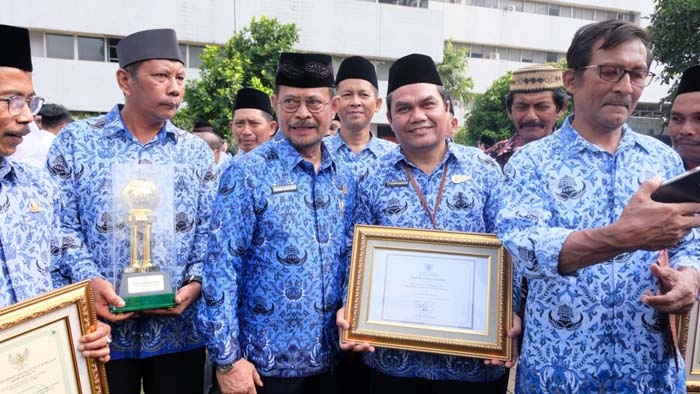 SNI AWARD 2019: Mentan Syahrul Yasin Limpo [berkacamata] dengan Kepala BET Cipelang, Oloan Parlindungan [ke-2 kanan] memegang sertifikat SNI Award 2019 dari Badan Standarisasi Nasional [BSN] Foto: Biro Humas
Jakarta [B2B] - Penghargaan bermakna pesan tentang sesuatu yang telah diupayakan secara maksimal dengan penuh kesungguhan. Sosok berprestasi adalah orang yang fokus dengan peran dan tanggung jawab atas fungsi dan perannya, sekaligus mengajak orang lain untuk melakukan hal yang sama.
"Izinkan saya atas nama Kementerian Pertanian RI menyampaikan rasa hormat dan terima kasih pada mereka yang telah berprestasi, dan telah memberikan nama baik bagi Kementerian Pertanian," kata Menteri Pertanian RI Syahrul Yasin Limpo [SYL] saat ramah-tamah dengan penerima penghargaan AdiBaktiTani 2019 usai upacara peringatan HUT Korpri ke-48 di Jakarta, Jumat [29/11].
Penghargaan diberikan Mentan SYL kepada 47 unit kerja pelayanan publik [UKPP] berprestasi di bidang pertanian 2019. Pemberian penghargaan bertujuan mendorong perbaikan pelayanan dan motivasi untuk tumbuhnya inovasi dalam rangka mendukung capaian program pembangunan pertanian serta meningkatkan pelayanan prima kepada pemangku kepentingan.
Pemberian penghargaan merupakan amanat UU Pelayanan Publik No 25/2009 yang dilaksanakan melaluiseleksi bagi UKPP berprestasi di bidang pertanian setiap tahun, maka dilakukan penilaian kepada UKPP pusat pemerintah daerah [kabupaten dan kota].
"Penghargaan itu sebenarnya sebuah pesan yang menyampaikan kepada kita bahwa ada sesuatu yang telah diupayakan secara maksimal dengan penuh kesungguhan," kata Mentan SYL.
Menurutnya, sosok berprestasi adalah mereka yang fokus dengan fungsi, peran dan tanggung jawab, maka setelah prestasi diraih berarti telah melakukan seluruh fungsi dan tugas sehingga meraih prestasi sekaligus mengajak orang lain melakukan hal yang sama.
"Ada orang yang berpikir yang penting saya kerja baik, yang penting saya kerja di kantor sesuai aturan, dari pukul 07 hingga 16, orang-orang seperti ini ya hanya melaksanakan tanggung jawab tapi sebenarnya tidak melakukan kewajiban karena kehidupan tidak berhenti sama seperti umur," kata Mentan SYL.
Dia mengingatkan bahwa kemajuan harus dibangun dengan semangat, kemauan, tekad dan biasanya akan menorehkan prestasi, maka ada lima petunjuk yang bisa kita lakukan sehingga ada kemajuan dari kinerja para aparatur yakni memiliki arah kerja yang tegas serta target apa yang akan dicapai.
"Oleh karena itu, Pak Sekjen, para kepala badan, para kepala biro serta seluruh eselon dua tunjukkan kemana dan apa target kita, karena jika tidak ada arah maka semua arah akan menjadi tujuan dan hasilnya tidak maksimal," kata Mentan.
Jakarta [B2B] - Indonesian Agriculture Minister Syahrul Yasin Limpo gave awards to 47 heads of public service work units for the agricultural sector.