Songsong Polbangtan, Ketua STPP Magelang Pimpin Rakor Persiapan Pembelajaran
Indonesian Agriculture Ministry will Running Vocational Education
Editor : M. Achsan Atjo
Translator : Dhelia Gani

PUBLISHED: Kamis, 23 Agustus 2018 , 22:46:00 WIB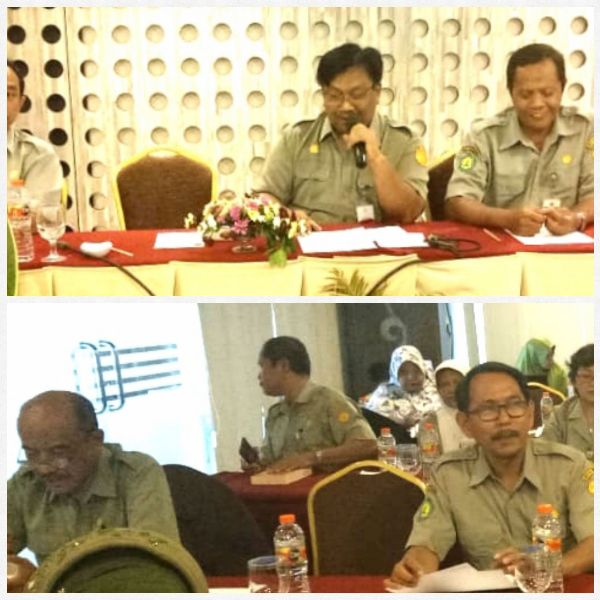 SEMESTER GANJIL: Ketua STPP Yogyakarta - Magelang, Ali Rachman (tengah) memimpin rapat songsong Polbangtan (foto atas) dan Kabag Administrasi Umum, Irwan Johan Sumarno menghadiri rapat (Foto2: Humas STPP Yogyakarta)
Yogyakarta, DIY (B2B) - Sedikitnya 30 orang mengikuti pertemuan 'persiapan pembelajaran dan kelengkapan perangkat pembelajaran semester ganjil' Politeknik Pembangunan Pertanian (Polbangtan) di Yogyakarta hari ini (23/8) yang dibuka oleh Ali Rachman, Ketua Sekolah Tinggi Penyuluhan Pertanian - STPP Magelang dan rapat berlangsung hingga Sabtu (25/8).
"Sebagai perguruan tinggi vokasi, Polbangtan Yogyakarta - Magelang berupaya menghasilkan lulusan yang siap menjadi job creator. Sadar dan paham akan keunggulan daerahnya sehingga persiapan perangkat pembelajaran menjadi penting sebelum memulai pembelajaran semester ganjil 2018/2019," kata Ali Rachman kepada pers di Yogyakarta.
Dalam paparannya pada pembukaan rapat, Ali Rachman menguraikan tentang hasil konsultasi dengan Sekjen Kementan, Syukur Iwantoro yang mendukung penuh transformasi STPP menjadi Polbangtan, bukan sekadar ganti nama dan ubah kurikulum, melainkan mengembangkan kemampuan entrepreneurship agribisnis dengan menyiapkan SDM dan penyelenggaraan pendidikan, sehingga alumninya kelak tidak 'menggantung harapan' menjadi pegawai negeri sipil (PNS).
"Sekjen Syukur Iwantoro antusias menanyakan banyak hal tentang transformasi STPP Magelang menjadi Polbangtan. Beliau sangat concern pada pengembangan entrepreurship pada mahasiswa. Polbangtan jangan cuma ganti nama dan ubah kurikulum," kata Ali Rachman mengutip uraian Sekjen Kementan.
Sekjen Kementan mengingatkan bahwa STPP Magelang seperti halnya unit pelaksana teknis (UPT) lain di lingkup Badan Penyuluhan dan Pengembangan SDM Pertanian (BPPSDMP) Kementan lainnya untuk berupaya keras mendukung pengembangan pendidikan vokasional pertanian.
Yogyakarta (B2B) - At least 30 officials attended a coordination meeting ahead of the odd semester lecture of the Agricultural Extension College or STPP into an Agricultural Development Polytechnic or Polbangtan in Yogyakarta (August 28) was opened by Ali Rachman, Rector of the Maagelang Agricultural Extension College or the STPP Magelang and the meeting lasted until Saturday (25/8).
"As the vocational college, Polbangtan Yogyakarta - Magelang tries to produce graduates who are ready to become job creators," told the press here on Thursday.
While opened the meeting, Mr Rachman described the consultation with the Secretary General of the Ministry of Agriculture, Syukur Iwantoro said the Indonesian government supports transformation of the STPP into Polbangtan, not just changing names and curriculum, but must support the development of students' entrepreneurial abilities so that after graduation they do not 'hang hope' into civil servants or the PNS.
Mr Iwantoro enthusiastically asked many questions about the transformation of STPP into to the Polbangtan. He is concerned development of student entrepreneurship. His message is that Polbangtan should not only change the name and curriculum," Mr Rachman told the press after the meeting.
Rector of the STPP Magelang was in Jakarta to deliver an invitation to Mr Iwantoro become the keynote speaker of the national seminar at the campus in September.
Mr Iwantoro reminded the Magelang STPP as well as other technical implementing units in agricultural education in the ministry seeks to support the development of agricultural vocational education.