LTT Banyumas Dipantau, PJ Upsus Jateng Dukung Promosi Durian Bawor
"Let`s Love Indonesian Local Fruits," Ministry Official
Editor : M. Achsan Atjo
Translator : Dhelia Gani

PUBLISHED: Minggu, 02 September 2018 , 22:48:00 WIB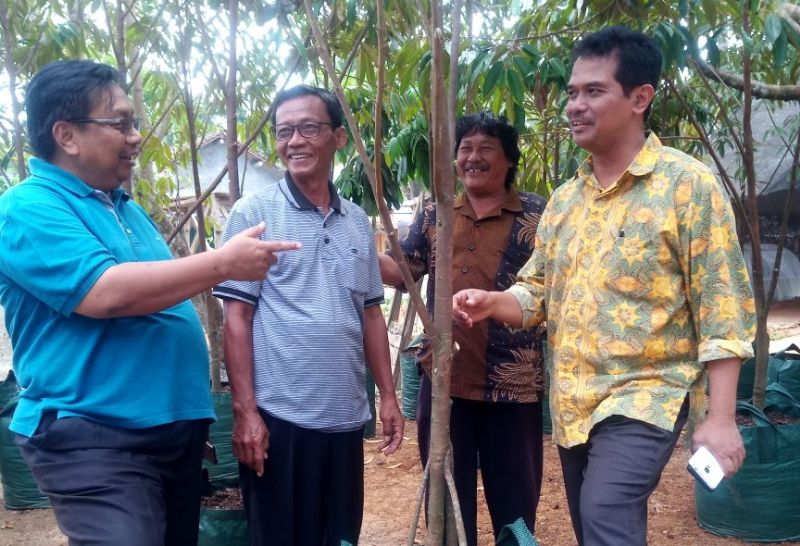 LTT & DURIAN: PJ Upsus Kebumen, Ali Rachman (kiri) berbincang tentang keunggulan durian Banyumas dengan PJ Upsus Jateng, Suwandi di sela pemantauan LTT (Foto: Humas STPP Yogyakarta)
Banyumas, Jateng (B2B) - Tugas, pokok dan fungsi atau Tupoksi sebagai Dirjen Hortikultura Kementan, mendorong Suwandi meluangkan waktu meninjau sentra pembibitan durian bawor di Kecamatan Kemranjen, Kabupaten Banyumas di sela kegiatan pemantauan kinerja tim Penanggung Jawab Upsus Swasembada Jawa Tengah.
PJ Upsus Kebumen, Ali Rachman mendampingi PJ Upsus Jateng Suwandi memantau LTT di Kabupaten Kebumen dan Cilacap belum lama ini, dilanjutkan ke Kemranjen yang dalam waktu dekat akan menggelar festival tahunan durian Banyumas pada November dan Desember 2018.
"Durian lokal kita bagus, terutama durian bawor. Rasanya enak tenan. Banyumas terkenal duriannya. Silakan mampir pada bulan November, Desember dan Januari di Banyumas. Mari kita cintai buah lokal Indonesia," kata Dirjen Hortikultura, Suwandi.
Ali Rachman asal Banyumas mengaku sangat mengenal kelezatan durian dari kampung halamannya, khususnya duren bawor. "Rasanya sangat enak. Banyak penggemar duren dari luar Banyumas sengaja datang ketika musim duren. November, Desember sampai Januari tahun depan."
Kepala Dinas Pertanian dan Ketahanan Pangan Banyumas, Achmad Supartono mengatakan ada sekitar 30 varietas durian di Indonesia, salah satunya adalah duren bawor karena rasanya seperti durian monthong.
"Rasa durian bawor tidak hanya legit, manis campur rasa agak pahit jadi sensasi tersendiri. Kulit lebih tipis dan biji lebih kecil dari durian umumnya, sehingga buahnya lebih banyak dan tebal," kata Nasipan, penyuluh pertanian di Kecamatan Kemranjen.
Kenapa dinamai durian bawor? "Batang bawah diowor-owor, dari tiga menjadi satu. Maksudnya, untuk menambah asupan unsur hara dari akar untu memasok kebutuhan nutrisi dari batang induk durian agar pohon durian tumbuh maksimal."
Sentra pembibitan Kemranjen menjual bibit durian seharga Rp5.000 hingga Rp2 juta per pohon. Sementara harga buah durian Rp50.000 per kilo dan rata-rata bobot durian adalah tiga kilogram.
"Pohon durian usia lima tahun dapat menghasilkan 80 sampai 100 buah per musim, hal itu mendorong banyak petani di Kemranjen yang menanam durian bawor," kata Kabag Administrasi Umum STPP Yogyakarta, Irwan Johan Sumarno.
Banyumas of Central Java (B2B) - The main task and function as Director General of Horticulture at the Indonesian Agriculture Ministry encourages Suwandi to spend time reviewing the durian nursery center in Kemranjen subdistrict of Banyumas district in the midst monitoring performance of Increasing Food Production Team or the PJ Upsus Swasembada for Central Java province.
PJ Upsus Kebumen, Ali Rachman accompanied Suwandi monitor the wide area of rice planting or the LTT in Kebumen and Cilacap districts recently, continued to Kemranjen, which in the near future will hold Banyumas durian annual festival in November and December 2018.
"Our local durians are good, especially durian bawor. It tastes really good. Banyumas Durian is famous for its deliciousness. Come visit Banyumas in November, December and January. Let´s love Indonesian local fruits," said Suwandi, who use one name like many Indonesians.
Mr Rachman from Banyumas claimed to be very familiar with the delicacy of durian from his hometown, especially the bawor durian. "It tastes very good. Many durian fans from outside Banyumas intentionally come when the durian harvest. November, December to January next year."
Head of the Banyumas Agriculture Office, Achmad Supartono said said there are about 30 durian varieties in Indonesia, one of which is a pimp because of its taste like monthong durian.
"The taste of bawor durian is not only delicious, sweet mixed with a bit bitter taste is a special sensation. Fruit skin is thinner and seeds are smaller than most durians," said Nasipan, agricultural extensionist of in Kemranjen subdistrict.
Why is it called a bawor durian? "Three rootstocks are pulled out and tied together. That is, to increase nutrient intake of the roots to supply nutritional needs for maximum growth of trees."
Kemranjen nursery center sells durian seeds for IDR 5,000 to 2 million per tree. While the price of durian fruit is 50,000 per kg and the average weight of the fruit is three kilograms.
"A five-year-old tree can produce 80 to 100 durian fruits per season, it encourages many Kemranjen farmers to planting durian," said Head of General Affairs of the STPP Yogyakarta, Irwan Johan Sumarno.