BPTP Kaltim dan Unikarta Sinergi Bangun Pertanian Kutai Kartanegara
Indonesia`s BPTP Kaltim Support Practicum of Unikarta Agricultural Students
Reporter : Wisnu Raharja
Editor : Cahyani Harzi
Translator : Dhelia Gani

PUBLISHED: Minggu, 25 November 2018 , 22:49:00 WIB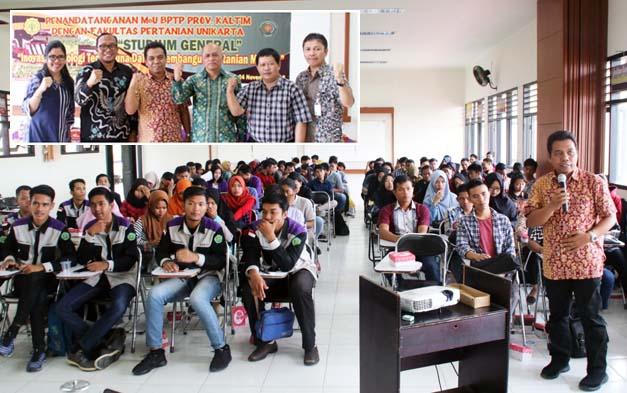 KULIAH UMUM: Kepala BPTP Balitbangtan Kaltim M Nur memberi kuliah umum pada 100 mahasiswa fakultas pertanian, bersama Rektor Unikarta, Erwinsayah dan pimpinan civitas academica (Foto2: Humas BPTP Kaltim)
Tenggarong, Kaltim (B2B) - Mahasiswa Fakultas Pertanian di Universitas Kutai Kartanegara (Unikarta) diberi kesempatan belajar dan praktik pada fasilitas Balai Pengkajian Teknologi Pertanian Kalimantan Timur ((BPTP Balitbangtan Kaltim) maupun Taman Teknologi Pertanian di Kutai Kartanegara.
Kesempatan tersebut sebagai implementasi kesepakatan kerjasama (MoU) yang ditandatangani oleh Dekan Fakultas Pertanian Unikarta, Thamrin MP dan Kepala BPTP Kaltim Muhamad Amin disaksikan Rektor Unikarta, Erwinsayah dan Ketua Yayasan Unikarta, Agus Saha Gunawan di Tenggarong, Sabtu (24/11).
Rektor Erwinsayah mengapresiasi BPTP Kaltim atas sinergi dengan Unikarta untuk mendukung pembangunan pertanian di Kabupaten Kutai Kartanegara.
"Unikarta juga mengucapkan terima kasih atas kesempatan bagi mahasiswa fakultas pertanian untuk belajar dan praktik di BPTP Kaltim dan Taman Teknologi Pertanian," katanya.
Kepala BPTP Kaltim mengharapkan sinergi tersebut memperkuat silaturahim dan bahu-membahu menciptakan pertanian lebih maju dan modern di Kutai Kartanegara, dan Kalimantan Timur secara umum.
Muhammad Amin juga memberikan kuliah umum pada 100 mahasiswa fakultas pertanian Unikarta, temanya ´Generasi Muda dan Inovasi Pertanian Modern sebagai Kunci Utama Perwujudan Kedaulatan Pangan´.
"Materi kuliah umum lebih menekankan pada pentingnya inovasi di sektor pertanian untuk peningkatan kualitas dan efisiensi agar berdaya saing sekaligus memberi motivasi dan semangat kepada para mahasiswa untuk fokus membangun pertanian," kata Amin. (Eta)
Tenggarong of East Borneo (B2B) - Agriculture Faculty Students of Kutai Kartanegara University or Unikarta get the opportunity to learn and practice in facilities of East Borneo´s Agricultural Technology Assessment Agency or the BPTP Kaltim and Agricultural Technology Park in Kutai Kartanegara.
It was as implementation of cooperation agreement signed by the Dean of Agriculture Faculty Unikarta, Thamrin MP and Director of BPTP Kaltim Muhamad Amin witnessed by Chancellor Erwinsayah and Chairperson of Unikarta Foundation, Agus Saha Gunawan here on Saturday (November 24).
Chancellor Erwinsayah appreciated the BPTP Kaltim for the synergy with Unikarta to support agricultural development in Kutai Kartanegara subdistrict.
"Unikarta also thanks for the opportunity for agricultural faculty students to study and practice at BPTP Kaltim and Agricultural Technology Park," he said.
Mr Amin hopes the synergy will strengthen friendship and cooperation in developing modern agriculture in Kutai Kartanegara, creating modern agriculture in Kutai Kartanegara, and East Borneo in general.
He also gave public lectures to 100 agricultural faculty students about the younger generation and innovation of agricultural technology.
"Public lecture material emphasizes the importance of agricultural technology innovation, to motivate and encourage students to focus on supporting agricultural development," Mr Amin said.