Yudisium Semester Genap, 14 Mahasiswa Polbangtan YoMa Raih IPK di Atas 3.80
14 Indonesia`s Polbangtan YoMa Students Got the Highest Achievement Index
Editor : M. Achsan Atjo
Translator : Dhelia Gani

PUBLISHED: Sabtu, 14 September 2019 , 02:30:00 WIB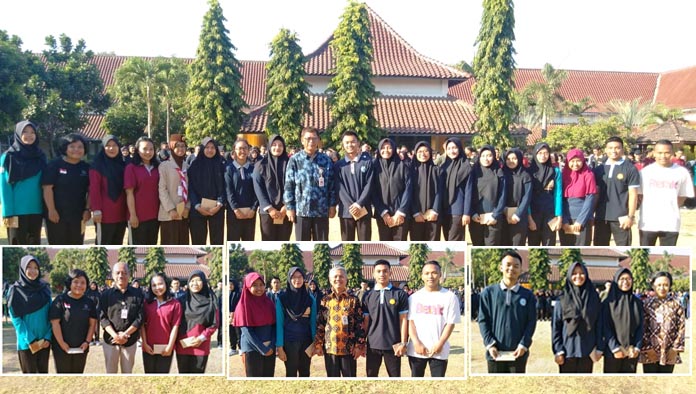 IPK TERTINGGI: Ketua Jurusan Dr Sujono dan 14 mahasiswa IPK tertinggi; Koordinator Dosen Ir Totok Sevenek Munanto; sesepuh Polbangtan YoMa, Drs Gunawan Yulianto, MM, MSi dan Kepala Prodi Ir Rika Malinda MP [inset]
Yogyakarta, DIY [B2B] - Yudisium kelulusan mahasiswa Polbangtan YoMa di kampus jurusan pertanian Yogyakarta, Jumat pagi [13/9] diwarnai kegembiraan lantaran empat mahasiswi Semester IV berhasil meraih indeks prestasi kumulatif [IPK] 4.00 dan 10 mahasiswa memperoleh IPK di atas 3.80, dan civitas academica menyatakan seluruh mahasiswa berhasil menempuh ujian akhir Semester Genap 2019.

Ketua Jurusan Pertanian Dr Sujono memimpin yudisium saat apel akbar pada Jumat pagi disaksikan seluruh civitas akademika seraya mengumumkan pada semester ini seluruh mahasiswa dinyatakan berhasil.

Atas prestasi tersebut, sesepuh Polbangtan YoMa, Drs Gunawan Yulianto, MM, MSi dan Koordinator Dosen Ir Totok Sevenek Munanto, MP serta para Kepala Program Studi [Prodi] Ir Miftaqul Arifin, MPd; Ir Rika Malinda MP; dan Galuh Hea STP, MP memberikan apresiasi berupa bingkisan untuk pembinaan.
"Dari hasil yudisium, ada beberapa hal yang bisa diteladani atas prestasi para mahasiswa yakni ketekunan, kedisiplinan, dan selalu meninjkatkan kemampuan diri dalam belajar," kata Dr Sujono.

Berikut nama nama para mahasiswa yang berhasil meraih IPK tertinggi

Semester IV
Penyuluhan Pertanian Berkelanjutan (PPB)

1 Adinastiti Nurul Istiqomah 4.00
2 Rachel Tika Aristiani 4.00
3 Yolanda Damayanti Sinaga 4.00
4 Zaimah Rifaatuz Zakiah 4.00

Penyuluhan Pertanian Berkelanjutan (PPB)

1 Ari Astuti 3,95
2 Dyah Retno Mulatsih 3,93
3 Zolanda Azzahra 3,90

Teknologi Benih (TB)

1 Ach Hilmy Tafanto Putra 3,86
2 Erna Widiastuti 3,86
3 Rina Antika Vibrianti 3,83

Agribisnis Hortikultura (AH)

1 Alvi Intan Nor Aisyah 3,83
2 Khorotun Ni'mah 3,89
3 Ni Putu Nidya Sukma Utari 3,89
4 Alfinda Meida 3,89

Semester IV
Penyuluhan Pertanian Berkelanjutan (PPB)

1 Sinta Pertiwi 3,98
2 Cintya Eka Sari 3,88
3 Ari Novianto 3,85
4 Dimas Janur Senopati 3,85 [Irwan JS]
Yogyakarta [B2B] - Announcement of graduation in the first semester of 2019 at the Polbangtan YoMa agriculture major campus in Yogyakarta on Friday morning [September 13] rejoicing because four students in Semester Four won the highest cumulative achievement index, 4.00 and 10 students above 3.80, and the civitas academica stated that all students graduated for the first semester of 2019.