UAS Polbangtan YoMa, Evaluasi Belajar `Candradimuka Serdadu Pangan` Yogyakarta
Agricultural Development Polytechnic is the Future of Indonesian Food
Editor : M. Achsan Atjo
Translator : Dhelia Gani

PUBLISHED: Senin, 11 Februari 2019 , 03:40:00 WIB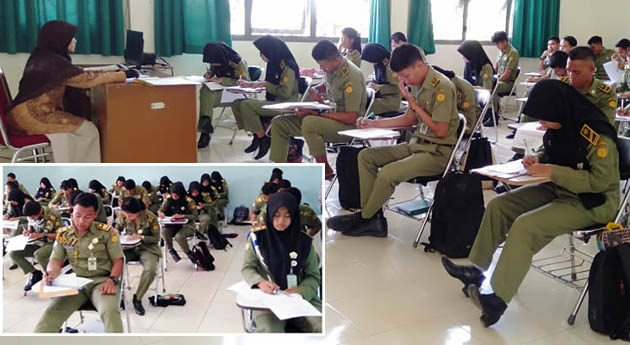 TIGA PRODI: Khusus jurusan pertanian di Yogyakarta, UAS diikuti mahasiswa semester pertama dari Prodi teknologi benih dua kelas, agribisnis hortikultura satu kelas, dan penyuluhan pertanian berkelanjutan dua kelas (Foto: Humas)
Yogyakarta, DIY (B2B) - Mahasiswa Politeknik Pembangunan Pertanian (Polbangtan) di seluruh Indonesia saat ini ´harap-harap cemas´ menantikan hasil ujian akhir semester (UAS) untuk mengetahui evaluasi hasil belajar selama menjalani ´candradimuka serdadu pangan´ Indonesia, termasuk mahasiswa Polbangtan YoMa jurusan pertanian di Yogyakarta dan jurusan peternakan di Magelang setelah melaksanakan UAS ganjil selama lima hari pekan lalu, 4 - 8 Februari.

Direktur Polbangtan YoMa, Dr Rajiman SP MP mengatakan UAS merupakan salah satu kegiatan evaluasi hasil belajar mahasiswa. Evaluasi ini adalah pemberian penilaian terhadap kemampuan mahasiswa dalam menerima, memahami, dan menguasai bahan studi yang disajikan sesuai dengan kurikulum yang telah ditetapkan, dan menilai perubahan sikap dan keterampilan mahasiswa.

"Tujuan UAS untuk mengetahui pencapaian hasil belajar mahasiswa yang meliputi ranah kognitif, afektif, psikomotor dalam kurun waktu studi tertentu, efektifitas proses pembelajaran," kata Dr Rajiman SP MP melalui pernyataan tertulis kepada B2B, Minggu (10/2).

Tak kalah penting dari tujuan UAS, kata Rajiman, untuk menetapkan derajat hasil belajar dalam kategori cumlaude, sangat baik, baik, cukup, kurang, sangat kurang, dan gagal.

Khusus jurusan pertanian di kampus Yogyakarta, kegiatan UAS diikuti mahasiswa semester pertama dari Prodi teknologi benih dua kelas, prodi agribisnis hortikultura satu kelas, dan penyuluhan pertanian berkelanjutan dua kelas.

Untuk semester tiga ada empat kelas, lima kelas untuk semester lima, dan empat kelas untuk semester tujuh, yang kesemuanya dari Prodi penyuluhan pertanian berkelanjutan.

"Sebelum UAS maka mahasiswa Polbangtan YoMa harus memenuhi syarat mengikuti kuliah tatap muka 16 kali termasuk UAS. Syarat utamanya, menyelesaikan semua tugas dari tiap mata kuliah, baik itu praktikum, penugasan-penugasan, kunjungan, pelaporan dan lain-lain," kata Rajiman.

Kabag Administrasi Polbangtan YoMa, Irwan Johan Sumarno menambahkan bagi mahasiswa yang telah memenuhi seluruh persyaratan kuliah dan administrasi maka akan mendapat kartu UAS dari Biro Administrasi Akademik dan Kemahasiswaan (BAAK).

"Apabila ada persyaratan yang miss maka mahasiswa tidak akan mendapatkan kartu UAS. Alhamdulillah, seluruh mahasiswa Polbangtan YoMa kampus Yogyakarta dapat mengikuti UAS yang berlangsung tertib, lancar dan memuaskan," kata Irwan JS.

Candradimuka
Menurut catatan B2B, Polbangtan menyandang ´tugas masa depan´ sebagai solusi untuk menggairahkan minat generasi muda berkiprah di sektor pertanian melalui pendidikan politeknik standar internasional.
Layak pula disematkan sebagai ´candradimuka serdadu pangan´ dalam menghadapi tantangan konflik global era milenial.

Perang masa depan bukan dipicu pertentangan ideologi komunis versus demokrasi, tirani minoritas setelah Adolf Hitler mengidamkan ras Aria Jerman menguasai Eropa, dan semangat Bushido Jepang menguasai Asia sehingga memicu Perang Dunia II.

Perang milenial dipicu penguasaan pangan, energi, dan air yang tidak terancam oleh era disruptif 4.0 karena ketiganya tetap dibutuhkan manusia hingga akhir jaman. Lulusan Polbangtan laik ´serdadu´ harus mampu bertindak sebagai motivator, eksekutor dan manajer pasokan dan distribusi pangan nasional menghadapi ´medan tempur´ yang dikuasai pemburu rente di dalam negeri, dan aturan dagang global yang membelenggu semangat swasembada pangan.
Yogyakarta (B2B) - Students of Indonesia´s Agricultural Development Polytechnic or the Polbangtan across the country now waiting anxiously for the results of their semester examinations or the UAS, including the Polbangtan YoMa in Yogyakarta and Magelang after the end of the odd semester exam for five days last week, 4 - 8 February 2019.

Director of Polbangtan YoMa, Dr. Rajiman SP MP said the UAS is one of the activities to evaluate student learning outcomes. Lecture evaluation with an assessment of the ability of students to understand and master study material.

"The purpose of the UAS to find out student learning outcomes includes the cognitive, affective, psychomotor and the effectiveness of the learning process," said Dr Rajiman SP MP through a written statement to the B2B on Sunday (February 10).

No less important, said Rajiman, to determine the degree of learning outcomes in the cum laude category, very good, good, enough, lacking, very lacking, and failing.

Particularly for agriculture majors at the Yogyakarta campus, UAS activities are followed by first semester students from three study programs: seed technology, horticulture agribusiness, and sustainable agricultural counseling.

For the third semester there are four classes, five classes for the fifth semester, and four classes for the seventh semester.

"Before the UAS, YoMa Polbangtan students had to meet the requirements to attend face-to-face lectures 16 times including the UAS. The main requirement, completing all assignments from each subject such as practicum, assignments, visits, reporting and others," Rajiman said.

The Administrative Division Head, Irwan Johan Sumarno, said that students who meet all academic requirements, and administration will get a UAS card from the Academic and Student Administration Bureau.

"If there are requirements that miss, students will not get a UAS card. Thanks God, All students can take part in the UAS which takes place orderly and smoothly," said Sumarno.

Food War
The Polbangtan holds a ´future task´ as a solution to stimulate the interest of the younger generation to take part in the agricultural sector through the international standard polytechnic education.

Future war is not because of ideology, communism versus democracy, minority tyranny after Adolf Hitler´s ambitions of German Aryan ruling ruled Europe, and the spirit of Bushido Japan ruled over Asia, triggering World War II.

Millennial war is triggered by the control of food, energy and water that is not threatened by the disruptive era 4.0 because it is still needed by humans until the end of time. Polbangtan graduates must act as motivators, executors and managers of national food supply and distribution facing the ´battlefield´ controlled by rent-hunters in the country, and global trade rules that bound the spirit of food self-sufficiency.