7,94 Juta Ton, DPR Setujui Usulan Pupuk Subsidi untuk 2020
Indonesia`s Agriculture Minister outlines the 2020 Target in Parliament
Editor : M. Achsan Atjo
Translator : Dhelia Gani

PUBLISHED: Selasa, 19 November 2019 , 23:12:00 WIB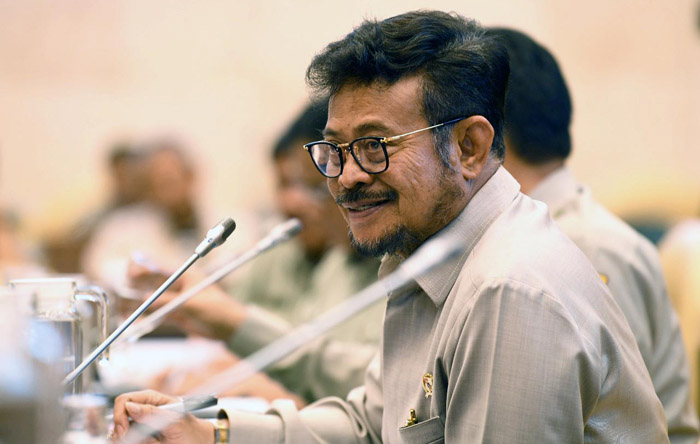 RAKER DPR: Mentan Syahrul Yasin Limpo [Foto: Biro Humas Kementan]
Jakarta [B2B] - Komisi IV DPR RI menerima usulan perubahan komposisi pagu anggaran tahun 2020 pada lingkup Kementerian Pertanian RI. DPR juga menerima penjelasan usulan alokasi anggaran subsidi pupuk sebesar 7,94 juta ton.
Ketua Komisi IV DPR RI, Sudin mengatakan bahwa parlemen menerima usulan subsidi pupuk, dengan rincian pupuk urea sebanyak 3,27 juta ton atau setara Rp11, 34 triliun. Pupuk SP-36 sebanyak 500.000 ton atau setara Rp1,65 triliun, ZA sebanyak 750 ribu ton atau setara dengan Rp1,34 triliun.
"Subsidi tersebut juga meliputi pupuk buatan NPK sebanyak 2,70 juta ton atau setara Rp11,12 triliun, serta pupuk organik atau kompos dengan kualitas tertentu yang jumlahnya setara Rp1,14 triliun," kata Sudin pada rapat kerja bersama dengan Menteri Pertanian RI Syahrul Yasin Limpo [SYL], Senin malam [18/11].
Mentan SYL mengapresiasi dukungan DPR dan menyatakan akan melakukan kajian mendalam terkait semua usulan dan masukan dari DPR.
"Secara teknis, tentu saya coba mengkaji apa masukan dari forum rapat kerja ini, termasuk masalah pupuk," katanya.
SYL menegaskan bahwa Kementan juga akan memperkuat produksi pangan melalui konsolidasi dengan berbagai lembaga dan kementerian lain, serta melakukan kajiannya secara komprehensif.
"Semuanya akan saya siapkan dengan baik dengan melibatkan berbagai pihak, tidak hanya kami di Kementan namun juga dari pakar perguruan tinggi secara bersama mementingkan kepentingan rakyat," katanya.
Sebagaimana diketahui, Kementan telah menetapkan target produksi padi sebanyak 59,15 juta ton, jagung sebanyak 30,35 juta ton, kedelai 1,12 juta ton, bawang merah 1,52 juta ton dan cabai 2,57 juta ton.
Di samping itu, ada juga target meningkatkan bawang putih 0,08 juta ton, daging sapi/kerbau 0,45 juta ton, tebu 2,46 juta ton, kelapa 2,91 juta ton, kakao 0,65 juta ton, kopi 0,76 juta ton dan karet 3,59 juta ton.
"Kami juga sudah menyiapkan benih, sarana produksi, Alsintan dan peralatan lain untuk mengantisipasi El-Nino tahun 2020. Kemudian meningkatkan bio diesel dari B20 ke B30, selanjutnya melakukan sosialisasi dan bantuan benih, juga membentuk kelompok petani peduli api," kata Mentan SYL.
Jakarta [B2B] - The Indonesian Parliament accepted the proposed change in the composition of the 2020 agriculture budget of Agriculture Ministry. Parliament also supports the proposed budget allocation for fertilizer subsidies of 7.94 million tons for 2020, according to the head of food commission, Sudin.