Puslitbangtan: Uji Tanam Padi Largo Super di Kebumen Masuki Fase Panen
Indonesian Agricultur Ministry Test Rice Planting under Coconut Trees
Reporter : Adipati Edonizar
Editor : Cahyani Harzi
Translator : Dhelia Gani

PUBLISHED: Senin, 15 Januari 2018 , 23:25:00 WIB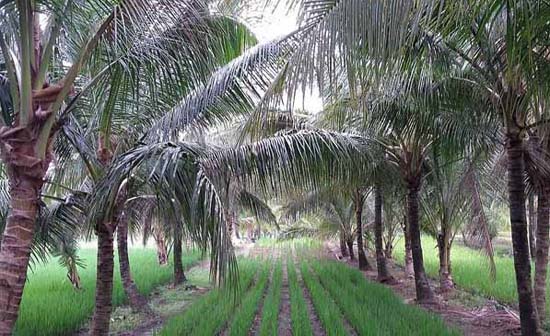 Kebumen dipilih sebagai lokasi uji karena wilayah lahan kering yang luas menghampar sepanjang pantai selatan baik terbuka maupun ditanami tanaman tahunan terutama kelapa (Foto: istimewa)
Jakarta (B2B) - Kementerian Pertanian memantau lahan tanam padi dengan pola tanam larik gogo disingkat Largo, hasil teknologi budidaya padi gogo di Kecamatan Puring, Kabupaten Kebumen, Provinsi Jawa Tengah, Largo dikembangkan oleh Badan Penelitian dan Pengembangan Pertanian (Balitbangtan).

Kepala Pusat Penelitian dan Pengembangan Tanaman Pangan (Puslitbangtan) Andriko Noto Susanto mengatakan Largo yang ditanam di Desa Banjarejo dan Desa Puliharjo diharapkan mampu mencapai target produksi 10 ton per hektar.

"Petani Kebumen terkesan dengan Inpago 9 dan 10 namun masih menguji beras dan rasa nasi sebelum memutuskan pilihan, sedangkan performa tanaman di bawah tegakan kelapa masih perlu mendapat perhatian terutama pengendalian hama dan pemupukan," kata Andriko yang mengunjungi lokai tanam yang memasuki fase panen, Sabtu (13/1).

Menurutnya, Kebumen dipilih sebagai lokasi uji karena wilayah lahan kering yang luas menghampar sepanjang pantai selatan baik terbuka maupun ditanami tanaman tahunan terutama kelapa.

Largo adalah terobosan teknologi budidaya padi gogo dengan merekayasa jumlah populasi per hektar minimal 200.000 rumpun dengan pola tanam jajar legowo, dengan alsin tabela larik pola jarwo 2:1. Varietas unggul padi gogo Inpago 8, 9, 10 dan IPB 9G provitas tinggi adalah kombinasi wajib larik gogo plus pupuk hayati, pestisida nabati dan biodekomposer.
Jakarta (B2B) - Indonesian agriculture ministry monitors rice planting land with a row planting pattern, known by its Indonesian acronym Largo, tested plant in Puring subdistrict of Kebumen district, Central Java province, while the Largo Largo was developed by the Agency for Agricultural Research and Development.

Director of Food Crops Research and Development Center, Andriko Noto Susanto said that Largo planted in Banjarejo and Puliharjo villages is expected to reach the production target of 10 tons per hectare.

"Kebumen farmers impressed with Inpago 9 and 10 but still test the rice and flavor of rice before deciding, while the rice plants under the coconut tree still have to get attention especially pest and fertilizer control," said Mr Susanto who visited the planting site on Saturday (January 13).

According to him, Kebumen was chosen as a test site because the dry land area on the southern coast of Java is planted with coconut trees.

Largo is a breakthrough technology cultivation of upland rice with engineering population per hectare at least 200,000 clump with row planting patterns.