Beras Gratis, Mentan Luncurkan ATM Pertanian Sikomandan
Indonesia`s Agriculture Anticipate Covid-19 by Weaker Health Systems
Reporter : Gusmiati Waris
Editor : Ismail Gani
Translator : Dhelia Gani

PUBLISHED: Rabu, 22 April 2020 , 23:29:00 WIB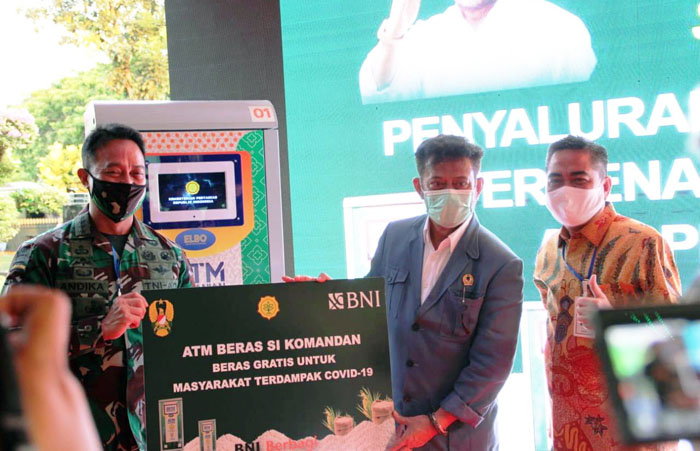 12 KODIM: setiap hari masyarakat bisa mengambil beras sebanyak 1,5 kg per orang di 12 Kodim yang tersebar di seluruh DKI Jakarta. Adapun stok beras yang dibagikan secara gratis ini mencapai 1,2 ton per hari [Foto: Ditjen PSP Kementan]
Jakarta [B2B] - Kementerian Pertanian RI melakukan soft launching ATM Pertanian Sikomandan di Kodim 0501/JPBS Kemayoran, Jakarta Pusat, Rabu [22/4]. ATM tersebut akan dipakai untuk mendukung penyediaan bantuan pangan bagi masyarakat selama menjalankan ibadah puasa 2020.
Peluncuran dilakukan oleh Menteri Pertanian RI Syahrul Yasin Limpo [SYL] didampingi Kepala Staf Angkatan Darat [Kasad] Jenderal TNI Andika Perkasa. ATM Sikomandan diharapkan dapat membantu warga yang mengalami keterbatasan akses pangan selama mengikuti kebijakan pemerintah akibat pandemi Covid-19.
Menurut Mentan, ATM Sikomandan sesuai arahan Presiden RI Joko Widodo untuk membantu memenuhi pangan masyarakat yang terkenda dampak covid-19.
"Ini adalah bentuk panggilan dimana kita hadir di tengah situasi yang sedang dihadapi bangsa ini, apalagi pandemi Covid-19 menyerang seluruh dunia," kata SYL.
Usai peluncuran, Mentan memberikan bantuan beras gratis kepada masyarakat di kawasan Gunung Sahari Kemayoran, Jakarta Pusat.
"Bantuan ini kami berikan dengan mesin ATM, disebutnya ATM Pertanian Sikomandan, warga yang mendapat bantuan silahkan datang ke Kodim untuk mengambil beras lewat ATM," katanya.
Sebagai informasi, setiap hari masyarakat bisa mengambil beras sebanyak 1,5 kg per orang di 12 Kodim yang tersebar di seluruh DKI Jakarta. Adapun stok beras yang dibagikan secara gratis ini mencapai 1,2 ton per hari.
Di tempat yang sama, Mulyanto, 45, yang berprofesi sebagai kuli bangunan mengaku sangat senang dengan launching mesin ATM Beras tersebut. Ia berharap bantuan ini bisa terus dilakukan hingga memfasilitasi seluruh warga miskin.
"Sangat terbantu sekali dengan adanya mesin ATM Beras Gratis ini, setiap hari jadi kita tidak perlu khawatir dengan harus membeli beras apalagi sekarang situasi sedang sulit," tandasnya.
Jakarta [B2B] - Indonesia´s Agriculture Ministry is in intensive care after testing positive for the novel coronavirus, as civil servants in head office and across the country were ordered to close over the health threat. The World Health Organization has said it is particularly concerned about high-risk nations with weaker health systems, which who may lack the facilities to identify cases.