Pemkab Bengkayang Dukung `Putra Daerah` Kuliah di Polbangtan YoMa
Bengkayang District Govt Support Support Education of Young Generation
Editor : M. Achsan Atjo
Translator : Dhelia Gani

PUBLISHED: Selasa, 25 Juni 2019 , 23:29:00 WIB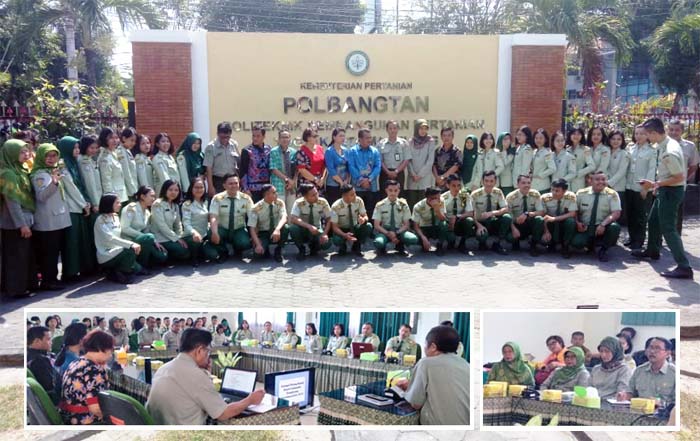 SEMESTER DELAPAN: Bupati Suryadman Gidot, Dr Rajiman dan Wadir I Dr Ananti Yekti bersama 34 mahasiswa asal Bengkayang dan civitas academica di pintu utama kampus Yogyakarta Polbangtan YoMa [Foto2: Asnuri]
Yogyakarta, DIY [B2B] - Bupati Suryadman Gidot menyatakan bangga pada 34 mahasiswa/i asal Kabupaten Bengkayang, Provinsi Kalimantan Barat yang tengah menyiapkan tugas akhir semester delapan di Polbangtan YoMa, dan segera melaksanakan wisuda di kantor pusat Kementerian Pertanian RI di Jakarta, dalam waktu dekat.
"Pemkab Bengkayang melalui kerjasama dengan Kementan mengirimkan putra daerah untuk kuliah di Polbangtan YoMa. Tujuannya, untuk mengembangkan potensi SDM pertanian yang kelak mendukung kesejahteraan masyarakat, khususnya petani Bengkayang," kata Bupati Suryadman Gidot kunjungan monitor dan evaluasi [Monev] di Yogyakarta, Senin [24/6] didampingi Direktur Polbangtan YoMa, Dr Rajiman.
Menurutnya, kerjasama Pemkab Bekayang dengan Polbangtan YoMa sebagai unit pelaksana teknis [UPT] dari Badan Penyuluhan dan Pengembangan SDM Pertanian - Kementerian Pertanian RI [BPPSDMP Kementan] untuk menjawab kebutuhan SDM pertanian di Bengkayang, dengan mendukung pembiayaan pendidikan putra daerah kuliah di Polbangtan YoMa.
Dr Rajiman mengakui tidak banyak pemerintah daerah yang menyediakan anggaran bagi generasi muda seperti dilakukan Pemkab Bekayang, untuk menempuh pendidikan tinggi vokasi pertanian di Polbangtan YoMa.
"Yogyakarta menjadi daya tarik tersendiri bagi Pemkab Bekayang sebagai ´kota pelajar´ dan menjadi tantangan Polbangtan YoMa untuk meningkatkan kualitas dan kuantitas pendikan vokasi pertanian sesuai tuntutan pertanian modern," katanya.
Ronald, mahasiswa Polbangtan YoMa mewakili rekan-rekan mahasiswa semester delapan asal Bengkayang mendapat kesempatan berharga kuliah di Yogyakarta dan Magelang pada UPT BPPSDMP Kementan, dengan tekad utama mendukung pengembangan potensi pertanian tanah kelahiran mereka, termasuk mendukung Agro Techno Park di Kabupaten Bengkayang.
Bupati Suryadman Gidot mengharapkan kerjasama pendidikan dengan Polbangtan YoMa lebih ditingkatkan, dengan mengutus lebih banyak putra daerah untuk menempuh pendidikan tinggi di Polbangtan YoMa.
"Pertanian masa depan adalah pertanian modern, efektif dan efisien dengan aplikasi teknologi. Bukan lagi zamannya mengolah lahan pertanian dengan cangkul," katanya.
Tampak hadir Wakil Direktur I Dr Ananti Yekti; Wakil Direktur II Drh Yudiani Rina Kusuma MP; Wakil Direktur III Teguh Susilo Spt MSi; dan Kabag Umum Irwan Johan Sumarno. [Asnuri]
Yogyakarta [B2B] - Regent Suryadman Gidot said he was proud of 34 students of Bengkayang district, West Kalimantan province who was preparing for the eighth semester final assignment in Polbangtan YoMa.
"The Bengkayang district government collaboration with Indonesian Agriculture Ministry gave opportunity for high school graduates in Bengkayang to study in Polbangtan YoMa. The aim is to develop potential of agricultural human resources which will support welfare of community, especially Bengkayang farmers," said Regent Gidot here on Monday [June 24].
The Regent Gidot hopes that the graduates of Polbangtan YoMa after being in Bengkayang can invite, educate and train farmers to develop modern agriculture, and train Bengkayang youth to develop agribusiness potential.
Dr Rajiman appreciated commitment of 34 Bengkayang students of the 2015 class to take part in agricultural vocational education in Yogyakarta and the Magelang farm campus to graduate on time, and return to Bengkayang will be the job creator and job seeker of agricultural sector to support regional food security.
"Food security is a necessity, so the obligation of YoMa Bengkayang Polbangtan graduates can realize sustainable agricultural development for Bengkayang´s progress," said Dr Rajiman.