Rp21,83 Triliun, Anggaran Kementan 2021 Disetujui DPR RI
Indonesian Parliament Approved the Agriculture Ministry`s Budget for 2021
Reporter : Gusmiati Waris
Editor : Cahyani Harzi
Translator : Dhelia Gani

PUBLISHED: Senin, 21 September 2020 , 23:51:00 WIB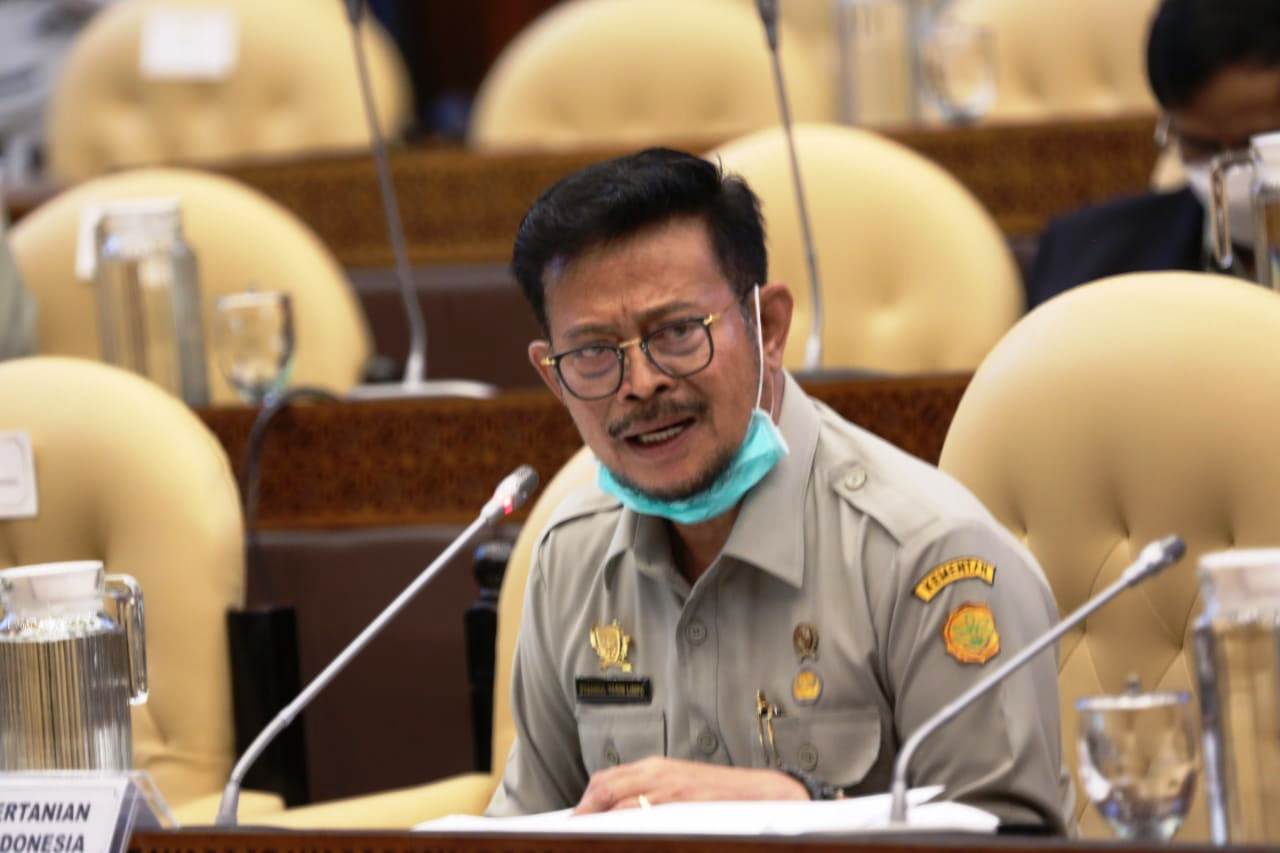 RAPAT KERJA: Menteri Pertanian RI Syahrul Yasin Limpo menegaskan bahwa fokus kerja Kementan meliputi prioritas kerja nasional, memperkuat ketahanan ekonomi untuk pertumbuhan berkualitas dan berkeadilan [Foto: Kementan]
Jakarta [B2B] - DPR RI menyetujui Pagu Anggaran Kementerian Pertanian RI untuk 2021 sebesar Rp21,83 triliun, seperti termaktub pada Rencana Kerja dan Anggaran Kementerian dan Lembaga [RKAKL] 2021. Pagu anggaran untuk melaksanakan rencana kerja dalam mempercepat pemulihan ekonomi dan reformasi sosial.
"Komisi IV DPR RI dengan ini menyetujui Pagu Anggaran Kementan sebesar Rp 21,83 triliun," kata Wakil Ketua Komisi IV DRP RI Dedi Mulyadi di Jakarta, Senin [21/9].
Dedi Mulyadi menguraikan komposisi anggaran tersebut dibagi per unit kerja eselon satu meiliputi sekretariat jenderal [Sekjen] sebesar Rp 1,7 triliun, inspektorat jenderal [Itjen] Rp164 miliar, direktorat jenderal tanaman pangan Rp4,91 triliun dan direktorat jenderal hortikultura Rp1,14 triliun.
Ada pula anggaran lain untuk direktorat jenderal perkebunan Rp1,61 triliun, direktorat jenderal peternakan dan kesehatan hewan [PKH] Rp2,13 triliun, direktorat jenderal prasarana dan sarana sertanian [PSP] Rp5,27 triliun, badan ketahanan pangan [BKP] Rp767 miliar dan badan karantina pertanian Rp1,11 triliun.
Menanggapi hal itu, Mengenai hal ini, Menteri Pertanian (Mentan) Syahrul Yasin Limpo mengatakan bahwa fokus kerja Kementan meliputi prioritas kerja nasional, yakni memperkuat ketahanan ekonomi untuk pertumbuhan berkualitas dan berkeadilan.
Selain itu, kata dia, terdapat dua program prioritas lain yang saling berkaitan dengan prioritas utama seperti peningkatan ketersediaan akses dan kualitas konsumsi pangan serta peningkatan nilai tambah, lapangan kerja, investasi di setor rill dan industrialisasi.
"Banyak sekali yang mampu kita capai dari waktu yang ada ini, saya harap Kementan bersama Komisi IV terus bersinergi untuk memajukan sektor pertanian Indonesia," kata Mentan Syahrul.
Di tempat yang sama, Anggota Komisi IV DPR RI, Suhardi Duka menilai jika anggaran yang sudah disetujui ini mampu diimplementasikan dengan baik. Hal ini, kata Suhardi bisa dilihat dari meningkatnya Nilai Tukar Petani (NTP) dari tahun ke tahun yang memberi dampak langsung pada kesejahteraan petani Indonesia.
"Anggaran ini sudah diberikan utuk kepentingan para petani, untuk itu kita harus pastikan bahwa petani tidak boleh lagi mendapat kesusahan. Apa pun keperluan petani harus kita berikan karena ini menyangkut kepentingan nasional," kata Suhardi Duka.
Jakarta [B2B] - The food commission of Indonesian parliament approved the Indonesian Agriculture Ministry´s budget ceiling for 2021 in the State Revenue and Expenditure Plan [RAPBN] based on the results of discussions of parliamentary budget section with the central government amounting to IDR21.05 trillion, according to the chair of parliamentary food commission.