Mentan SYL Ingatkan Mahasiswa adalah Kekuatan Utama Pertanian Indonesia
College Students are the Future of Indonesian Agriculture
Reporter : Gusmiati Waris
Editor : Cahyani Harzi
Translator : Dhelia Gani

PUBLISHED: Sabtu, 26 Oktober 2019 , 23:54:00 WIB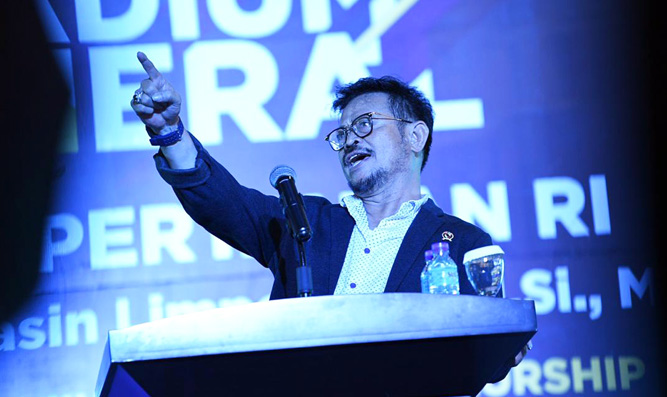 KULIAH UMUM: Mentan Syahrul Yasin Limpo [SYL] mendorong mahasiswa Indonesia untuk mengembangkan potensi kewirausahaan di sektor pertanian [Foto: Humas Kementan/Fajar]
Makassar Sulsel [B2B] - "Jangan hanya bagus shalatnya, tapi bohong kerjanya. Bagus kerjanya, tapi sombong setengah mati. Dia ke masjid setiap hari, tapi pelitnya bukan main," kata Menteri Pertanian RI Syahrul Yasin Limpo kepada ratusan mahasiswa Universitas Muhammadiyah Makassar [Unisma] pada kuliah umum di Gedung Balai Sidang Unisma, Makassar, Sabtu [26/10].
Benang merah dari pesan Mentan SYL agar mahasiswa Unisma bersikap jujur, rajin ibadah, tidak sombong dan senang membantu orang lain, seraya mengingatkan pentingnya peranan generasi muda memperkuat sektor pertanian.
"Kita mau perguruan tinggi menjadi tonggak kekuatan negara ini untuk menghadirkan makan kepada 267 juta orang. Kita juga ingin perguruan tinggi memperkuat negara ini agar menjadi kuat," kata mantan Gubernur Sulsel yang dilantik Presiden RI Joko Widodo sebagai Mentan menggantikan Andi Amran Sulaiman pada Rabu [23/10].
Syahrul mengatakan, anak muda wajib memperkuat negaranya sendiri agar tidak mudah dikalahkan negara lain. Karena itu, kata dia, perguruan tinggi wajib mencetak sumber daya manusia (SDM) yang unggul dan memiliki karakter kuat di semua bidang.
"Kita tidak mau negara ini kalah dengan Singapore, Malaysia, Thailand atau Korea makanya harus menjadi tanggung jawab bersama. Sebab besok hanya bisa baik kalau hari ini kita bekerja dan menghadirkan SDM yang baik serta mampu bekerja untuk rakyat," kata peraih Bintang Mahaputra Utama dari Presiden SBY.
Menurut Syahrul, jika cita-cita itu ingin terealisasi, maka sebaiknya, generasi muda harus mulai memperbaiki diri dengan bersikap jujur pada Tuhan. Selanjutnya memperbaiki karakter pribadi agar terhindar dari perbuatan zolim, korupsi dan tindak pidana.
"Kita tidak mau negeri ini pecundang. Sebaliknya, kita ingin negara ini cukup makannya. Kita harus ingat bahwa negara ini adalah negara keempat terbesar di dunia, dengan mayoritas penduduk Muslim terbanyak di dunia," katanya.
Syahrul berharap, mahasiswa dan pemuda menghindari narkoba, berteman dengan orang jujur dan rajin ibadah yang suka membantu orang lain.
"Hindari berteman dengan pengguna narkoba. Hindari berteman dengan mereka yang santai-santai. hindari berteman dengan yang suka korupsi. Lulusan perguruan tinggi jangan menjadi orang miskin. Harus kuat dan hebat," katanya.
Makassar of South Sulawesi [B2B] - The Indonesian government encourages young people, especially college students, to develop entrepreneurship in the agricultural sector, according to Agriculture Minister Syahrul Yasin Limpo.