Sinergi Pengentasan Kemiskinan, Pemkab Magelang Koordinasi Polbangtan YoMa
Indonesian`s Polbangtan YoMa Support Poverty Alleviation in the Regions
Editor : M. Achsan Atjo
Translator : Dhelia Gani

PUBLISHED: Sabtu, 08 Juni 2019 , 23:55:00 WIB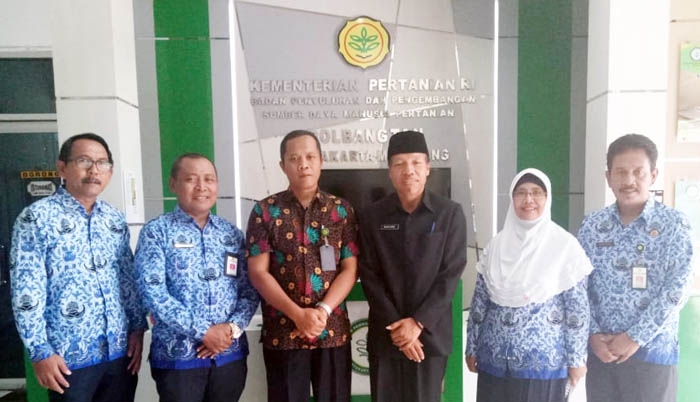 POLITEKNIK PERTANIAN: Direktur Dr Rajiman [batik coklat] dan Kepala Bappeda Magelang, Sugiyono [safari hitam] dan Kabag Umum Irwan JS [kiri] dan pejabat Polbangtan YoMa [Foto: Humas Polbangtan YoMa/Asnuri]
Yogyakarta, DIY [B2B] - Polbangtan YoMa menyatakan siap bersinergi dengan Pemkab Magelang untuk pengentasan kemiskinan melalui pendampingan pengembangan usaha kelompok, yang diberikan pemerintah daerah kepada buruh tani dan pedagang jamu gendong di Kabupaten Magelang, Provinsi Jawa Tengah berupa ayam entok bebek yang dikenal sebagai ´program babonisasi berbasis kepala keluarga´.
"Polbangtan YoMa siap bersinergi untuk mendukung pengentasan kemiskinan di Magelang, karena kami memiliki SDM yang dapat membantu mendampingi pengembangan usaha kelompok," kata Direktur Polbangtan YoMa, Dr Rajiman pada rapat koordinasi dengan Badan Perencanaan Pembangunan Daerah [Bappeda] Pemkab Magelang, yang dipimpin Kepala Bappeda Magelang, Sugiyono di Yogyakarta, belum lama ini.
Menurutnya, selama ini Politeknik Pembangunan Pertanian Yogyakarta - Magelang [Polbangtan YoMa] telah melakukan kegiatan pendampingan berupa penumbuhan dan penguatan Kelompok Santri Tani Milenial [KSTM] dengan pembelajaran usaha berbasis ayam joper, yang diberikan kepada santri dari sejumlah pondok pesantren di Magelang.
Kepala Bappeda Magelang Sugiyono mengatakan pengentasan kemiskinan yang dilakukan Pemkab Magelang saat ini adalah program babonisasi dan penumbuhan kelompok usaha berbasis kepala keluarga.
"Babonisasi diberikan berupa unggas khususnya ayam entok bebek kepada buruh tani dan pedagang jamu gendong," kata Sugiyono kepada Dr Rajiman yang didampingi Kabag Umum, Irwan Johan Sumarno dan sejumlah pimpinan Polbangtan YoMa.
Dr Rajiman menambahkan di Kabupaten Magelang terdapat 38 KSTM yang akan mendapatkan sarana pembelajaran, namum sampai saat ini baru diberikan kepada 13 KSTM, dan sisanya menunggu proses tender atau pengadaan dari pemerintah pusat, khususnya Kementerian Pertanian RI.
"Program pendampingan masyarakat telah dilakukan oleh Polbangtan YoMa, mulai dari pemberdayaan rumah tangga berbasis cabe untuk KSTM dan program-program Kementan. Diawali dari penentuan calon petani calon lokasi disingkat CPCL diikuti pemberdayaan dan pendampingan berkelanjutan," katanya.
Yogyakarta [B2B] - Indonesian Agricultural Vocational College in Yogyakarta and Magelang, Polbangtan YoMa, declared ready to synergize with the Magelang regency government for poverty alleviation of poor family, especially farm workers and traditional herbal drink traders through mentoring group business development.
"The Polbangtan YoMa is ready to work together to support poverty alleviation in Magelang district of Central province because we have human resources who can help accompany group business development," said Director of Polbangtan YoMa, Dr Rajiman at meeting with the Head of Regional Development Planning Board of Magelang District Government [Bappeda] Sugiyono here, recently.
According to him, the Yogyakarta - Magelang Agricultural Development Polytechnic [Polbangtan YoMa] has carried out mentoring activities through the Millennial Farmer Youth Group program [KSTM] with business learning to raise chickens, who was given to students in Islamic boarding schools from a number of Islamic boarding schools in Magelang.
Head of Bappeda Magelang, Sugiyono said that poverty alleviation by the district government is currently a program of raising chickens and ducks.
"The poultry provided is chicken and duck for traditional farm laborers and traditional herbal drink traders," said Sugiyono to Dr Rajiman who was accompanied by Head of Public Affairs, Irwan Johan Sumarno.