Panen Jagung, PJ Upsus Kebumen Pantau Realisasi Tanam `Turiman Jagole`
The Intercropping System is Relied upon by Indonesia to Increase Corn Production
Editor : M. Achsan Atjo
Translator : Dhelia Gani

PUBLISHED: Selasa, 19 Februari 2019 , 23:57:00 WIB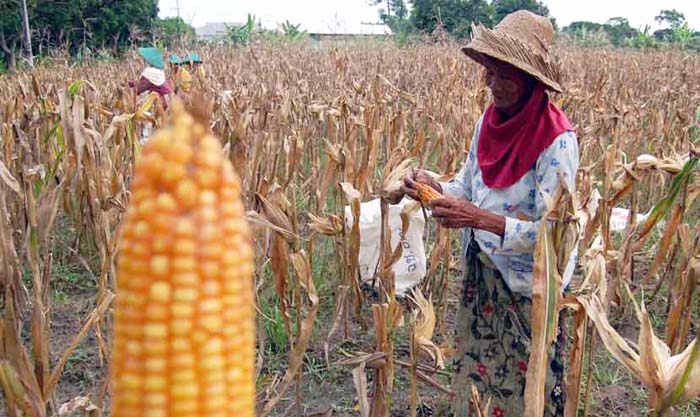 Foto: istimewa
Kebumen, Jateng (B2B) - Kabupaten Kebumen di Provinsi Jawa Tengah bergegas menyongsong panen raya jagung seluas 374 hektar pada Februari, dan Maret 683 hektar dengan perkiraan produksi 4.570 ton pipilan kering. Sementara realisasi panen hingga 18 Februari 2019 tercatat 274 hektar, produktivitas 6,5 ton per hektar atau total hasil panen 1.849,5 ton, hasil inovasi teknologi pertanian ´Turiman Jagole´ atau sistem tumpang sari tanaman jagung, padi dan kedelai.
Peluang dan realisasi hasil panen jagung Februari - Maret 2019 berdasarkan hasil pantauan lapangan oleh Penanggung Jawab Upaya Khusus Swasembada Pangan - Kementerian Pertanian RI (PJ Upsus) Kebumen, Dr Rajiman SP MP pada bagian selatan, barat dan utara yang meliputi delapan kecamatan: Mirit, Ambal, Buluspesantren, Petanahan, Klirong, Buayan, Rowokele dan Sempor.
"PJ Upsus Kebumen senantiasa melakukan koordinasi dan pemantauan lapangan dengan jajaran terkait di pemerintah kabupaten, khususnya dinas pertanian kabupaten dengan mengedepankan komunikasi, interaksi, dan sinkronisasi data di atas kertas dan fakta lapangan," kata Rajiman yang juga menjabat Direktur Politeknik Pembangunan Pertanian Yogyakarta - Magelang (Polbangtan YoMa) melalui pernyataan tertulis kepada B2B, Selasa petang (19/2).
Pejabat eselon tiga Dinas Pertanian Kebumen, Murdiono selaku Kabid Tanaman Pangan mengatakan sebagian hasil panen jagung triwulan pertama 2019 di Kebumen merupakan hasil implementasi ´Turiman Jagole´.
"Maksudnya kombinasi pertanaman yang bertujuan melipatgandakan lahan tanam, misalnya tujuh hektar menjadi 14 hektar tanpa mengurangi populasi masing-masing tanaman, antara tanaman utama dengan tanaman yang di-tumpangsari-kan. Kami sudah mencoba Turiman jagung - padi dan jagung - ubi dengan hasil yang cukup baik," kata Murdiono.
Menurutnya, program Turiman telah dilaksanakan di beberapa kecamatan bersama TNI AD dan penyuluh pertanian, khususnya di Kecamatan Bulupesantren.
"Petani mampu memanfaatkan lahan tidur dan menerima hasil panen optimal setelah mengimplementasikan Turiman dan akan disosialisasikan di kalangan petani Kebumen," kata Endah, penyuluh pertanian Bulupesantren.
Kebumen of Central Java (B2B) - Kebumen regency in Central Java province rushed to meet the 374 hectare corn harvest in February, and March 683 hectares with an estimated production of 4,570 tons of dry shelled corn. Meanwhile, realization of harvest per February 18, 2019 was recorded at 274 hectares, productivity of 6.5 tons per hectare or total yield of 1,849.5 tons by intercropping patterns: corn, rice and soybeans locally known as the ´Turiman Jagole´.
Opportunities and realization of corn harvest February - March 2019 based on field monitoring by the Person in Charge of Kebumen´s Increase Food Production, Dr Rajiman SP MP in eight subdistrict of Mirit, Ambal, Buluspesantren, Petanahan, Klirong, Buayan, Rowokele and Sempor.
"We always coordinate and monitor with related ranks in the district government, specifically the district agriculture office through communication, interaction and data synchronization," said Rajiman who also served as the Director of Yogyakarta - Magelang´s Development Polytechnic or the Polbangtan YoMa through the written statement to B2B here on Tuesday afternoon (February 19).
The third echelon official of Kebumen agriculture office, Murdiono, as the head of food crop said part of the first quarter of 2019 corn harvest in Kebumen by ´Turiman Jagole´ implementation.
"It means a combination of crops to multiply planting land, for example, seven hectares to 14 hectares without reducing plant populations, mainly with intercropping. We have tried the Turiman system of corn - rice and corn - sweet potatoes with good production," said Murdiono.
According to him, the Turiman program has been implemented in several subdistricts supported by army and agricultural extensionist, especially in Bulupesantren subdistrict.
"Farmers plant on abandoned land after optimal yields implementation of Turiman, and will be socialized to the Kebumen farmers," said Endah, the Bulupesantren agriculture extensionist.