Songsong Polbangtan D3, SMK PPN Sembawa Studi Banding ke Yogyakarta
Indonesian Govt Transforms Agricultural Vocational High Shools into Colleges
Reporter : Kevin Cesario
Editor : Cahyani Harzi
Translator : Dhelia Gani

PUBLISHED: Kamis, 27 September 2018 , 23:59:00 WIB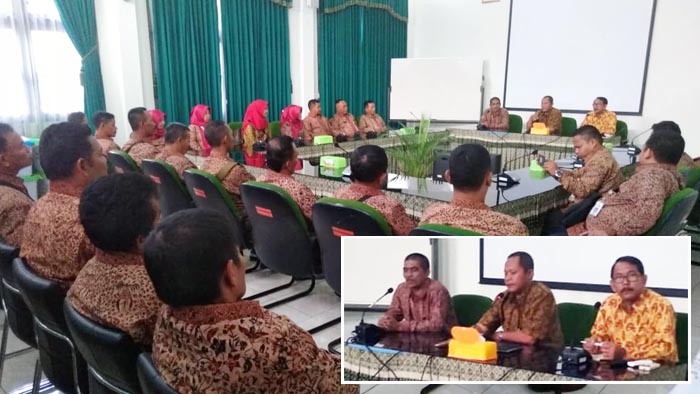 STUDI BANDING: 30 PNS dari SMK-PPN Sembawa dipimpin Kasubbag TU, Tri Wuryanto (inset di kiri) diterima oleh Wakil Direktur Polbangtan Yogya - Magelang, Radjiman didampingi Kabag AU, Irwan JS (Foto2: Humas)
Yogyakarta, DIY (B2B) - Sedikitnya 30 pegawai dari Sekolah Menengah Kejuruan Pertanian Pembangunan Negeri Sembawa disingkat SMK-PPN Sembawa di Kabupaten Banyuasin, Provinsi Sumatera Selatan mengikuti studi banding ke Politeknik Pembangunan Pertanian - Polbangtan Yogyakarta Magelang menyongsong transformasi SMK-PPN Sembawa menjadi Polbangtan Diploma Tiga (D3) pada 2019.
Kegiatan studi banding dipimpin oleh Kepala Subbag Tata Usaha, Tri Wuryanto mewakili Kepala Sekolah SMK-PPN Sembawa, Mattobi´i MP dan diterima oleh Wakil Direktur Polbangtan Yogyakarta - Magelang, Radjiman mewakili Direktur Ali Rachman, yang didampingi Kabag Administrasi Umum, Irwan Johan Sumarno di Yogyakarta, Rabu (26/9).
Irwan JS mengatakan tujuan studi banding ke Yogyakarta bertujuan mengetahui pengembangan infrastruktur untuk SMK-PPN Sembawa sesuai standar Polbangtan, laboratorium dan fasilitas untuk Teaching Factory (TeFa), dan rektorat untuk mendukung kegiatan pendidikan dan pengajaran oleh para tenaga kependidikan yang profesional.
"Hal itu sesuai instruksi Menteri Pertanian RI Andi Amran Sulaiman dan Kepala Badan SDM Kementan Momon Rusmono tentang peran strategis pendidikan tinggi vokasi untuk mendidik lulusan sekolah menengah atas menjadi tenaga terampil, profesional dan berkompetensi di sektor pertanian," kata Irwan JS melalui pernyataan tertulis.
Sebagaimana diketahui, pola pembelajaran di Polbangtan berbeda dengan Sekolah Tinggi Penyuluhan Pertanian (STPP) maupun SMK-PPN, pendekatan Polbangtan adalah pembelajaran dilakukan secara simultan antara teori dan praktik melalui pendalaman materi praktikum di TeFa.
Sementara Kepala Sekolah Mattobi´i MP mengatakan saat ini pihaknya tengah menyiapkan transformasi SMK-PPN Sembawa menjadi Polbangtan D3 pada 2019, dengan menyiapkan sedikitnya 18 dosen S2 linier, sebagai syarat minimal jumlah dosen untuk Polbangtan D3 Sembawa.
"Saat ini baru ada 13 dosen S2 linier di Sembawa, dan tujuh guru tengah mengikuti kuliah strata dua atau S2 yang dibiayai oleh Pusdiktan Kementan. Total guru PNS di Sembawa ada 26 orang saat ini," kata Mattobi´i yang dihubungi via telepon seluler, Kamis malam (27/9).
Sementara kunjungan studi banding 30 pegawainya ke Yogyakarta, menurut Mattobi´i, untuk mengetahui tugas dan fungsi rektorat mendukung kegiatan perkuliahan Polbangtan D3.
Yogyakarta (B2B) - At least 30 civil servants from Sembawa´s Agricultural Vocational High School or the SMK-PPN Sembawa in Banyuasin district, South Sumatra province take a comparative study to the Yogyakarta - Magelang´s Agricultural Development Polytechnic or the Polbangtan Yogyakarta - Magelang ahead the transformation of SMK-PPN Sembawa into the Polbangtan Diploma Three or the D3.
The comparative study activity was led by the Head of Administration Sub-Division, Tri Wuryanto represent the Principal of SMK-PPN Sembawa, Mattobi'i MP and was met by the Deputy Director of Radjiman represent the Director Ali Rachman, who was accompanied by the Head of General Affairs, Irwan Johan Sumarno.
Mr Sumarno said a comparative study to Yogyakarta to find out the development of infrastructure for SMK-PPN Sembawa according to Polbangtan standards, laboratories and facilities for Teaching Factory or the TeFa, and the rectorate to support education and teaching activities by professional education personnel.
"It is appropriate instructions of agriculture minister and the director general of agricultural human resources on the strategic role of vocational higher education," said Mr Sumarno through the written statement.
As is known, the learning pattern at Polbangtan is different of Agriculture Extension College or the STPP and the SMK-PPN, the Polbangtan's approach is learning to be carried out simultaneously between theory and practice through deepening practical materials in TeFa.
While the Principal Mattobi'i MP said at the moment his party was preparing a transformation of SMK-PPN Sembawa into Polbangtan D3 in 2019, by preparing at least 18 lecturers, as the minimum requirement for the number of lecturers for Polbangtan D3 Sembawa.
"At the moment there are only 13 lecturers in Sembawa, and seven teachers are taking a bachelor's or master's degree," said Mattobi'i contacted via cell phone on Thursday night (September 27).