Inovasi Jarwo 2:1, BPTP Kaltim Tingkatkan 60% Produktivitas Padi Krayan
The Jajar Legowo Planting System Increases 60% of Rice Production in North Borneo
Editor : M. Achsan Atjo
Translator : Dhelia Gani

PUBLISHED: Senin, 21 Januari 2019 , 02:53:00 WIB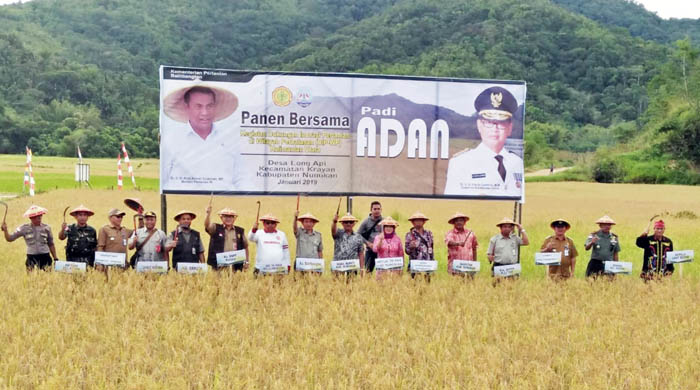 BPTP Kaltim mendukung inovasi teknologi pertanian dan penguatan kelembagaan petani di Krayan, seperti panen padi yang dirangkai ekspor beras ke Malaysia (Foto: Humas BPTP Kaltim/Margaretha T)
Nunukan, Kalimantan Utara (B2B) - Sistem tanam padi Jajar Legowo 2:1 berhasil meningkatkan produktivitas rata-rata padi per hektar hingga 60% di Kecamatan Krayan, Kabupaten Nunukan, Provinsi Kalimantan Utara. Hasil panen padi seluas 45 ha disambut baik oleh petani, kepala adat dan aparat desa, sehingga petani setempat optimistis dapat memenuhi kebutuhan pangan pokok dari potensi 3.466 ha sawah di seluruh Krayan.
Karo Pengelola Perbatasan Negara Pemprov Kaltara, Samuel ST Padan; Wakil Bupati Nunukan H Faridil Murad; Camat Krayan Helmi Pudaaslikar; dan Kepala Balai Besar Biogenetik Kementerain Pertanian, Mastur mengapresiasi dukungan Kepala Balai Pengkajian Teknologi Pertanian Kalimantan Timur - BPTP Kaltim, Muhammad Amin untuk meningkatkan produksi pangan strategis khususnya padi di Krayan.
Samuel ST Padan mengapresiasi kinerja BPTP Kaltim mendukung swasembada padi di Kaltara khususnya Nunukan dan Krayan, yang berorientasi ekspor dan pemerintah provinsi berupaya menjadikan beras sebagai produk unggulan Kaltara.
Pendapat senada dikemukakan Wakil Bupati H Faridil Murad atas perhatian pemerintah pusat, Kementerian Pertanian RI melalui unit pelaksana teknis (UPT) Badan Penelitian dan Pengembangan Pertanian (Balitbangtan) di Kaltim.
"BPTP Kaltim selalu siap mendukung inovasi teknologi pertanian dan penguatan kelembagaan petani di Krayan, seperti panen padi saat ini dirangkai dengan ekspor beras ke Malaysia sebagai langkah nyata dari peningkatan sistem dagang lintas batas negara yang selama ini dilakukan secara perorangan," kata Muhammad Amin.
Camat Helmi Pudaaslikar mengatakan sistem tanam Jarwo 2:1 terbukti meningkatkan produksi hingga 60%, dan saat ini baru 45 ha sawah yang menerapkan Jarwo dari potensi 3.466 ha di Krayan dan akan mendorong petani setempat untuk menerapkan Jarwo 2:1 untuk musim tanam berikutnya.
Nunukan of North Borneo (B2B) - The rice planting system Jajar Legowo 2: 1 increase the average productivity of rice per hectare to 60% in Krayan sub-district of Nunukan regency in North Borneo province. The 45-hectare rice harvest is welcomed by farmers, customary leaders and village head, so that local farmers are optimistic that they can fulfill basic food needs of 3,466 hectares of rice fields across the subdistrict.
Head of the North Kalimantan Provincial Government Border Management Bureau, Samuel ST Padan; Deputy Regent Nunukan H Faridil Murad; Krayan´s Subdistrict Head Helmi Pudaaslikar; and Director of the ministry´s Biogenetic Center, Mastur appreciate the support of Director of East Borneo´s Agricultural Technology Assessment Center or the BPTP Kaltim, Muhammad Amin supports strategic food production, especially rice in Krayan.
Samuel ST Padan appreciated performance of BPTP Kaltim support rice self-sufficiency in Nunukan and Krayan, export-oriented and the provincial government seeks to make rice as the superior product of North Borneo.
Similar opinion was expressed by Deputy Regent H Faridil Murad for Jakarta´s attention, especially the Agriculture Ministry through technical implementation units of the Agricultural Research and Development Agency in East Borneo province.
"The BPTP Kaltim is ready to support agricultural technology innovation and institutional farmers in Krayan, in the rice harvest to export rice to Malaysia as an increase in the cross-border trade system that has been carried out individually," Amin said.
Pudaaslikar said that the Jarwo 2: 1 planting system was proven to increase production by 60%, and currently only 45 hectares of rice fields are implementing Jarwo of 3,466 hectares in Krayan, and will encourage local farmers to apply Jarwo 2: 1 for the next planting season.