Ekspor Buah, Mentan Berupaya Indonesia Tembus Pasar Argentina
Indonesia Seeks to Export of Agricultural Commodities to Argentina
Reporter : Gusmiati Waris
Editor : Cahyani Harzi
Translator : Dhelia Gani

PUBLISHED: Kamis, 09 Mei 2019 , 03:12:00 WIB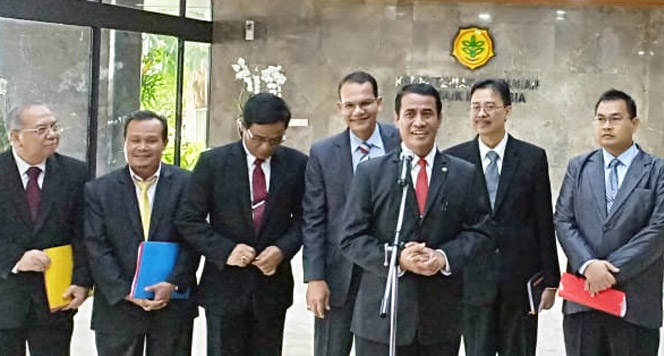 PERTEMUAN BILATERAL: Mentan Andi Amran Sulaiman menjawab pers di kantornya, didampingi para pejabat eselon satu dan Karo Humas Kementan, Kuntoro Adi Boga [Foto: B2B/Mya]
Jakarta [B2B] - Indonesia berupaya menembus peluang ekspor buah-buahan ke kawasan Amerika Selatan khususnya Argentina, setelah Badan Karantina Pertanian - Kementerian Pertanian RI [Barantan] mengajukan permohonan secara resmi kepada otoritas yang berwenang di Argentina. Kementan juga menjajaki potensi kerjasama alih teknologi sistem penyimpanan hasil pertanian yang efisien dan ramah lingkungan [silo bag] dan teknologi penanaman tanpa olah tanah [no till farming].
"Indonesia melalui Barantan sudah mengajukan permohonan secara resmi untuk akses pasar pisang, nanas, manggis, dan salak ke Argentina sejak November 2017. Melalui pertemuan ini, segera ditindaklanjuti," kata Menteri Pertanian RI Andi Amran Sulaiman kepada pers usai pertemuan bilateral dengan Wakil Presiden Argentina, Gabriela Michetti di Jakarta, Rabu [8/5].
Menurutnya, dari pertemuan dengan Wapres Gabriela Michetti di ruang kerjanya di kawasan Ragunan, Jakarta Selatan, disepakati kerjasama bilateral lebih erat Indonesia dan Argentina terkait akses pasar produk-produk pertanian, khususnya memperbesar peluang ekspor buah tropis eksotis, rempah dan produk komoditas pertanian unggulan Indonesia ke Argentina.
"Kita sudah pelajari, Indonesia punya potensi besar untuk mengekspor buah tropis eksotis dan rempah ke Argentina seperti nanas, manggis, salak, kopi, dan lada. Potensi lainnya adalah produk olahan hortikultura untuk bahan baku untuk industri makanan jadi," kata Mentan didampingi Sekjen Kementan, Syukur Iwantoro.
Data Kementan menyebutkan, produksi nanas Indonesia pada 2018 mencapai 2 juta ton, yang diekspor ke negara-negara di Asia, Timur Tengah, dan Eropa hingga 250.000 ton per tahun. Sementara ekspor manggis mencapai 40.000 ton dari produksi 160.000 ton selama 2018. Begitu pula dengan salak ke negara-negara di Asia sebanyak 120.000 ton dari produksi 950.000 ton pada 2018.
Sementara untuk produk olahan hortikultura, Mentan menambahkan bahwa yang berpeluang ekpor adalah pasta cabai, pasta bawang, pasta buah-buahan (jambu, manga, dan sirsak). Selain itu, Argentina juga diharapkan bersedia membuka akses pasar untuk sarang burung walet yang menjadi andalan ekspor Indonesia.
"Indonesia punya potensi besar mamasok produk-produk hortikultura. Argentina adalah salah satu pasar nontradisional yang kita coba tembus agar pertanian kita bisa menghasilkan devisa lebih besar, ini sejarah untuk kita membuka akses pasar pertanian ke Argentina," katanya.
Menurutnya, Indonesia juga menjajaki potensi kerjasama transfer teknologi pertanian dari Argentina, diantaranya sistem penyimpanan hasil pertanian yang efisien dan ramah lingkungan (silo bag), serta teknologi penanaman tanpa olah tanah (no till farming) yang bisa memperpendek proses dan memangkas ongkos produksi.
"Argentina bahkan siap berinvestasi di Indonesia untuk teknologi alat mesin pertanian, seperti dryer atau alat pengering," kata Mentan Amran Sulaiman.
Jakarta [B2B] - Indonesia seeks to penetrate opportunities for fruit exports to the South American region, especially Argentina, after the Agriculture Quarantine Agency at the Agriculture Ministry submit an official application to the competent authorities in Argentina. Indonesia is also exploring the potential for transfer of agricultural storage system technology such as silo bag and no till farming, according to Indonesian minister.
"Indonesia has submitted an official application for the export of bananas, pineapple, mangosteen and salak to Argentina since November 2017," Indonesian Agriculture Minister Andi Amran Sulaiman told the press here on Wednesday [May 8] after meeting with Argentine Vice President Gabriela Michetti.
According to him, of the meeting in his office, Indonesia and Argentina had bilateral cooperation related to the market access of agricultural products, in particular the export of exotic tropical fruits, spices and Indonesian agricultural commodities to Argentina.
"We have learned, Indonesia has great potential to export exotic tropical fruits and spices to Argentina such as pineapple, mangosteen, bark, coffee and pepper," Minister Sulaiman said.
Ministry data said that Indonesian pineapple production in 2018 reached 2 million tons, exported to countries in Asia, the Middle East and Europe up to 250,000 tons per year. While mangosteen exports reached 40,000 tons of the production 160,000 tons during 2018. Likewise with salak to countries in Asia as many as 120,000 tons of production 950,000 tons in 2018.