BPTP Kaltim Libatkan Perguruan Tinggi Dukung `Kukar Lumbung Jagung`
East Borneo`s BPTP Kaltim Support Increase of Indonesian Corn Production
Reporter : Gusmiati Waris
Editor : Cahyani Harzi
Translator : Dhelia Gani

PUBLISHED: Jum'at, 01 Maret 2019 , 03:22:00 WIB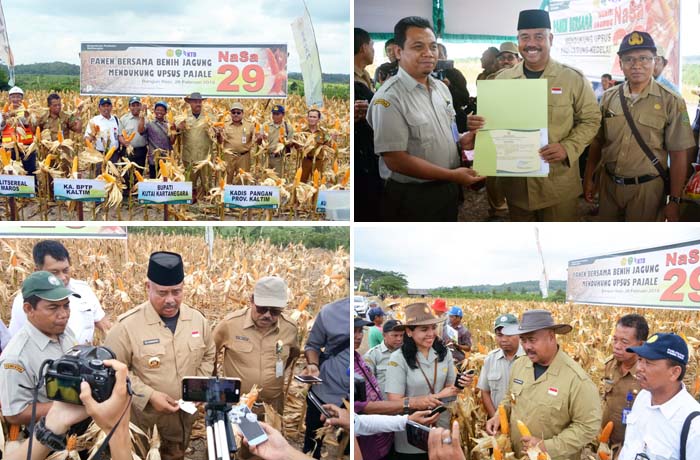 Arah jarum jam: Panen jagung di Bangun Rejo, Kepala BPTP Kaltim Muhammad Amin menyerahkan sertifikat kepada Bupati Kukar, Edi Damansyah, dan menjawab pers usai panen jagung (Foto2: Humas BPTP Kaltim)
Kutai Kartanegara, Kaltim (B2B) - Balai Pengkajian dan Penerapan Teknologi Kalimantan Timur (BPTP Kaltim) melibatkan tiga perguruan tinggi: Unikarta, Universitas Mulawarman (Unmul) dan Universitas 17 Agustus (Untag) dan kelompok tani penangkar benih untuk mendukung ketersediaan benih dan revolusi jagung di Kaltim dan percepatan luas tambah tanam (LTT) jagung di Kabupaten Kutai Kartanegara (Kukar).
Kepala BPTP Kaltim Muhammad Amin menyerahkan secara simbolis benih Nasa 29 kepada perwakilan dari Poktan penangkar benih dan ketiga perguruan tinggi disaksikan Bupati Kukar, Edi Damansyah usai panen raya jagung di Desa Bangun Rejo, belum lama ini.
"BPTP Kaltim akan senantiasa mendampingi daerah dalam pengembangan benih Nasa 29 dan terbukti sukses meningkatkan produktivitas jagung di Kukar," kata Muhammad Amin setelah menyerahkan sertifikat tanda daftar varietas lokal asal Kukar.
Menurutnya, benih jagung Nasa 29 sukses dikembangkan di Kabupaten Berau, Taman Teknologi Pertanian Kukar, dan lahan bekas tambang batubara di Tenggarong Seberang, Kutai Kartanegara.
Bupati Edi Damansyah mengharapkan pendampingan BPTP Kaltim diperluas hingga ke pelosok kabupaten yang juga berpotensi untuk pengembangan jagung.
"Panen jagung di Desa Bangun Rejo diharapkan memberi stimulan dan semangat untuk menghasilkan benih sendiri sekaligus mendukung program revolusi jagung Kukar," kata Bupati Kukar.
Pada kesempatan tersebut diserahkan tanda daftar varietas lokal asal Kukar yakni pisang rutai, lai kutai, lai batuah, dan mandong manalagi dari Pusat Perlindungan Varietas Tanaman dan Perizinan Pertanian (PPVT) Kementerian Pertanian RI.
Diserahkan pula sertifikat halal dari LPPOM kepada Kelompok Wanita Tani Sejahtera Desa Bangunrejo binaan BPTP Kaltim untuk 10 produk olahan mokaf. (Eta)
Kutai Kartanegara of East Borneo (B2B) - East Borneo Technology Assessment and Application Center or the BPTP Kaltim involving three universities: Unikarta, Mulawarman University and the University of August 17, and a seed breeding farmer group to support availability of corn seeds in the province and the vast acceleration of corn planting in Kutai Kartanegara district.
Director of BPTP Kaltim Muhammad Amin symbolically handed over the Nasa 29 seeds to representatives of seed breeders and three universities who was witnessed by the Regent of Kutai Kartanegara, Edi Damansyah after the corn harvest in the village of Bangun Rejo, recently.
The BPTP Kaltim will continue to assist the region to developing Nasa 29 corn seeds and prove successful to increase corn productivity in the district," said Muhammad Amin after handed over the Kutai Kartanegara local varieties certificate.
According to him, the Nasa 29 corn seeds were successfully developed in Berau District, Kukar Agricultural Technology Park, and former coal mining land in Tenggarong Seberang, Kutai Kartanegara.
Regent Edi Damansyah expects the BPTP Kaltim to expand corn production to remote areas of the district which also has the potential to plant corn.
"The corn harvest in Bangun Rejo village is expected to provide stimulants and enthusiasm for self-help with corn seeds and increase in district corn production," said Damansyah Regent.
On this occasion, the local varieties of Kutai Kartanegara: Banana Rutai, Lai Kutai, Lai Batu, and Mandong Manalagi were marked by a list of local varieties from the Center for Plant Variety Protection and Agricultural Licensing or the or PPVT at the Indonesian Agriculture Ministry.
Also handed over the halal certificates of LPPOM to the Sejahtera´s women farmers group for 10 mocaf processed products.