Provost Kampus, Pelopor Penegakan Disiplin Mahasiswa Polbangtan YoMa
Indonesian Campus Provost Supports Enforcement of Student Discipline
Editor : M. Achsan Atjo
Translator : Dhelia Gani

PUBLISHED: Rabu, 16 Januari 2019 , 03:25:00 WIB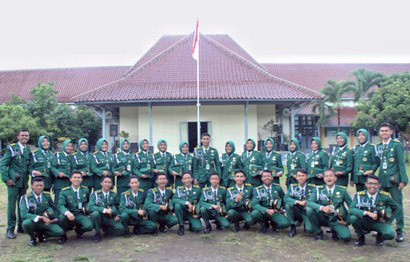 BERDIRI 2016: Provost Polbangtan YoMa yang berdiri sejak September 2016 merupakan unit kegiatan mahasiswa khusus (UKMK) di bawah naungan badan eksekutif mahasiswa (BEM) Foto: Humas Polbangtan YoMa
Yogyakarta, DIY (B2B) - Satuan organik pelaksana disiplin mahasiswa/i, provost di Politeknik Pembangunan Pertanian Yogyakarta - Magelang disingkat Polbangtan YoMa berperan penting mendukung rektorat membina dan menegakkan disiplin mahasiswa sesuai ketentuan kampus yang berlokasi di kawasan Tahunan, DI Yogyakarta maupun Tegalrejo di Kabupaten Magelang, Provinsi Jawa Tengah.
Fredy Juiliandy RS mengaku bergabung dengan satuan provost kampus sebagai ´panggilan jiwa´ untuk memanfaatkan waktu luang di sela kewajiban sebagai mahasiswa Polbangtan YoMa dengan sebaik-baiknya.
"Mahasiswa tidak bisa begitu saja bergabung dengan provost kampus. Ada serangkaian tes yang harus dijalani sebelum menjadi anggota provost. Tidak sepenuhnya militer, tapi setidaknya kami mendapat latihan dasar militer dari Brimob Polri," katanya.
Provost Polbangtan YoMa yang berdiri sejak September 2016 merupakan unit kegiatan mahasiswa khusus (UKMK) di bawah naungan badan eksekutif mahasiswa (BEM), yang ditugaskan secara langsung oleh institusi pendidikan di bawah pimpinan Dr Rajiman SP MP untuk mendukung rektorat sebagai pelopor kedisplinan bagi mahasiswa/i.
Fredy J mengakui hubungan senior dan junior di Provost Polbangtan YoMa tanpa harus menggunakan kekerasan untuk menegakkan disiplin anggota junior dan mahasiswa. Senior yang akrab disapa ´abang´ bertindak tak ubahnya kakak kepada adik dalam hubungan keluarga di satu ´rumah besar´ bernama kampus.
"Abang tidak pernah keras, karena faham bahwa mustahil menegakkan disiplin dengan tindak kekerasan. Prinsip yang diajarkan Islam adalah saling nasihat dan menasihati dalam kebaikan," katanya.
Yogyakarta (B2B) - Organic unit enforcing student discipline, provost in Indonesia´s Yogyakarta - Magelang Agricultural Development Polytechnic or the Polbangtan YoMa an important role in upholding student discipline according to campus regulations.
Fredy Juiliandy RS claimed to join the campus provost unit as a ´soul call´ to take advantage of free time between the obligations as students as well as possible.
"Students can not simply join the campus provost. There is a series of tests that must be followed before becoming a member of the provost. "It´s not military discipline, but at least we got basic military training from the National Police Mobile Brigade," he said.
Provost Polbangtan YoMa which was established since September 2016 is part of the student activity unit under the auspices of the student executive body who was assigned by the Director Dr Rajiman SP MP as the pioneer of student discipline.
Saputra acknowledged senior and junior relations at the Provost Polbangtan YoMa without having to use violence to uphold the discipline of junior members and students. The senior who is familiarly called ´big brother´ acts like a family relationship in a ´big house´ called campus.
"Big brother never acted violently, because he understood that it was impossible to enforce discipline with violence," he said.