Anggaran Rp21,05 Triliun, SYL Elaborasi Target Kinerja 2020 pada Komisi IV DPR RI
Indonesia`s Agriculture Minister outlines the 2020 Target in Parliament
Editor : M. Achsan Atjo
Translator : Dhelia Gani

PUBLISHED: Selasa, 19 November 2019 , 03:53:00 WIB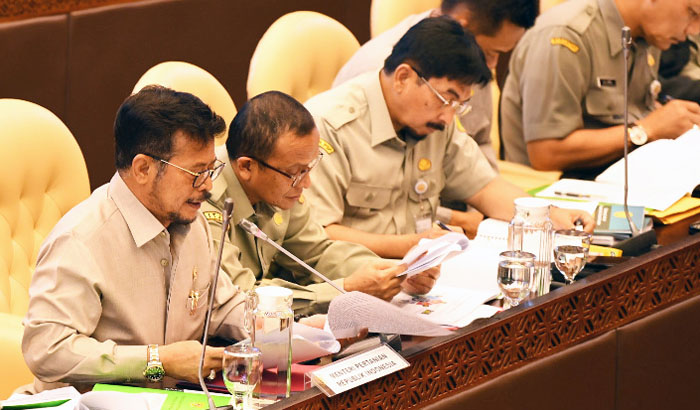 PANGAN STRATEGIS: Mentan SYL [kiri] pada RPD dengan Komisi IV DPR didampingi Irjentan Justan Siahaan; Dirjen PSP Sarwo Edhy dan Kepala Balitbangtan Fadjry Djufri [ke-2 kanan] Foto: Biro Humas Kementan
Jakarta [B2B] - Menteri Pertanian RI Syahrul Yasin Limpo [SYL] berupaya maksimal memanfaatkan anggaran pertanian tahun 2020 untuk Kementerian Pertanian RI sebesar Rp21,05 triliun, untuk mencapai target produksi padi hingga 59,15 juta ton; jagung 30,35 juta ton; kedelai 1,12 juta ton; bawang merah 1,52 juta ton; dan cabai 2,57 juta ton.
Komoditas pangan strategis lain yang ditargetkan SYL adalah bawang putih sebanyak 0,08 juta ton; daging sapi/kerbau 0,45 juta ton; tebu 2,46 juta ton; kelapa 2,91 juta ton; kakao 0,65 juta ton; kopi 0,76 juta ton; dan karet 3,59 juta ton.
"Anggaran pertanian Rp21,05 triliun sudah kami salurkan kepada 11 unit kerja eselon satu Kementan, untuk program kerja jangka pendek dan jangka panjang pada 2020," kata Mentan SYL pada rapat dengar pendapat [RDP] dengan Komisi IV DPR RI di Jakarta, Senin [18/11].
SYL juga memaparkan penuntasan 'satu data pertanian' [single data] untuk mendukung pencapaian Ketahanan Pangan Nasional, sementara data yang terverifikasi harus tuntas pada awal Desember 2019.
"Perampungan data sudah diupayakan dengan melakukan verifikasi ke berbagai lembaga dan kementerian. Dengan satu data, kami bisa menetapkan target dan startegis untuk kedaulatan pangan," kata Mentan SYL yang didampingi sejumlah pejabat eselon satu di antaranya Irjentan Justan R Siahaan, Dirjen PSP Sarwo Edhy dan Kepala Balitbangtan Fadjry Djufri.
RDP juga membahas paparan Kementan terkait hasil pemeriksaan Badan Pemeriksa Keuangan [BPK], menurut SYL, meliputi lima objek pemeriksaan strategis di antaranya tentang belanja bantuan pemerintah dan pinjaman [IBRD]; perizinan, sertifikasi dan implementasi pengelolaan perkebunan kelapa sawit.
Mentan SYL juga menguraikan laporan hasil pemeriksaan [LHP] atas keuangan Kementan 2018, pengelolaan belanja subsidi pupuk, dan LHP atas keuangan sustainable management of agriculture research and technology 2018 [SMART].
"Namun tindak lanjut dari hasil pemeriksaan ini memerlukan waktu yang cukup lama, karena kami perlu menginventarisasi dan revaluasi aset tetap. Kemudian penyetoran ke kas negara juga memerlukan waktu bertahap, tapi dengan siswa waktu yang ada maka kami tetap berusaha mempertahankan WTP," kata SYL.
Jakarta [B2B] - Indonesian Agriculture Minister Syahrul Yasin Limpo expects parliamentary support to encourage farmers, agricultural extension workers and stakeholders to support increased strategic food production.