Praktik Kewirausahaan, Mahasiswa Polbangtan YoMa Gandeng Kedai Kopi
Indonesian Polytechnic Student Working Practices in the Coffee Shop
Editor : M. Achsan Atjo
Translator : Dhelia Gani

PUBLISHED: Sabtu, 12 Januari 2019 , 03:54:00 WIB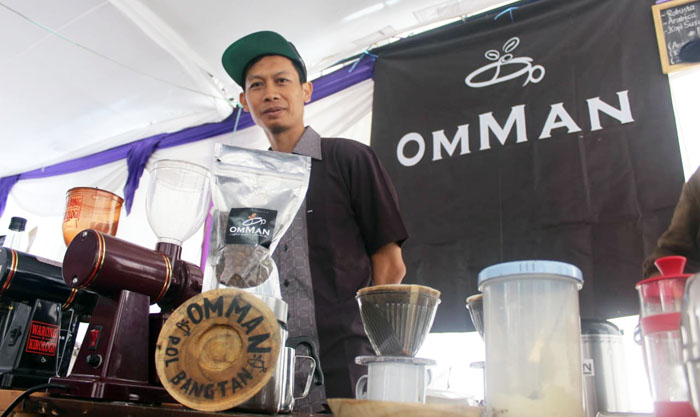 Foto: Polbangtan YoMa
Yogyakarta, DIY (B2B) - Sejumlah mahasiswa Politeknik Pembangunan Pertanian Yogyakarta - Magelang (Polbangtan YoMa) mengikuti praktik kerja kewirausahaan di kedai kopi 'Omman Coffee' Tugu Yogyakarta pada peluncuran Stemba Agro Techno Park dan Expo di SMK Negeri 1 Temanggung, belum lama ini, sekaligus promosi dan sosialisasi Polbangtan YoMa untuk menarik minat generasi muda membangun pertanian nasional.
"Praktik kerja dengan kedai kopi Omman Coffee menginspirasi sekaligus menimba pengalaman dan membuka wawasan kewirausahaan bagi mahasiswa Polbangtan," kata Fajar, mahasiswa Polbangtan YoMa.
Menurut Fajar, kegiatan tersebut membuatnya mendapat pengalaman berharga untuk berwirausaha mandiri, sehingga membuka wawasan sebagai job creator setelah lulus kuliah di Yogyakarta.
Sementara R Hermawan selaku dosen mata kuliah Kewirausahaan Polbangtan YoMa mengatakan kegiatan praktik kerja tersebut sebagai bentuk kemitraan dalam pengembangan usaha para mahasiswa, karena melalui kedai kopi mahasiswa dapat menerapkan berbagai branding yang bisa diterapkan di kafe tersebut.
Dalam kolaborasi tersebut, Omman Coffee dan Polbangtan YoMa membagikan 1.000 cup kopi gratis serta mengadakan pelatihan barista bagi para pengunjung ekspo.
Yogyakarta (B2B) - Some students of Yogyakarta - Magelang's Agricultural Development Polytechnic or the Polbangtan YoMa follow entrepreneurial work practices at the coffee shop 'Omman Coffee' Tugu Yogyakarta at the launch of the Stemba Agro Techno Park and Expo at 1 Temanggung Vocational High School, recently.
"The practice of working with Omman Coffee inspires and opens up entrepreneurial insight for students," said Fajar, a student participating in work practices.
According to Fajar, the activity earned him an important experience for entrepreneurs.
While R Hermawan as the Entrepreneurship lecturer at the Polbangtan YoMa said the work practice activities as a form of partnership in business development for students, because through the coffee shops, students can apply various branding to open market opportunities.
In the collaboration, Omman Coffee and Polbangtan YoMa distributed 1,000 cups of free coffee and held barista training for expo visitors.