Skala Industri, Polbangtan YoMa Jajaki Kerjasama dengan SidoMuncul
Yogyakarta Agricultural Polytechnic Cooperates with Leading Indonesian Company
Editor : M. Achsan Atjo
Translator : Dhelia Gani

PUBLISHED: Jum'at, 25 Januari 2019 , 04:23:00 WIB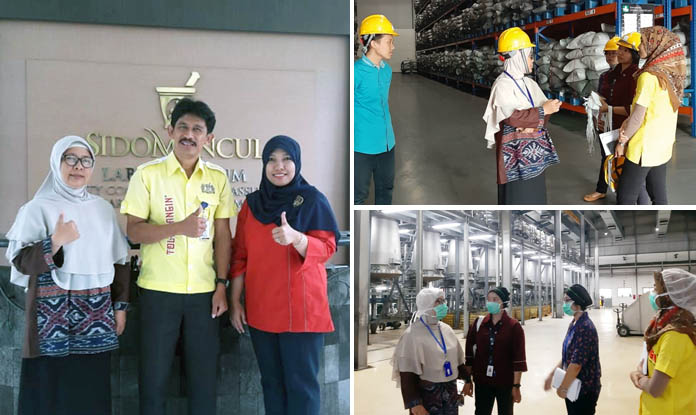 PRAKTIK & MAGANG: Ketua Prodi Agribisnis Hortikultura/Biofarmaka, Ir Rika Nalinda MP (kiri) dan Manajer Manajer Riset Bahan Baku Sido Muncul, Bambang Supartoko (foto kiri) dan visitasi (Foto2: Polbangtan YoMa)
Ungaran, Jateng (B2B) - Perusahaan jamu terkemuka, Sido Muncul membuka peluang kerjasama praktik dan magang bagi mahasiswa Politeknik Pembangunan Pertanian Yogyakarta - Magelang (Polbangtan YoMa) asalkan sesuai dengan visi dan misi bisnis dari produsen jamu di Bergas Ungaran, Kabupaten Semarang, Provinsi Jawa Tengah.
Rencana kerjasama skala industri untuk mendukung pengembangan Teaching Factory (TeFa) di Polbangtan YoMa menjadi bahasan utama dari pertemuan Ketua Prodi Agribisnis Hortikultura/Biofarmaka (sarjana terapan) Ir Rika Nalinda MP dengan Bambang Supartoko selaku Manajer Riset Bahan Baku dan Public Relation PT Sido Muncul di Ungaran pada Rabu (23/1).
"Sidomuncul mengaku antusias dengan adanya AH Biofarmaka, program studi yang mendukung visi pengadaan bahan baku herbal untuk pembuatan jamu," kata Rika Nalinda melalui pernyataan tertulis kepada B2B, Kamis (24/1).
Dalam kunjungan tersebut, Rika Nalinda dan rombongan berkesempatan meninjau ke persediaan bahan baku dan processing, dilanjutkan visitasi ke anak perusahaan Sido Muncul, PT Semarang Herbal Indoplant, yang menangani produk ekstrak, untuk memenuhi kebutuhan produk internal maupun memasok pada perusahaan lain.
Transformasi Sekolah Tinggi Penyuluhan Pertanian (STPP) menjadi Polbangtan merupakan pengejawantahan komitmen Pemerintah RI mengantisipasi perubahan dan tantangan sektor pertanian ke depan, sekaligus implementasi UU Pendidikan Tinggi, yang mensyaratkan konsep pembelajaran yang menekankan praktik 70% melalui teaching factory disingkat TeFa ketimbang teori hanya 30%.
"Model pembelajaran TeFa mengajak mahasiswa masuk ke lingkungan sesungguhnya di tempat kerja. Tujuannya menumbuhkan kemampuan kewirausahaan dari mahasiswa yang mengembangkan produk berorientasi pasar dan diminati konsumen," kata Rika N.
Yogyakarta (B2B) - Ungaran, Jateng (B2B) - The leading herbal medicine company, Sido Muncul opens practicum opportunities and internships for for students of Yogyakarta - Magelang Agricultural Development Polytechnic or the Polbangtan YoMa as long as according to vision and mission of the herbal medicine manufacturer in Bergas Ungaran of Semarang district in Central Java province.
Collaborative plan to support development of the Teaching Factory at the Polbangtan YoMa became the main topic of meeting of the Head of Horticulture/ Biopharmaca Agribusiness Study Program, Rika Nalinda with Bambang Supartoko as the Manager of Raw Materials Research and Public Relations of Sido Muncul here on Wednesday (January 23).
"He claimed Sido Muncul enthusiastic about Biopharmaca, study programs that support vision of supplying herbal raw materials for herbs," said Nalinda through the written statement to B2B on Thursday (January 24).
During the visit, Nalinda and her entourage had the opportunity to review raw material supplies and processing, the visit continued to the Sido Muncul subsidiary, PT Semarang Herbal Indoplant, which handles extract products, to meet internal product needs and supply to other companies.
The transformation of Agricultural Extension College or the STPP into Polbangtan manifestation of commitment of Indonesian government to anticipate change and challenges of the agricultural sector going forward, and implementation of University Education Law, which requires a learning concept that emphasizes 70% practice and 30% theory through the teaching factory or TeFa.
"The TeFa´s learning model invites students to enter the work environment. The aim is to foster entrepreneurial abilities from students who develop market-oriented products and demand by consumers," she said.